Seth Rollins speaks about the drawback of wrestling in the "Thunderdome" era and how going full heel made him a babyface.
Rollins has not been in the main title picture in a long while, but that doesn't mean he hasn't been all over Raw. Most recently he has been challenging Austin Theory for the United States Championship. He was even in the Elimination Chamber match at the Elimination Chamber premium live event.
Seth Rollins has been one of the top guys in WWE since debuting with the Shield and has only become more popular. He has been a babyface and a heel, but is a guy who is so suited to the heel persona. 
RELATED: ARN ANDERSON TALKS ABOUT WHY RON SIMMONS WAS A SPECIAL TALENT
On a recent episode of WWE After The Bell with Corey Graves, Seth Rollins talks about how trying to stomp Matt Riddle's head through some steel steps somehow became a face turn.
"[At] the end of the show, [Matt] Riddle's out there doing something. And I came out to stomp his head into the steel steps, and I'm wearing this shiny, beautiful black suit," Seth Rollins said. "And I end the episode by stomping his head into steel steps, thinking I'm going to hear a chorus of boos when in fact, the choir is singing my song."

H/T To Wrestling Inc. For Transcription
Seth Rollins: The Cool Heel
Seth Rollins is not the first person to have this happen to him. It may sound like a bad thing and like he made a mistake, but it is a good sign. There is a term for what Rollins turned into. He became a "cool heel" and is doing such a good job being a heel that the fans have no choice but to respect him. "Cool heels" are still technically a heel and do heel things, but get face reactions from the crowd.  
RELATED: KEITH LEE WANTS TO MAKE HISTORY AS THE 1ST BLACK AEW CHAMPION
Kevin Owens is someone who has done it in the past and Roman Reigns is currently doing it. Having Riddle shoved down our throats, even though people like Riddle, just became tiring and everyone was overloaded on Riddle which probably aided the face turn.
WWE Has Fully Entered The Era Of The Visionary
The accidental turn also helped to usher in and cement a new era for Seth Rollins. The new era is The Visionary and sees Rollins being extremely flamboyant and flashy. His outfits include bright and vibrant suits, shoes and glasses never seen before on this planet and possibly this solar system.
Since becoming The Visionary, Rollins has battled the legend Edge and had a feud with Cody Rhodes which included a legendary moment. His match with Rhodes at Hell in a Cell was a very good match, but Rhodes removing his coat to show a giant bruise caused by his torn pec is something I will never forget.
RELATED: WWE SUPERSTARS MAY HAVE LEGAL ISSUES AS LABOR ATTORNEY EXPLORES POSSIBLE ISSUES WITH BEING INDEPENDENT CONTRACTORS
Seth Rollins admitted that his gimmick didn't really pick up and start working until he started performing in-front of live audiences again.
"When we're doing stuff in front of no people in the Thunderdome, it's a crap shoot," Seth Rollins said. "It's hit or miss. You don't really know. You get the Twitter response, and then you get like your peers, and you're doing the best you can, but you don't get that visceral response from a live crowd."
Nothing Like Performing With A Live Crowd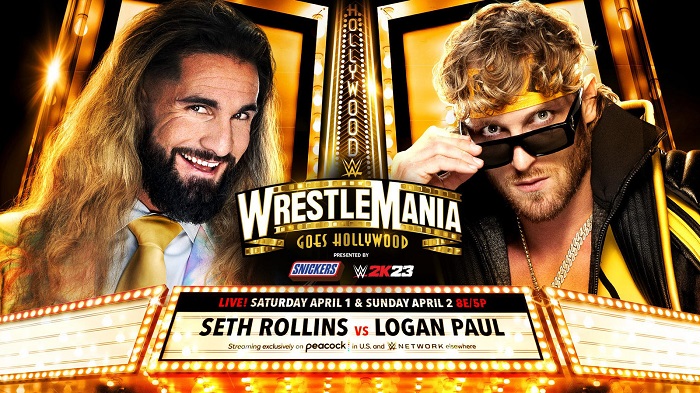 Many wrestlers talked about how hard it is wrestling without a crowd. They don't get to see or hear how the crowd reacts to certain things and can't tell if something is working until after the show.
Rollins' next big match will be at WrestleMania. After losing the Elimination Chamber match because of Logan Paul's involvement, Rollins will get his chance at revenge at WrestleMania happening April 1 and 2. .
Do you like Seth Rollins more as a face or a heel? Do you currently consider him a heel or a face? Should he tone down his outfits or get even more ridiculous? Are you looking forward to Rollins vs. Paul? Let us know if you think Paul deserves these high profile matches with some of the best wrestlers in WWE.
KEEP READING: MJF'S POSSIBLE FUTURE CHALLENGERS AND THE CONTROVERSIAL LIQUID THROWING INCIDENT
Sources: WWE After The Bell with Corey Graves, Wrestling Inc.