Lita wants to use her talent and name recognition to try and elevate the WWE Women's Tag Championships.
In the past, women wrestlers in the WWE ran the gamut from incredible to absolutely awful. During the lifespan of WWE there would be two or three women who weren't just looks, but could actually wrestle. The women's revolution in WWE took a long time to finally take effect, but certain women help to push open the door more than others.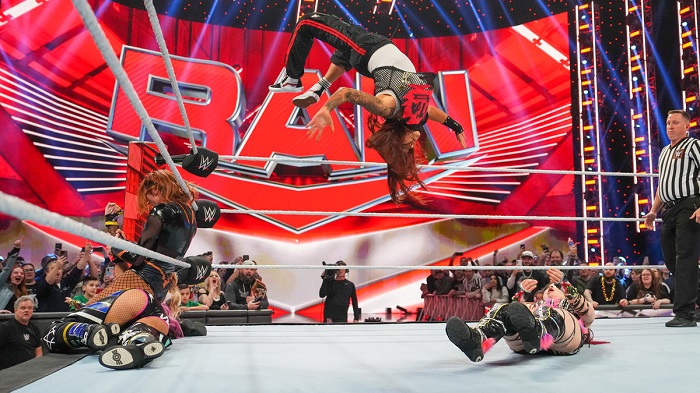 One of those women was Lita. In the early 2000s she showed that she wasn't just a pretty face, but was just as talented as all of the men and let's face it, better than a lot of them. She, along with Trish Stratus and others, helped to elevate the Women's Division to heights it had never seen before. Their feud and matches became must see for all wrestling fans.
RELATED: AUSTIN THEORY SAYS DON'T COUNT CODY RHODES OUT AT WRESTLEMANIA
Although Lita has done so much for women's wrestling she has more to give. During an edition of WWE's The Bump, Lita was asked if there was anything in WWE for her bucket list which she hasn't done yet. Her answer was something she has already started to achieve.
"Here we are, I'm doing it. I will say that since these tag titles have been introduced, I'd love to see the possibilities with them, and for whatever reason there's been some like stutter-stepping along the way. I would love to continue and help elevate these and fight anyone that wants to because there's so many talented women to see partnerships between them. I would love to see the tag division flourish."

H/T To Wrestling Inc. For Transcription
The Women's Tag Championships Are Newer Championships For WWE
The Women's Tag Championships are relatively new championships. They were established in 2018 and first held by The Boss 'N' Hug Connection aka Sasha Banks and Bayley.  Even though the championship has been held by notable Superstars it and the division have failed to garner the attention and buzz everyone had hoped. However, that may be changing very soon.
Now That Lita Is Champ It's Time To Elevate
On Feb. 27 edition of Raw, Becky Lynch teamed up with Lita to take on Dakota Kai and IYO SKY of Damage CTRL for the Womern's Tag Championships. To the world's surprise Lynch and Lita were able to defeat Kai and SKY to become the new champions. Lita has the Women's Tag Championship so step one down of her bucket list task.  Now she just has to elevate them to new heights.
Lita and Lynch may be at the top of their division, but they didn't do it alone. Damage CTRL's leader, the ever dangerous Bayley, tried to get involved to ensure her team retained the championships. However, an old foe and sometime ally from Lita's past came out to help. Stratus ran down to ringside and made sure Bayley was neutralized.
RELATED: SETH ROLLINS ON ACCIDENTALLY GETTING CHEERS AND THE HUGE BENEFIT OF LIVE CROWDS
Lita talked about how she feels about being champion and her confidence level.
"I feel so confident with Becky and Trish alongside me," Lita said. "I feel pretty damn unstoppable at the moment."
Damage CTRL Will Have A Chance For Revenge At WrestleMania
Don't worry because Damage CTRL isn't done with Lita just yet.  The two teams will meet up very soon at WrestleMania. Lita, Lynch and Stratus will take on Damage CTRL in a Six-Woman Tag match. We don't know which night it will take place, but WrestleMania will take place April 1 and 2, so not far away.
Do you think Lita can help elevate the Women's Tag Team Championships? Or is she too old and been out of wrestling for too long to do so? Are there any women in WWE who you think can give the championships the boost they deserve? How long do you think Lita will hold the championship for? Let us know if you think another legend will come out to help Lita and Stratus at WrestleMania and who it would be.
KEEP READING: REY MYSTERIO JR. FIRST TO JOIN 2023 WWE HALL OF FAME CLASS
Sources: WWE's The Bump, Wrestling Inc.