Current WWE Women's Tag Team Champion Lita recently spoke about a top WWE Superstar who reminds her of herself in the earlier years of her WWE career. Lita has accomplished more than most women in wrestling.  She is a WWE Hall of Famer, a four-time WWE Women's Champion, and the current WWE Women's Tag Team Champion with Becky Lynch. 
LITA REVEALS HOW RHEA RIPLEY REMINDS HER OF HER YOUNGER DAYS IN WWE
When a talent such as Lita speaks about a Superstar reminding her of herself during her early days in WWE it can be taken as a big compliment.  However, she also noted that youthful confidence could also be a double-edged sword in professional wrestling and WWE.
During a recent episode of WWE's The Bump, Lita talked about how she can identify with Rhea Ripley and knows the confidence which comes with a group backing you up.  However, confidence can bring out some very bad traits. She stated the following:
"Having backup does wonders for your confidence. I immediately thought back to my days with … Team Xtreme. We felt pretty damn invincible because we knew that we had each other's backs at all times."

H/T To Wrestling Inc. For Transcription
Lita continued by saying what a double-edged sword confidence can be.  It can both bring out the best in people, but also the worst.  Ego is the downfall of many confident men and women. Lita has accomplished a lot in her career, but when her name comes up it is hard to not think of her partnership with Team Xtreme.  Lita and The Hardy Boyz, Matt and Jeff Hardy, were some of the most popular wrestlers in the early 2000s and were the faces of the WWE tag team division.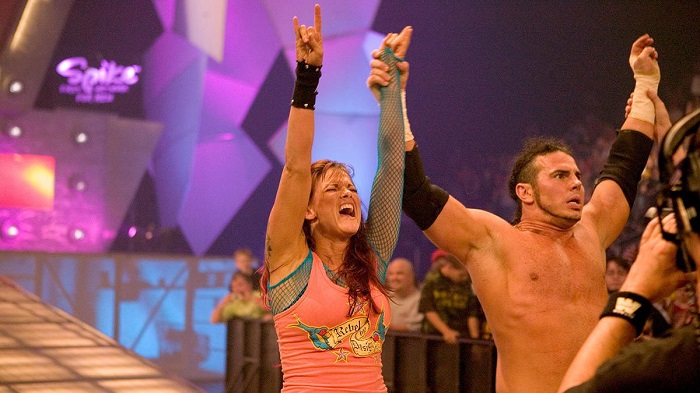 Lita's ability to mix it up with the male Superstars and defend herself is very similar to Ripley's.  Both are very willing and definitely able to throw them around.  They both relied on the hesitation from the men to retaliate which is all it takes for Ripley to Riptide some male Superstar or in Lita's case Hurricanrana someone.
Ripley using her association with Judgement Day has allowed her to be very risky with her competition because, like Lita with the Hardys, she knows she has Prison Dom and her other stablemates backing her up.  Like Lita has said the backup has brought out her confidence.  This confidence has helped Ripley win this year's Women's Royal Rumble.  
RELATED: LOGAN PAUL REVEALS HIS WRESTLEMANIA MATCH NIGHT AND ORIGINAL RIVAL
Ripley has decided to return an overdue favor to Charlotte Flair.  Back in 2020, Flair won that year's Women's Royal Rumble and in an unprecedented move, she decided to challenge the NXT Women's Champion who happened to be Ripley at the time.  The two met at WrestleMania with Flair coming out on top and capturing the NXT Women's Championship.
Ripley has learned a lot and is a much better wrestler than in 2020.  Her confidence level is at an all-time high thanks to The Judgement Day.  However, is it false confidence?  Going against Flair and coming out the victor is no easy task and without Judgement Day backing Ripley up it may be an impossible one.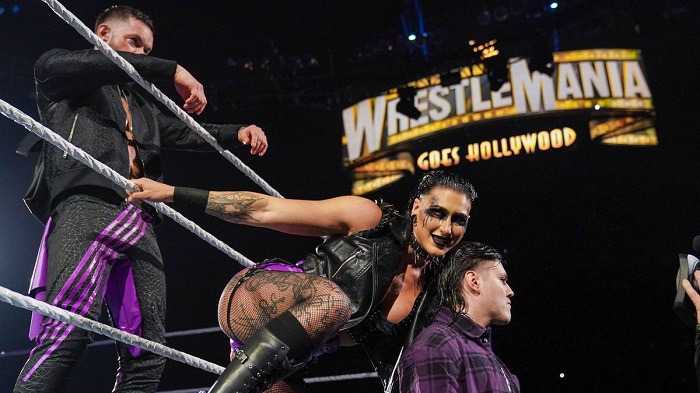 The two women will meet at this year's WrestleMania for Flair's SmackDown Women's Championship.  We don't know which night their title match will take place yet, but the event will be held on April 1-2 at SoFi Stadium in Inglewood, California.
Lita will also have a chance to see if Ripley's confidence will elevate her to new heights or if it will ensure her destruction at the hands of Flair live at WrestleMania.  She along with Trish Stratus and her fellow Women's Tag Team Champion Becky Lynch will take on Damage CRTL, Bayley, Dakota Kai, and IYO SKY at WrestleMania.
RELATED: SAMI ZAYN TALKS ABOUT HIS FEELINGS SURROUNDING ELIMINATION CHAMBER MAIN EVENT
What do you think of Lita comparing her Team Xtreme confidence to Ripley's  Judgement Day confidence?  Do you think Lita and Ripley share a lot of similarities?  Will Ripley's confidence help her get a win over Flair?  Who do you think would win if Lita and Ripley met in Lita's prime?  Let us know if you think Team Xtreme would be able to overcome Judgement Day on our social media.
KEEP READING: LITA WANTS TO HELP ELEVATE THE WOMEN'S TAG DIVISION
Sources: Wrestling Inc., WWE's The Bump