Johnny Gargano gives an update on his former NXT tag team partner, Tommaso Ciampa, and how his recovery is progressing.
Gargano was undoubtedly the heart and soul of NXT for the entire time he was there.  However, his #DIY brother Tommaso Ciampa was the other half of the heart and soul.  In December 2021 Gargano decided to leave WWE to help raise his new baby with Candice LeRae.
RELATED: AUSTIN THEORY SAYS DON'T COUNT CODY RHODES OUT AT WRESTLEMANIA
In April 2022 Ciampa finally got called up to the main roster. He spent his time teaming with Miz, but fans were disappointed that we wouldn't get to see Ciampa and Gargano on the main roster together.
The good news is Gargano returned to WWE in August 2022, but the bad news is shortly after Ciampa got injured and was forced to take time off from WWE. He tore his hip labrum what seems like a million years ago, but we have not heard any new information as to how his recovery is moving along.
The good news is Gargano was recently a guest on Catch Club and gave the world an update on his old buddy/hated revival Ciampa.
"He's currently rehabbing," Gargano said. "He's trying to get back. He's one of the toughest, most resilient guys I've ever met. What he's had to put his body through to do this is so inspirational. The amount of surgeries he's had, the amount of times he's come back, the amount of time and effort he's put into this and being great at this." H/T To Wrestling Inc. For Transcription
Long Time No See For Ciampa
The last time we saw Ciampa was all the way back in September of last year. Seeing him finally moving up to the main roster brought a lot of excitement and hope to fans of him and getting to see what he can do on Raw, but injury delayed that.
RELATED: LITA WANTS TO HELP ELEVATE THE WOMEN'S TAG DIVISION
There is currently no timetable as to when we will get to see Ciampa back on TV. The Mayo Clinic describes the injury as:
"a hip labral tear involves the ring of cartilage (labrum) that follows the outside rim of the hip joint socket. Besides cushioning the hip joint, the labrum acts like a rubber seal or gasket to help hold the ball at the top of the thighbone securely within the hip socket."
The injury can cause pain, locking of the hip joint and stiffness or lack of range of motion in the hips joint. Those are all pretty important things in pro wrestling and being able to keep yourself and your opponent safe. The injury does not heal on its own and requires surgery followed by physical therapy.
Gargano was asked about if a reunion of he and Ciampa's tag team, #DIY, was a possibility once Ciampa returned.
"You never know. I think as long as me and Tommaso Ciampa are in the same company, or in wrestling in general, we'll always be linked together," Gargano said. "There's always that idea of what would happen if #DIY was on Raw or SmackDown and the dream matches that could come of that."
Johnny Gargano Back In NXT For Revenge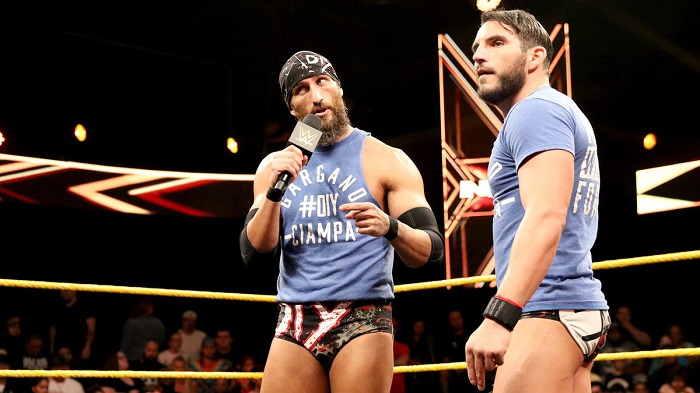 Gargano is currently involved in a heated feud in NXT with the man who sent him out of WWE, Grayson Waller.  Shawn Michaels hand-picked a special opponent for Waller for NXT Stand & Deliver as Gargano.  A little bit of revenge is around the corner for Gargano.
Would you like to see Gargano and Ciampa meet again in the ring as allies or enemies?  Do you think an official #DIY reunion will ever happen?  Do you think either wrestler will win the main roster gold?  The WWE or Universal Championship?  Let us know if you think we will ever get a Gargano and LeRae vs. Miz and Maryse vs. Cody and Brandi Rhodes match. For more content like this, follow us on social media, we're always watching.
KEEP READING: DDP THINKS CHRIS JERICHO IS THIS GENERATION'S RIC FLAIR
Sources: Catch Club, Wrestling Inc., Mayo Clinic, Wrestling Inc.