Creed 3 is a total knockout from director and star, Michael B. Jordan.
There is something about boxing that moves people. It is violence and savagery studied and perfected. Athletes at the peak of human physical condition who have trained their bodies to become weapons and studied and mastered strategies and techniques to go head to head in a brutal, yet civil, bout for supremacy. Where a win could change someone's life forever. It becomes a literal fight for life. Real stories, and even fictional ones, show the physical and emotional toll boxers go through to be in the best position to win their fights. But we have never seen it look as stunning and spectacular as it does in Creed 3.
Creed 3 is Stacked With Heavyweights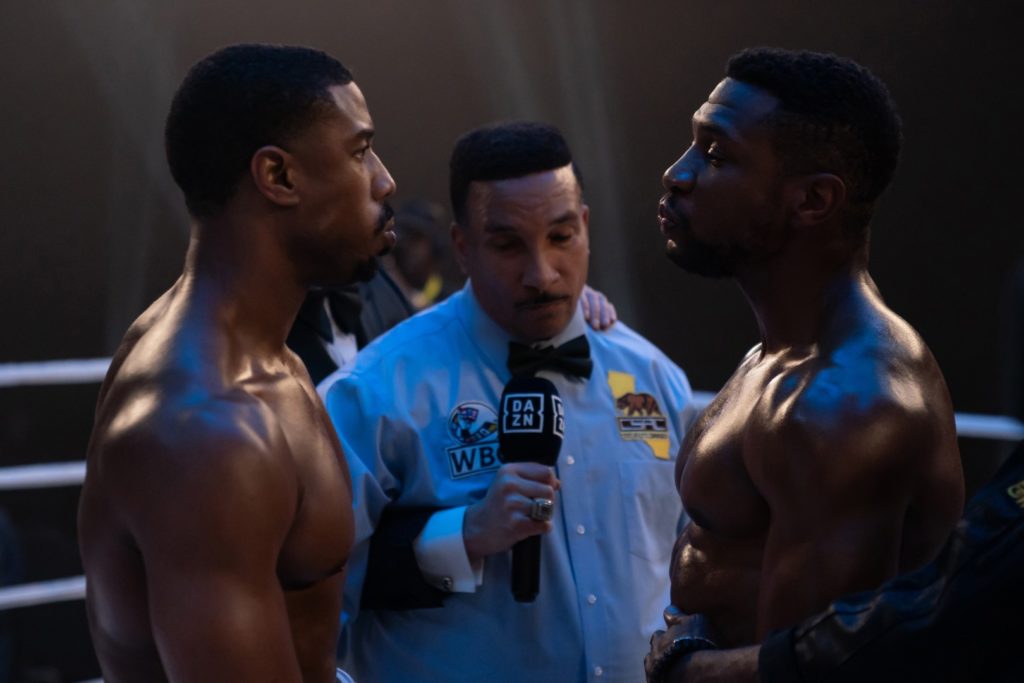 First and foremost, especially with movies based on athletics, you need to have the right look, and Michael B. Jordan and Jonathan Majors definitely have it. These two are no strangers to transforming their bodies to create a physical presence that resonates. Both have done it in previous films, and their years of regularly committing to their health and physique add gravitas to the film that truly sells the athletic aspect of the movie. However, their performances hit harder than even their physiques imply.
RELATED: Quantumania: Jonathan Majors Admits He Stole Randall Park's Approach to Acting for Kang
Micahel B. Jordan continues to fully inhabit Adonis. Now a retired champion, dedicated family man, and deal-maker, we see Creed switch his personality ever so slightly to each situation. Creed isn't being an entirely new person for each situation, but there is a noticeable change in demeanor and manner of speaking to all the different demands. What's most impressive about this, is when the moments the composure is dropped. We see the champion, become the kid who had to fight to control his life. Still all the same character, but it really highlights the Adonis Creed has a lot of emotional work to do.
Then there's Jonathan Majors. Majors' Damian Anderson is coming from the opposite end of the spectrum. Anderson is the character who has to fight to make up for the time lost in his life, then carry that burden through his championship. Anderson has a drastic switch and then does not adjust to situations and characters, but rather forces everyone and everything to adjust to him. The parallel inverse of Anderson and Creed wonderfully compare and contrast that brings us into numerous clashes and collisions throughout the movie. Jordan and Majors masterfully push themselves and each other, delivering devastatingly knockout performances.
These grand performances are grounded by the subtle, yet very impactful, portrayals of love and support from Tessa Thompson's Bianca and Phylicia Rashad's Mary Anne Creed. Thompson and Rashad are fantastic supporters as performers and characters. Storywise, Bianca and Mary Anne are support to Creed, and goals for Anderson. Bianca is there for Creed and vice versa, but also supports Anderson when she meets him. Something he appreciates and obviously wishes to have someone like in his life. Mary Anne, without giving anything away, is the key factor into the diverging of Creed and Anderson's lives.
RELATED: Harlem Season 2 Review- So Much Hot Tea You'll Need 2 Cups
Performance-wise, Thompson's elegant confidence grounds both Creed and Anderson, who are fighting to figure things out. She gracefully wins the emotional bouts with both characters. Rashad perfectly captures a mother's ability to be a great source of love and vulnerability to her child. She effortlessly captures the love and burden of being a mother. Again, to avoid spoilers, the details of Rashad's performance can not be covered in great detail. But her legendary status is evident and enhanced. Mary Anne Creed made some hard decisions, and Rashad brings all the emotions.
Michael B. Jordan is Undisputed
Somehow, with the powerhouse performers and performances, Michael B. Jordan's directing is the star of Creed 3. Jordan is fully in control of this world and brings new life to it. Boxing movies can almost be their own genre and Creed 3 is the ninth film in the franchise, but Jordan found a way to give it new life. It is even more impressive considering he did so with a story about the end of a boxer's career. All that to say, story-wise, there was not a lot new to work with, but Jordan sure as hell did.
RELATED: Moon Girl and Devil Dinosaur Episode 1 Review – An Incredibly Promising Addition To The Marvel Family
Where Creed 3 really connects and leaves its mark is visually. The film is gorgeous, and not talking about the stars who are all rightfully being highlighted across magazine covers and being interviewed about the thirst comments about them on social media. Creed 3 has the most unique look and feel of any boxing movie that is still meant to be realistic. While the film does take some supernatural liberties visually, it never feels out of this world. If anything, it's as if the film is bringing symbolism to life. It enhances the emotion, story, and impact of the scene. This only happens once in the film.
The rest of the film is guided by colors, shapes, lighting, and framing. While cinematographer Kramer Morgenthau deserves all the credit in the world for his work in this film, it is undeniably part of Jordan's vision. The anime influences are inherent throughout all of Creed 3. But it does not feel like an anime. Jordan has captured anime's ability to exaggerate reality in order to heighten it to immensely emotional levels. The attention to detail is immaculate and easily evident in the assigning different of text colors to characters as they sign. The lines of the environment frame, combine, and separate characters.
RELATED: Knock at the Cabin Review – Shyamalan's New Film Recreates Annoyance of Unwanted Solicitors
There aren't pictures that highlight it, but there is a shot that utilizes all visual cues to show exactly where Adonis Creed and Damian Anderson are mentally, emotionally, in their heads, and with each other that lives in my mind rent-free. It is a masterpiece of visual storytelling. Combined with the all-star performances from the cast, Michael B. Jordan delivers a total knockout with his directorial debut.
Creed 3 Wins by Unanimous Decision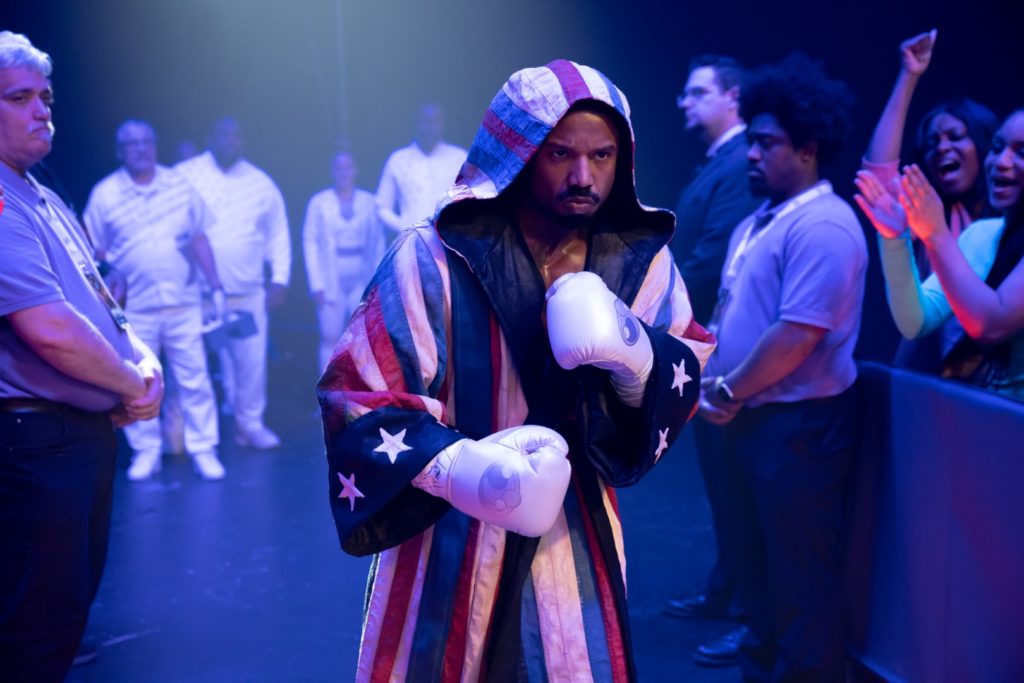 Creed 3 is not a very unique story. Being overly critical, it is two men who have to physically fight through their emotions because their troubled past did not equip them to do the emotional work. It is not a new story or even a unique phenomenon. It is not even unique to boxing movies. But despite that, Michael B. Jordan made something that feels new and fresh with Creed 3.
Michael B. Jordan's Creed 3 leads a cast who are in the dominant strides of their acting careers and takes a franchise, that is nine movies in, to a new level. Jordan triumphantly delivers knockout performances and takes what he has learned about storytelling from his career and passionate fandom to tell an old story in a whole new way. Every detail in every frame is perfectly captured to really show you the story and not just tell it. The colors, the shapes, the lighting, all masterfully planned -Hell, even the product placement!- Creed 3 is something you have seen, unlike any way you have seen it before.
For bringing an entirely new flavor to the ninth film in a boxing-movie franchise, I give Creed 3 an 8/10.
Creed 3 releases exclusively in theaters on March 3, 2023, in the USA.
About Creed 3
Release Date: March 3, 2023 (USA)
Director: Michael B. Jordan
Cinematographer: Kramer Morgenthau
Producers: Michael B. Jordan, Sylvester Stallone, Ryan Coogler
Story By: Ryan Coogler, Keenan Coogler
Distributed By: Warner Bros. Pictures, United Artists Releasing
Based On: Characters; by Sylvester Stallone
Runtime:
Synopsis:
After dominating the boxing world, Adonis Creed has been thriving in his career and family life. When a childhood friend and former boxing prodigy, Damian, resurfaces after serving a long sentence in prison, he is eager to prove that he deserves his shot in the ring. But the face-off between former friends is more than just a fight, and to settle the score, Adonis must put his future on the line.
Do you already have your tickets to Creed 3? Are you excited about Michael B. Jordan's Directorial debut? Which anime influences have you spotted just from the trailers? Let us know your thoughts and reactions on social media!
KEEP READING: Ant-Man and the Wasp: Quantumania Review – Marvel Begins A New Dynasty