Bandai Namco's Park Beyond will be coming to PC, PlayStation 5 and Xbox Series X/S on June 16.
Official Park Beyond Press Release
Pre-order now to get the PAC-MAN Impossification Set and register for the Closed Beta Test!
Bandai Namco Europe and Limbic Entertainment have revealed that the imaginative theme park simulation game Park Beyond will open its doors on 16th June 2023. Pre-orders are now available, with different editions listed below. Each pre-order comes with a special bonus: the PAC-MAN™ Impossification Set, consisting of exclusive flat rides, shops, entertainers, and decorative items.
RELATED: ATLAS FALLEN NEW GAMEPLAY REVEAL TRAILER SHOWCASES THE EPIC WAY PLAYERS TAKE ON GIANT BEASTS
We are also inviting aspiring visioneers to participate in a Closed Beta Test, which will be held from 9th-19th May on PC. Players can register here: https://bnent.eu/BetaPB
Participants in the Closed Beta Test who later purchase the game will unlock the golden skin for the omnicar, the vehicle used in Park Beyond's rollercoasters.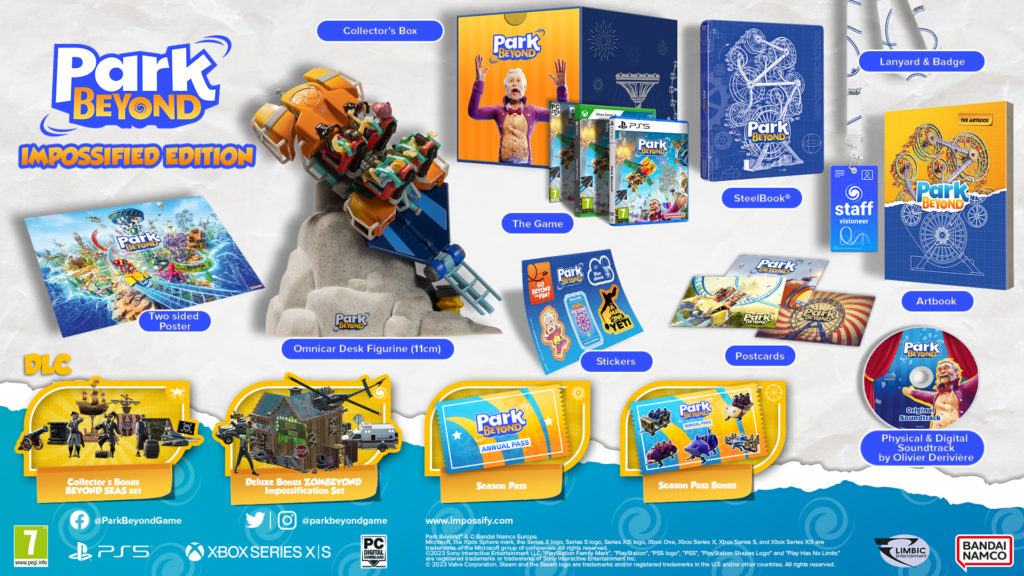 Pre-order Editions:
PC Retail Day-1 Admission Ticket Edition – Physical
Base game code
SteelBook®
Physical & digital soundtrack by Olivier Derivière
Postcards
Stickers
Deluxe Edition: VISIONEER Edition – Digital
Base game
ZOMBEYOND Impossification Set
Park Beyond: Annual Pass – a Season Pass including three upcoming DLCs
Annual Pass Bonus Coaster Car Set with five exclusive car skins
Collector's Edition: IMPOSSIFIED edition – Physical
Everything included in the VISIONEER Edition
Physical & digital soundtrack by Olivier Derivière
Omnicar desk figurine
Artbook
Poster
Lanyard & staff badge
BEYOND SEAS Set
Watch the Park Beyond Future Games Show presentation here
Park Beyond is set to release 16th June 2023 for PlayStation 5, Xbox Series X|S and PC.
For more information on Park Beyond visit the official page. For other BANDAI NAMCO Europe products, visit our website, follow us on Facebook or Twitter, or subscribe to our YouTube channel.
About Bandai Namco Europe S.A.S.
Bandai Namco Europe S.A.S. is a leading global publisher and developer of entertainment content for platforms including, but not limited to, all major video game consoles and PC.
Bandai Namco Europe is producing intellectual property for a global audience and is building its reputation with franchises such as LITTLE NIGHTMARES™, PARK BEYOND™, and the upcoming UNKNOWN 9™ Awakening – developed by the recently acquired Reflector Entertainment based in Montreal, QC.
Bandai Namco Europe serves as the Headquarters of Bandai Namco Holdings Inc. for mainland Europe, which is known for creating and publishing many of the Toy & Entertainment industry's top franchises, including PAC-MAN™, TAMAGOTCHI™, GUNDAM™, TEKKEN™, DARK SOULS™ and the recently released ELDEN RING™.
###
What are your thoughts on this? Do you plan to check out Park Beyond when it releases later this summer? Let us know in the comments below. Also, be sure to follow The Illuminerdi on social media to be notified of more video game news and updates like this in the future.
KEEP READING: ALIENS: DARK DESCENT GAMEPLAY REVEAL AND JUNE 20 RELEASE DATE
Source: Bandai Namco