Air: Courting A Legend star Viola Davis, was not directly called by Michael Jordan, but she was happy to be wanted to play his mother, Deloris Jordan.
Prime Video's Air: Courting a Legend releases today in theaters! The legendary story of how Nike went from a middling shoe company made a historic deal with an up-and-coming basketball player, and soon-to-be cultural icon, that would change the sport, fashion, business, and just about every other aspect of culture, there is. The film reunites famed Hollywood best buds, Ben Affleck and Matt Damon, and also features an all-star cast including Jason Bateman, Chris Tucker, Marlon Wayans, Chris Messina, and the greatest of all time (GOAT) Viola Davis. Davis was "requested" personally by Michael Jordan to play the role of his mother, Deloris Jordan.
Apparently, Air Star Viola Davis Didn't Get That Phone Call
RELATED: Dungeons & Dragons: Honor Among Thieves Review – This Movie Is Chaotic Good
One of the most popular tidbits about Air: Courting a Legend is that Michael Jordan specifically "requested" Viola Davis play his mother, Deloris Jordan. Ben Affleck has shared the story many times. Though it is true, Viola Davis did not get that phone call. When asked about talk about when she found out about Michael Jordan's "request" Viola Davis shared her side of the story.
"Well, I didn't get that phone call. I just got the trickle-down message."

Viola Davis, AIr: Courting a Legend Press Conference
Viola Davis Was Flattered And Enjoyed Working on the Film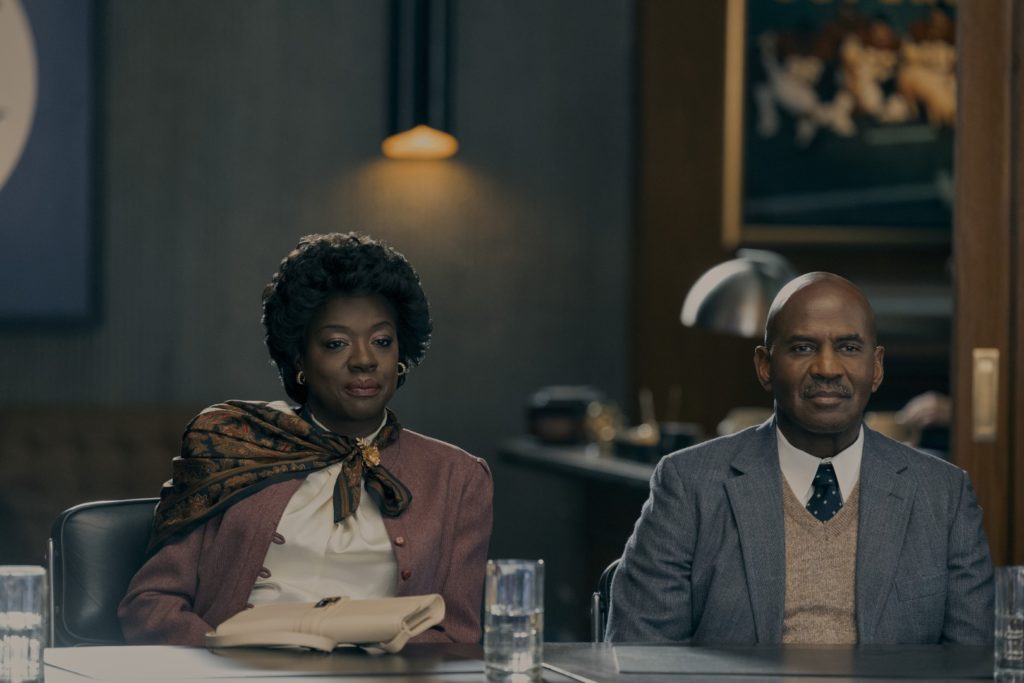 RELATED: John Wick: Chapter 4 Interview – Hiroyuki Sanada Talks Which of His Legendary Roles He'd Like to Revisit
Davis said this with no animosity, simply stating the facts. She continued to talk about how flattering it is and how it's nice to feel wanted, before sharing her admiration for Deloris Jordan and what it was like bringing her importance and presence to the story to life.
"But it is flattering because I do go in with a sense of, do I belong? Imposter syndrome. So it's nice to feel wanted. But then the next thought is, now I've gotta step into the role.

And if you watch videos on, you know, Deloris Jordan, she is a steady in Zen neutrality. The woman is very, very steady and quiet, you know. I mean, I would imagine that even when she gets mad, she's probably very, very, very steady. [laugh] So to really just sort of envelope that spirit and everything was a challenge for me because I'm the woman who always has a chip on her shoulder. I go in bombastic, you know. So it was both flattering, challenging, and then just a joy to work with Matt and Ben and all these terrific actors. Me and Julius still talk about it to this day, you know, one of the greatest experiences."

Viola Davis, AIr: Courting a Legend Press Conference
The GOAT "requesting" a GOAT to play his mother just shows how much of a GOAT mom Deloris Jordan is. Davis does an incredible job bringing her power and presence to the film and helps make what would objectively be people working at an office marketing job for a week one hell of a moving story. Davis' performance, as well as the rest of her co-stars, in Air: Courting a Legend is one that should not be missed.
Air: Courting a Legend releases exclusively in theaters on April 5, 2023, from Amazon Studios before premieres globally in over 240 countries and territories worldwide on Prime Video.
ABOUT AIR: COURTING A LEGEND
Release Date: April 5, 2023, exclusively in theaters before premiering on Prime Video.
Directed By: Ben Affleck
Written By: Alex Convery
Produced By: David Ellison, Jesse Sisgold, Jon Weinbach, Ben Affleck, Matt Damon, Madison Ainley, Jeff Robinov, Peter Guber, and Jason Michael Berman
Production Companies: Skydance Sports; Mandalay Pictures; Artists Equity
Distributed By: Amazon Studios, Warner Bros. Pictures
Cast: Matt Damon, Ben Affleck, Jason Bateman, Chris Messina, Matthew Maher, Marlon Wayans, Jay Mohr, Julius Tennon, with Chris Tucker and Viola Davis
Runtime: 1h52m
Post-Credits: None

Synopsis: From award-winning director Ben Affleck, AIR reveals the unbelievable game-changing partnership between a then-rookie Michael Jordan and Nike's fledgling basketball division which revolutionized the world of sports and contemporary culture with the Air Jordan brand. This moving story follows the career-defining gamble of an unconventional team with everything on the line, the uncompromising vision of a mother who knows the worth of her son's immense talent, and the basketball phenom who would become the greatest of all time.
Are you excited about Air: Courting a Legend? Do you rock J's? What's your favorite pair? Share your thoughts on the film and your favorite J's with us on social media.
KEEP READING: Air Review – Greatness Out of Thin Air