We are giving away a digital copy of Universal Pictures' Cocaine Bear!
Attention movie, bear, and bears on drugs lovers! A unique opportunity has arrived for you to grab a free digital code of Cocaine Bear! The film is a crime thriller and comedy that revolves around an infamous incident where a black bear ingested a massive amount of cocaine and ended up dead. This bizarre and true event is turned into a wild and hilarious adventure that promises to keep audiences on the edge of their seats.
The movie, directed by Elizabeth Banks, stars Keri Russell, O'Shea Jackson Jr., Alden Ehrenreich, Ray Liotta, and Jesse Tyler Ferguson. The film is set to release on June 29th, 2023, but you can get your hands on a free digital code before its release date!
Cocaine Bear Digital Giveaway
Cocaine Bear Digital Giveaway
RELATED: Cocaine Bear Review – A Pure Bump of Joy
The Cocaine Bear digital copy comes to us direct from Universal Pictures, and it is an excellent opportunity for those who can't wait to watch this thrilling movie. All you need to do to participate enter using the digital entry system above. This giveaway is a fantastic chance for fans of the movie, as well as those who love thrilling stories and unique plotlines, to enjoy a cinematic masterpiece as soon as it becomes available on home media. The film has generated a lot of buzz on social media, with fans eagerly anticipating its release on home media, and this giveaway is an excellent way to reward those fans.
RELATED: Cocaine Bear: Far From Practical But Surprisingly Factual
Our Cocaine Bear digital code giveaway is an exciting opportunity for movie lovers and bear enthusiasts alike. The movie is absolutely off the rails in the best way possible, and this giveaway allows fans to have the experience in their personal collection forever… or at least as long the internet is alive. All you need to do is press the buttons above. With the weekend fast approaching, and no 40+ day religious commitments to restraining your dietary preferences, and the likely recharge everyone needs after a weekend with the family, this is the perfect way to sit back and unwind.
So, what are you waiting for? Enter the giveaway now and get ready to embark on a thrilling and unforgettable adventure with Cocaine Bear!
Cocaine Bear releases on digital April 14 and Blu-Ray & DVD on April 18.
ABOUT COCAINE BEAR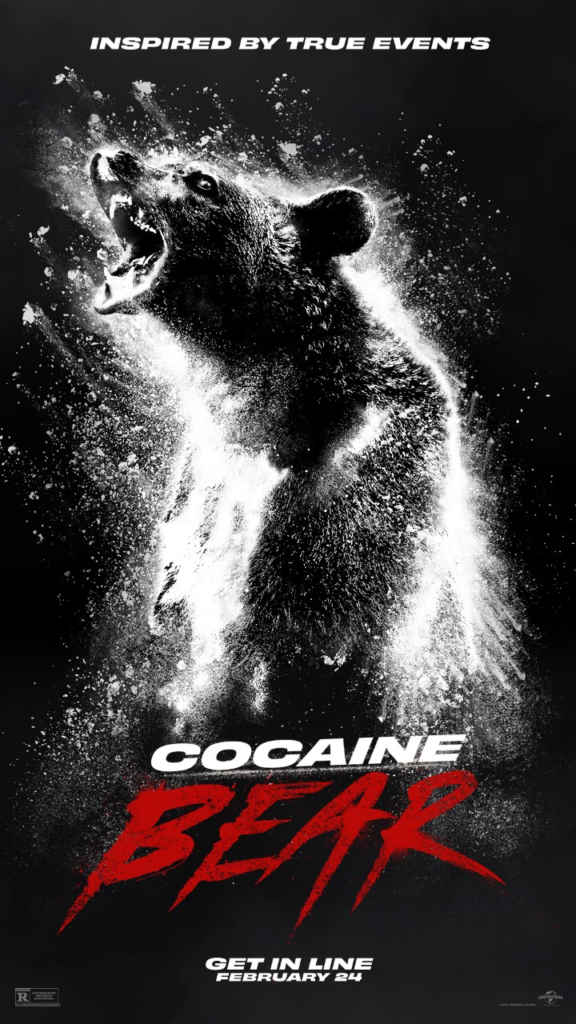 Release Date: April 14, 2023, on digital and April 18, 2023, on Blu-Ray & DVD
Director: Elizabeth Banks
Producers: Elizabeth Banks, Max Handelman, Phil Lord, Aditya Sood, Brian Duffield, Chris Miller
Art Director: Christine McDonagh
Cinematography: John Guleserian
Costume Design: Tiziana Corvisieri
Production Companies: Lord Miller Productions, Brownstone Productions, Jurassic Party Productions
Distributed By: Universal Pictures
Running Time: 95m
End Credits: 2 mid-credits
Cast: Keri Russell, O'Shea Jackson, Jr., Christian Convery, Alden Ehrenreich, Jesse Tyler Ferguson, Brooklynn Prince, Isiah Whitlock Jr., Kristofer Hivju, Hannah Hoekstra and Aaron Holliday, with Emmy winner Margo Martindale and Emmy winner Ray Liotta

Synopsis:
Inspired by the 1985 true story of a drug runner's plane crash, missing cocaine, and the black bear that ate it, this wild dark comedy finds an oddball group of cops, criminals, tourists and teens converging in a Georgia forest where a 500- pound apex predator has ingested a staggering amount of cocaine and gone on a coke-fueled rampage for more blow … and blood.
Are you ready to go off the rails with Cocaine Bear? Did you already enter our giveaway? Do you this is the beginning of a new animals on drugs horror-comedy franchise? Let us know what you think and share your reactions with us on social media!
KEEP READING: The Super Mario Bros. Movie Review – A New Generation of Fun