Sami Zayn has been on an absolute tear lately, especially since working with The Bloodline.  He has always been thought of as a very solid wrestler but was never thought of as one of WWE's most underrated Superstars.  That is until now.
At Elimination Chamber in February, Sami Zayn challenged Roman Reigns for his WWE Undisputed World Championship.  After Zayn gave the fight of his life, Reigns was able to walk out the champion.  However, at WrestleMania, earlier this month, he and Kevin Owens were able to dethrone the very long tag team championship reign of the Usos.
RELATED: Brock Lesnar Reveals Paul Heyman's Importance To Wrestling Today
During a recent interview on WWE's The Bump the topic of tag teams came up. A fan asked Zayn who his favorite tag team was growing up?
"If we go really young, I love Demolition," Sami Zayn said. "Really, it was the Hardy Boyz. Actually, they were so pivotal to my whole life. They came into my world at an age where even the idea of becoming a wrestler, or training to become a wrestler, was not possible at all. I was just so inspired by them because it seemed like younger and smaller guys [had a chance]."

H/T To Wrestling Inc. For Transcription
From Wrestling On Trampolines To WWF
Once the Hardys became the Hardy Boyz in WWF in 1999 they climbed up the ranks in popularity really fast.  However, before joining WWF they ran their own promotion called OMEGA.  OMEGA was a backyard promotion that started to gain popularity before YouTube through word of mouth and tape trading. Sami Zayn was around 12 during this time, so the perfect time to get into wrestling.
Sami Zayn elaborated on why he named the Hardy Boyz as his favorite tag team growing up.
"They were doing their stuff in the backyard. I gravitated towards them," Sami Zayn said. "They were massive inspirations on me, in my late fanhood and early years of wanting to be a wrestler, and training to become a wrestler." 
The Most Exciting Tag Team Of The 2000s
In the early 2000s when the Hardy Boyz took off and had their famous TLC matches a fan would have to be braindead to not be a fan. They had a reckless and high flying style. Jeff especially loved to jump off things with an immense amount of grace until he came crashing down on his opponent. This style was far from unique, but the Hardys made it unique and their own. Rather than backflips, cartwheels, flying headscissors, the Hardys just decided to jump off of something and do a flip on the way down.
RELATED: Thunder Rosa Praises Trish Stratus' Surprising Heel Turn
This reckless style made their matches some of the most exciting of the night. It helped that they also had a lot of charisma and eyes always gravitated towards Jeff because of his very unique style and ring attire.
The Influence Of The Hardy Boyz Is Still Visible Today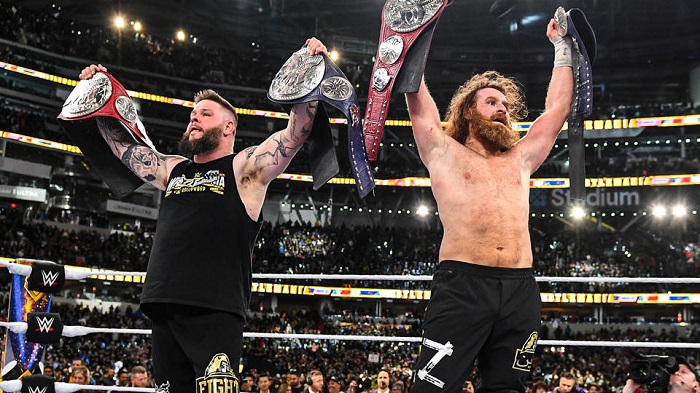 It is hard to think of any modern American pure tag team wrestlers besides FTR who haven't been influenced by the Hardys. Everyone is just trying to be even half as exciting as the Hardys were in the early 2000s. Matt and Jeff are still active in AEW with Jeff recently returning. They are still able to bring in fans because of all the fans they made early in their careers. It just so happens that some of their fans included some of the best wrestlers in the world like Zayn.
Sami Zayn and Kevin Owens will try to copy the Hardy Boyz success in Puerto Rico next Saturday, May 6, at Backlash. Undisputed WWE Tag Team Champions Owens and Zayn along with Matt Riddle will take on The Usos and Solo Sikoa.
Who was your favorite tag team growing up?  Can you see the Hardy Boyz influence in modern wrestling?  Can you see it in Sami Zayn's wrestling?  Let us know if you think Sami Zayn and Kevin Owens will hold the championships for a long time and who should take their titles.
KEEP READING: AEW Rumored to Reveal CM Punk's Return to Warner Bros. Discovery
Sources: Wrestling Inc., WWE's The Bump