Adrian Grünberg's latest project, The Black Demon, hits theaters later this week, bringing the shark of Hispanic legend to the big screen.
There's plenty to enjoy within the film's 100-minute runtime, giving audiences everything they could want from a shark movie. It's man vs. nature, as Paul Sturges (Josh Lucas) and his family go head-to-head with a Megalodon to escape an abandoned oil rig.
However, within the aquatic thrill ride, there's a simple yet unique real-world story of climate change, which Grünberg used to set his movie apart from the rest of the genre.
Climate Change is an Important Part of the Story of The Black Demon
RELATED: Renfield Review – This Movie Absolutely Abuses Its R-Rating
We got to talk with Adrian Grünberg about the direction he wanted to take The Black Demon. While the director bought into the original script's climate change storyline, he wanted to focus more on it in his final version.
"Look, climate change is a world thing. It's a problem that we all face as a species, but I think it all starts small. So, we have a really small oil rig with a spill that's killing that little part of the world, which nobody will know. That's where it begins, and that, I think, is more relatable to people, you know. 'Hey, I live in a small place. I live in a street, and then I live in a township, then I live in a city, then I live in a country, then I live in the world.' But the closer you are to that reality, hopefully, the more it hits you. We tried to accentuate that."

Adrian Grünberg, The Black Demon
RELATED: Beau is Afraid That You'll Read This and Agree
As for the film's ending? We won't get into spoilers here, but it doesn't seem like the world's problems are solved. While Grünberg wouldn't rule out a sequel, he hopes that The Black Demon's ambiguous ending leaves fans wondering what's next. Whether that's hoping for a sequel or prolonging the climate change talk, both are a success in his book.
"At the end of the day, that's what it is. The problem is not over, right? We didn't fix the world, we solved our little moment in time, right? We closed this circle, but the circle continues. The infinity loop is still there."

Adrian Grünberg, The Black Demon
About The Black Demon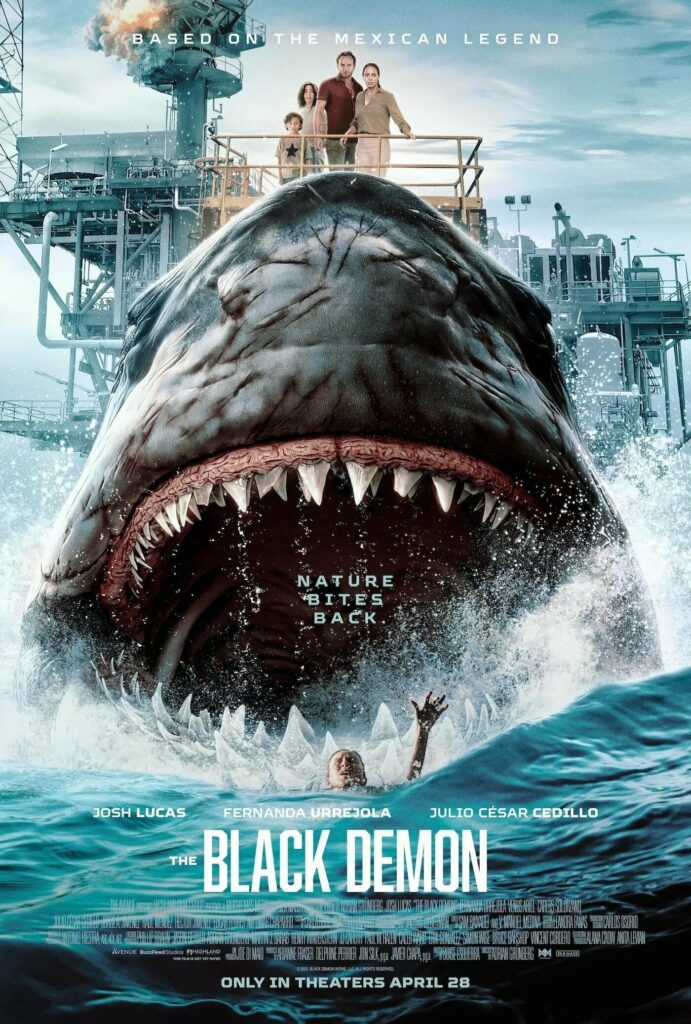 Release Date: April 28, 2023, exclusively in theaters
Director: Adrian Grünberg
Writer: Boise Esquerra (written by), Carlos Cisco (story by)
Cast: Josh Lucas, Fernanda Urrejola, Julio César Cedillo
Run Time: 100 minutes
Rating: Rated R for some grisly images
Genre: Action
Distribution: The Avenue
Synopsis: Josh Lucas (Ford v Ferrari, Yellowstone) stars in this edge-of-your-seat action thriller from the director of Rambo: Last Blood. Oilman Paul Sturges' (Lucas) idyllic family vacation turns into a nightmare when they encounter a ferocious megalodon shark that will stop at nothing to protect its territory. Stranded and under constant attack, Paul and his family must somehow find a way to get his family back to shore alive before it strikes again in this epic battle between humans and nature.
Are you excited about The Black Demon? What do you think about using a shark movie to tell a story about climate change? What do you think the ending symbolizes? Let us know your thoughts and theories on social media!
KEEP READING: Batman: The Doom That Came To Gotham Review