Get ready for the run of your life, DC fans, as Warner Bros. Pictures just dropped a new trailer for The Flash movie. Directed by Andy Muschietti, who is known for his work on the IT films and Mama, the movie promises to be an action-packed, time-bending adventure that will keep audiences on the tips of their toes.
The Flash New Official Trailer
The movie stars Ezra Miller, who reprises their role as Barry Allen, aka The Flash, in the superhero's first-ever standalone feature film. But this isn't your typical superhero movie. The Flash promises to take us on a wild ride as Barry uses his superpowers to travel back in time and change events from the past. However, when his actions have unforeseen consequences, he finds himself in a dangerous reality where he must make the ultimate sacrifice to save the world as he knows it.
RELATED: The Flash: Newest Screening Rumors Hint at Surprise Cameos, Vague Ending
The movie brings together an impressive ensemble of actors, including Michael Shannon, Ron Livingston, and Maribel Verdú, among others. But perhaps the most exciting addition to the cast is Michael Keaton, who will reprise his role as Batman. Fans of the DC universe will undoubtedly be thrilled to see the Caped Crusader return to the big screen once again.
The score for The Flash is by Benjamin Wallfisch, who worked on The Invisible Man and the IT films. With such an impressive team behind the camera, fans can expect a visually stunning movie with an incredible soundtrack. The Flash is produced by Barbara Muschietti and Michael Disco and distributed worldwide by Warner Bros. Pictures.
RELATED: Guardians of the Galaxy 3 Receiving Strong Early Reactions For "Heartbreaking" Final Installment
The Flash promises to be an adrenaline-pumping ride for DC fans everywhere. With an all-star cast, an incredible team behind the camera, and a gripping storyline, this movie has everything it takes to become a hit at the box office. So get ready to race for your life and join The Flash as he tries to save the world and reset the universe in this thrilling adventure.
The Flash is set to open in theaters in North America on June 16, 2023, and internationally beginning on June 14, 2023. Fans of the DC universe can mark their calendars and get ready for an exciting adventure with their favorite superhero.
About The Flash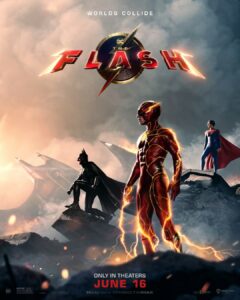 Release date: June 16, 2023 (North American), June 14, 2023 (Internationally)
Director: Andrés Muschietti
Screenplay by: Christina Hodson
Story by: John Francis Daley, Jonathan Goldstein, Joby Harold
Producers: Barbara Muschietti
Cinematography: Henry Braham
Costume design: Alexandra Byrne
Produced by: DC Studios, Double Dream, The Disco Factory
Distributed by: Warner Bros. Pictures
Cast: Ezra Miller, Sasha Calle, Michael Shannon, Ron Livingston, Maribel Verdú, Kiersey Clemons, Antje Traue, Michael Keaton, Ben Affleck

Logline
Worlds collide in "The Flash" when Barry uses his superpowers to travel back in time in order to change the events of the past. But when his attempt to save his family inadvertently alters the future, Barry becomes trapped in a reality in which General Zod has returned, threatening annihilation, and there are no Super Heroes to turn to. That is, unless Barry can coax a very different Batman out of retirement and rescue an imprisoned Kryptonian… albeit not the one he's looking for.

Ultimately, to save the world that he is in and return to the future that he knows, Barry's only hope is to race for his life. But will making the ultimate sacrifice be enough to reset the universe?
What do you think of The Flash's new trailer? Do you think there will be some surprise cameos? Who do you hope shows up? Let us know what you think and share your reactions with us on social media!
Source: WB Pictures
KEEP READING: How Many Post-Credits Scenes Does Guardians of the Galaxy Vol. 3 Have?