During the Guardians of the Galaxy Vol. 3 press conference, the High Evolutionary himself, Chukwudi Iwuji, shares his reaction and personal account of being cast for the film. It was a long and anxious process because of the uncertainty. However, James Gunn thought he told Iwuji he had the job immediately as he remembers the event very differently.
It Happened on the Dance Set of Peacemaker
RELATED: Guardians of The Galaxy Vol. 3 – Kevin Feige Praises Dave Bautista As One of the Best of the MCU
It all started with a simple question from moderator, Nathan Fillion "James Gunn calls you up and says, 'I want you to be in the new Guardians movie.'  Your reaction is?"
Chukwudi Iwuji: Homer Simpson, the blink.  You know, when Homer doesn't know what to say and doesn't understand what you just said.  And the camera stays on him and he keeps doing that. That's what it was.

James Gunn:  When I asked you to screen test, or when I told you you had the gig?

Chukwudi Iwuji:  No, both things happened.

James Gunn:  No, [we did this all in person?].

Chukwudi Iwuji:  We did it in person.  We'd just finished doing a  big —

James Gunn:  Peacemaker.

Chukwudi Iwuji:  — the dance sequence for Peacemaker.  We were filming the dance sequence for Peacemaker.  And James said, "Can I have a word with you?  I have something I want to talk to you about."… I actually said to him, "Is this when you were hiring Chiwatel Ejiofor?  

ALL:  [laugh]

Chukwudi Iwuji:  And he said, "No, no, no.  Actually, that's not it.  That's not it at all.  But I do want you."   No, he started with, "I don't know what your schedule is."

ALL:  [laugh]

Chukwudi Iwuji:  "But I would like you to play the High Evolutionary in Guardians of the Galaxy Three… Yeah.  So, I just sort of blinked for a while and mumbled something.  And he [James Gunn] said, "It's great.  I've already spoken to Kevin about it.  We'll get together at my place or something.  We'll put something on camera and send it to them."  And I thought that was gonna happen in the next few days.  I think it was, like, six weeks or five weeks before I actually got the screen test done, right?

James Gunn:  No, you got it.  Oh, was that what [happened]?

Chukwudi Iwuji:  Yeah!

James Gunn:  Oh, I thought I told you you had the job at the dance thing.

Chukwudi Iwuji:  Of course you did.  But I'm a jobbing actor. The closest I've come to Marvel is my local IMAX!

ALL:  [laugh]

Chukwudi Iwuji:  I wasn't gonna believe that I had the job yet, especially since we still had to do a bloody tape. 

James Gunn:  No, I totally remember this differently.  I think you're making all this up.
RELATED: James Gunn is Always Nervous About Bringing Comic-Book Characters to the Movies
Please note, it's hard to tell in text, but this is all a light-hearted disagreement and just a bunch of funny stories and misunderstandings. Everyone is professional and had a lot going on so things fell through the cracks. However, Chukwudi Iwuji does have the receipts to prove he is in fact right. If you would like to know the rest details, be sure to like, share, and comment.
Guardians of the Galaxy Vol. 3 releases exclusively in theaters May 5, 2023.
About Guardians of the Galaxy Vol. 3 (GOTG Vol 3)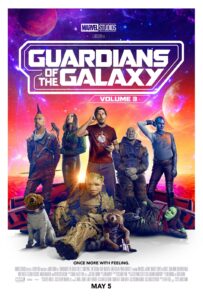 Release date: May 5, 2023 (USA)
Director: James Gunn
Writer: James Gunn
Executive Producers: Kevin Feige, Victoria Alonso, Louis D'Esposito, Simon Hatt, Nikolas Korda, Sara Smith
Co-Producers: David J. Grant, Lars P. Winther
Cinematography: Henry Braham
Music by: John Murphy
Production Company: Marvel Studios
Distributed by: Walt Disney Studios Motion Pictures
Cast: Chris Pratt, Zoe Saldana, Dave Bautista, Karen Gillan, Pom Klementieff, featuring Vin Diesel as Groot, Bradley Cooper as Rocket, Sean Gunn, Chukwudi Iwuji, Will Poulter, Maria Bakalova

Synopsis
In Marvel Studios' "Guardians of the Galaxy Vol. 3" our beloved band of misfits are settling into life on Knowhere. But it isn't long before their lives are upended by the echoes of Rocket's turbulent past. Peter Quill, still reeling from the loss of Gamora, must rally his team around him on a dangerous mission to save Rocket's life—a mission that, if not completed successfully, could quite possibly lead to the end of the Guardians as we know them.
What do you think about Guardians of the Galaxy Vol. 3? Do you already have your GOTG Vol 3 tickets? Will you rewatch the other movies first? Let us know your thoughts and reactions on social media!
KEEP READING: Guardians of the Galaxy Vol. 3 Review – Bookends the Best Super Hero Trilogy Ever