One of the biggest scene stealers in Guardians of the Galaxy Vol. 3 is Cosmo, and it is no small part thanks to the wonderful performance of Maria Bakalova. Bakalova lovingly captures the pure joy of a puppy as Cosmo and easily warms the hearts of everyone in the audience. Hopefully, it will please fans to know that she had just as much fun bringing Cosmo to life as much as Cosmo does bringing joy to the film.
Maria Bakalova Was Even More Excited When She Found Out She Was Cosmo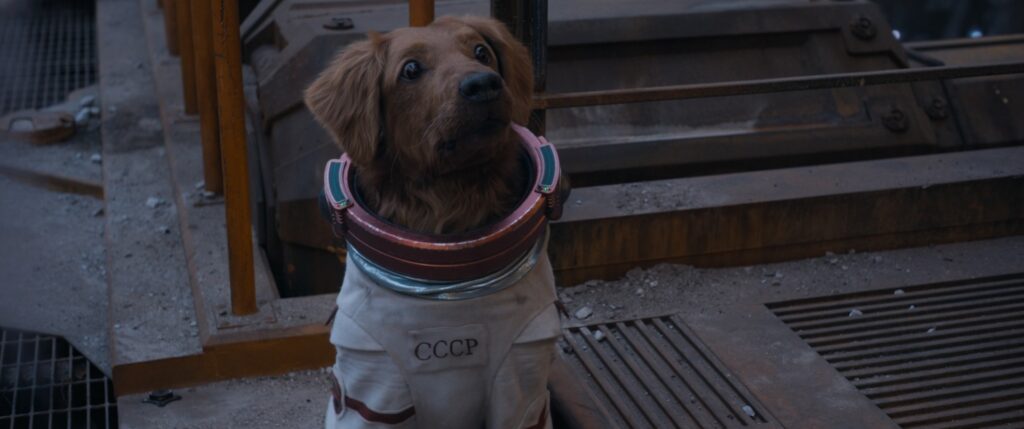 Though you might not see her directly on screen, Maria Bakalova as Cosmo is one of the most prominent characters of the film. Her excitement from being cast and to inhabit the role are apparent on screen and she shared her excitement and process during the Guardians of the Galaxy Vol. 3 press conference.
RELATED: Guardians of The Galaxy Vol. 3 – Kevin Feige Praises Dave Bautista As One of the Best of the MCU
Nathan Fillion: You get a call.  You're gonna be in a James Gunn movie.  You're super excited.  Then you find out it's a dog. [Everyone laughs] Are you still excited?
Maria Bakalova:  Even more, to be honest.  When I was auditioning for the part, I was like, "How can I play this?"  And it was so interesting, because you can [dare it?] to be a little bit more over the top, 'cause she's a puppy and she has more energy. And then when I got the call, I think that was actually the first call that I'm getting, "You got the job!" 
Chukwudi Iwuji:  Is that how you remember it?

ALL:  [LAUGH]

James Gunn:  Oh, I'm never gonna hear the end of it.

Chukwudi Iwuji:  Sorry.  [overlap] Just making sure it's how James remembers the sequence of events, you know?  I believe you.

ALL:  [LAUGH]

*This intermission is based off Chukwudi Iwuji and James Gunn remembering Iwuji's casting differently*
RELATED: Guardians of the Galaxy Vol. 3: Chris Pratt Would Jump at the Opportunity to Do 3 New Movies With James Gunn
Maria Bakalova:  Yeah, but no, when I got the call from my team that I'm getting the job, I was like, absolutely mind-blown and I didn't know what to do and to expect.  And I think I started jumping.
And then, when I found out that I can be on set, actually, and work with a mo-cap suit, and imagine that I'm a child again and use my imagination to be like, "Okay, to day I'm going to be a dog.  Tomorrow I will be a flower.  The next day, I'm going to be a butterfly."  It's interesting, we tend to forget about imagination when we grow up.  And it's been just incredible.
Maria Bakalova Went Full Good Dog
Nathan Fillion followed up and asked more about Bakalova's process and prep work for portraying Cosmo.
Nathan Fillion:  So, you kind of tapped into, like, a bit of a childhood, I'm gonna pretend to be a dog thing.
Maria Bakalova:  Yeah.  Why not. 
Nathan Fillion:  Did you literally watch dogs and say, "I better be a little more examining"?  Did you [overlap]
Maria Bakalova:  Absolutely.
Nathan Fillion:  Really?
Maria Bakalova:  I was trying to speak with them, bark with them.
ALL:  [laugh]

Maria Bakalova:  And be on my knees and I enjoyed playing in the dirt.  That's fun.
RELATED: Guardians of the Galaxy Vol. 3: Karen Gillan Details Where Nebula Is on Her Astounding Character Arc
Bakalova's full embrace of being a puppy radiates in her performance. She steals every scene she is in, and has one of the most enjoyable throughlines in the film. Fans will get to see just how good a dog Cosmo is in Guardians of the Galaxy Vol. 3 very soon.
Guardians of the Galaxy Vol. 3 releases exclusively in theaters May 5, 2023.
About Guardians of the Galaxy Vol. 3 (GOTG Vol 3)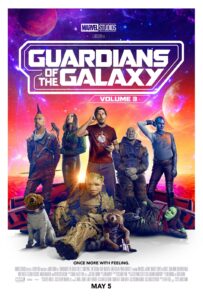 Release date: May 5, 2023 (USA)
Director: James Gunn
Writer: James Gunn
Executive Producers: Kevin Feige, Victoria Alonso, Louis D'Esposito, Simon Hatt, Nikolas Korda, Sara Smith
Co-Producers: David J. Grant, Lars P. Winther
Cinematography: Henry Braham
Music by: John Murphy
Production Company: Marvel Studios
Distributed by: Walt Disney Studios Motion Pictures
Cast: Chris Pratt, Zoe Saldana, Dave Bautista, Karen Gillan, Pom Klementieff, featuring Vin Diesel as Groot, Bradley Cooper as Rocket, Sean Gunn, Chukwudi Iwuji, Will Poulter, Maria Bakalova

Synopsis
In Marvel Studios' "Guardians of the Galaxy Vol. 3" our beloved band of misfits are settling into life on Knowhere. But it isn't long before their lives are upended by the echoes of Rocket's turbulent past. Peter Quill, still reeling from the loss of Gamora, must rally his team around him on a dangerous mission to save Rocket's life—a mission that, if not completed successfully, could quite possibly lead to the end of the Guardians as we know them.
What do you think about Guardians of the Galaxy Vol. 3? Do you already have your GOTG Vol 3 tickets? Will you rewatch the other movies first? Let us know your thoughts and reactions on social media!
KEEP READING: Guardians of the Galaxy Vol. 3 Review – Bookends the Best Super Hero Trilogy Ever