AEW star and former Women's World Champion Britt Baker recently shared her opinion on her new shirt during an interview with Sports Illustrated. Dr. Baker recently posted a picture of her face after a vicious beatdown by The Outcasts, the group consisting of Saraya, Ruby Soho, and Toni Storm.  The attack left Baker with a black eye.  She decided to show the world the aftermath of the attack via her social media.
The image of Baker with a black eye was turned into a shirt by The Outcast and AEW.  It ended up being a popular shirt, but it later caused some controversy on the internet.
RELATED: Thunder Rosa Praises Trish Stratus' Surprising Heel Turn
Britt Baker decided to respond to one fan's issue with the shirt.  The fan suggested that putting her black eye image promoted domestic violence and was trying to profit off of domestic violence.  She didn't see it the same way and took to Twitter to defend her point of view.
Britt Baker wrote on social media, "Supports domestic violence how? I got a black eye in a RING? My enemies put a pic on a shirt to troll me and I outsmarted them.🤑 Does that mean all the (top-selling) bloody T-shirts are supporting murder? If a male wrestler had a shirt with a black eye would you be this pissed?"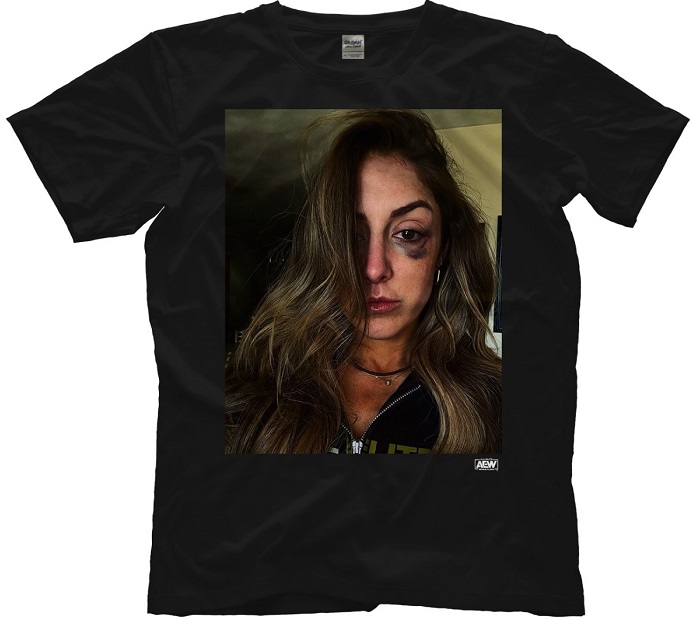 THE FEUD BETWEEN BRITT BAKER AND THE OUTCASTS IS GETTING INTENSE
The feud between Britt Baker, AEW Women's World Champion Jamie Hayter, and The Outcasts just got much more intense.  Baker has never shied away from blood, getting vicious, brutal, and vindictive when she needs to.  However, The Outcasts proved they are just as willing when they attacked Baker and posted their handiwork on a shirt.
Baker was recently a guest on Sports Illustrated and was asked about the shirt and the backlash surrounding its release. She stated the following:
"I was very surprised. When it went on a shirt, it was really problematic, and that was so confusing to me. Because why? If I'm on a shirt with a black eye, why does that make me weak? Why does that make me a victim? But if a man, or Chris Jericho, had a black eye, they'd be tough and they'd be a badass.

"To me, it's showing the internal narrative that people are saying about women, and that's that we're not as strong or as tough as the men, and that's the real problem here. It's not a black eye on a T-shirt. Sometimes I do get hurt. I've broken my leg, my wrist, my nose, and guess what? Now I have a black eye and I signed up for that. I've actually been telling the makeup artist, 'Don't cover up my black eye.' Because I think it's empowering, because I'm tough. You should see the other girl."

H/T To Wrestling Inc. For Transcription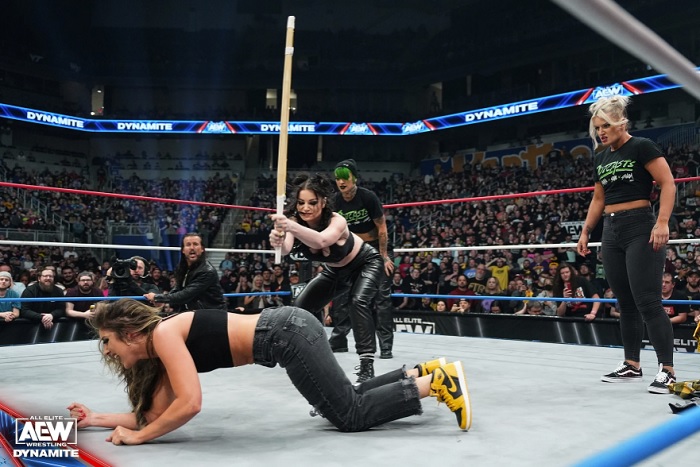 This conversation brings up an interesting conversation that has been making the rounds of the wrestling world.  Should women be treated differently in wrestling?  Should they be allowed to wrestle hardcore matches?  Is seeing a woman bleed taking things too far?  Also, should women be allowed to wrestle men?
RELATED: Saraya Shares Her Big Fears Of Returning To The Ring
Intergender matches are nothing new in wrestling, but they are rarely seen in the top promotions or at least American promotions.  Back in the '90s and '00s, Chyna wrestled men. In 2019, Nia Jax entered the Men's Royal Rumble match.
The discussion of intergender matches has gained a lot of traction lately because of Rhea Ripley.  Ripley has made it a point to mess with male wrestlers because they can't touch her.  However, the debate is for how much longer will that be the case?  WWE introducing this concept may be them testing the waters and seeing how their fans would react to men wrestling women again and on a regular basis.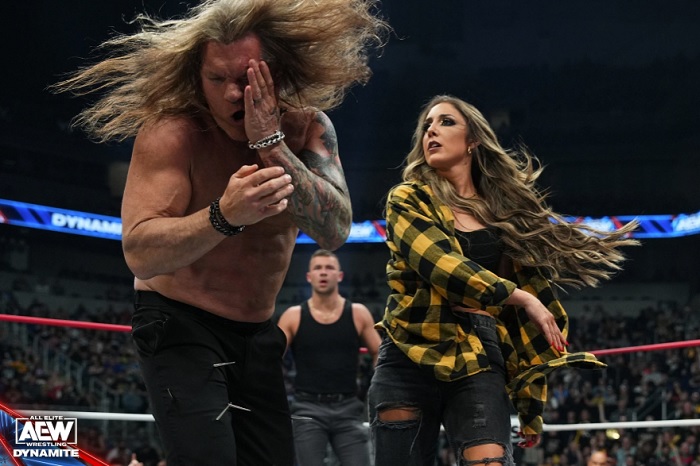 What do you think of Britt Baker's black eye being on a shirt?  Should AEW be selling merchandise that depicts women's injuries?  Do you think it promotes and profits from domestic violence?  Would you wear that shirt in public?  What do you think of intergender matches?  Do you think AEW or WWE would do it first?  Do you think there will ever be a woman to win the AEW or WWE Championship?  Let us know who you would like to see be the first woman to hold one of those championships.
KEEP READING: WWE's Naomi, aka Trinity Fatu, Reveals Big Reasons For Leaving
SOURCE: Britt Baker Twitter, Wrestling Inc., Sports Illustrated, Wrestling Inc.