Guardians of the Galaxy Vol. 3 will close off a lot of plot threads from the previous two movies, and will also pay off one of the second movie's post-credits sequences, which teased the introduction of Adam Warlock in the MCU, played in the new film by Will Poulter.
During the press conference for the threequel, moderator Nathan Fillion asked Poulter about his family's reaction upon learning he would be the MCU's next caped hero, and the actor jokingly replied that they were a bit disappointed. Here's their exchange:
NATHAN FILLION:  Now, you've been in the business a while.  You've been doing this a long while.  You understand the machinations of the industry and what a part like this in a James Gunn film in an MCU universe will do for a career.  But for those of your ilk that don't know, your family, your friends, when they hear you're gonna be in the new Guardians, I wanna know their reactions.  I wanna know what happens when cast Will.

WILL POULTER:  Yeah.  It's funny. Like, my family are mostly all, like, medics, nurses, and doctors or whatever. So, they're like, this sounds cheesy, but they are, like, real-life superheroes kind of thing, right?

NATHAN FILLION:  So, you were a big disappointment.

ALL:  [laugh]

WILL POULTER:  Huge.  But they're, like, very supportive and very excited for me, obviously.  And they've, you know, since watched all of the Guardians. But, like, my mum and dad were the only people within my family and group of friends to have not seen the Guardians films. And they watched them, like, back-to-back as soon as I got the role and have been very excited ever since.

NATHAN FILLION:  So, they could be a little more informed about how excited to be for you.

WILL POULTER:  They could be a little more informed about it. Exactly.

RELATED: Guardians of The Galaxy Vol. 3 – Kevin Feige Praises Dave Bautista As One of the Best of the MCU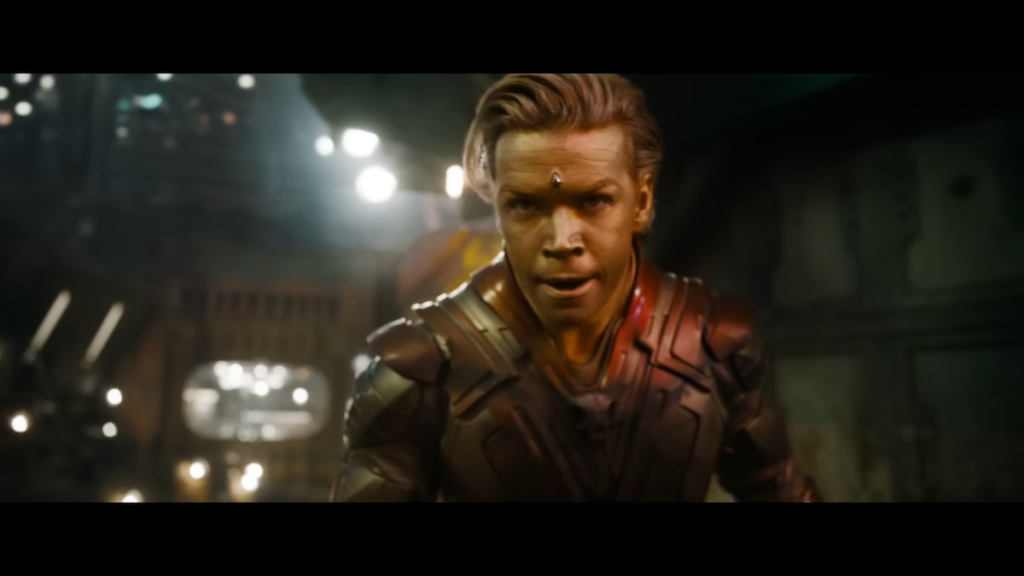 GUARDIANS OF THE GALAXY VOL. 3: WILL POULTER'S FUTURE IN THE MCU AS ADAM WARLOCK
We're posting this before I've seen the film, so all of this is purely speculative. From all accounts, it seems like Adam Warlock has a specific part to play in the story, but is definitely not one of the major players in it.
That may come as a disappointment to the fans of that post-credit sequence and the character from the comics, but one could also argue that James Gunn didn't think this was his story, or that he didn't fit as well into the story he wanted to tell in the film, and that looking at him not as a comic-book character with the huge legacy that he has, but rather as a character in the script with a specific function to play, will help.
RELATED: Guardians of the Galaxy Vol. 3 Team Shares Hilarious and Touching Pom Plane Story
However, that doesn't mean that the future of the MCU can't do him and his comic-book legacy justice. Warlock was a very important part of the Infinity War comic run, and though he was not a part of the MCU during The Infinity Saga, what's undeniable is that Kevin Feige is a major fan of the character, and he will definitely not let the opportunity slip to make him a powerhouse in The Multiverse Saga. The MCU is about to engage in a major war against Kang the Conqueror and his many variants, and having a character at the power level of Adam Warlock can be something that will come in handy.
Guardians of the Galaxy Vol. 3, featuring Will Poulter as Adam Warlock, arrives in theaters on Friday, May 5.
What do you think of the potential of the character going forward? Do you think he will have a big role to play in Avengers: The Kang Dynasty and Avengers: Secret Wars? What do you make of Will Poulter's comments? Have you seen the movie already, and if so, what do you make of the character and what Will Poulter brought to him? Let us know your thoughts on our social media, and make sure to read our review of the film on the link below!
KEEP READING: Guardians of the Galaxy Vol. 3 Review – Bookends the Best Super Hero Trilogy Ever