Chris Jericho recalls two WWE Hall of Famers he wished he had gotten a chance to work with in WCW.
Jericho is a legend in his own right and has wrestled some of the best wrestlers in the world.  This includes legends and future WWE Hall of Famers while in WWE, but since going to AEW the list of top-level wrestlers he has worked with just skyrocketed.
RELATED: Arn Anderson And Jim Ross Talk About Wardlow's Huge Potential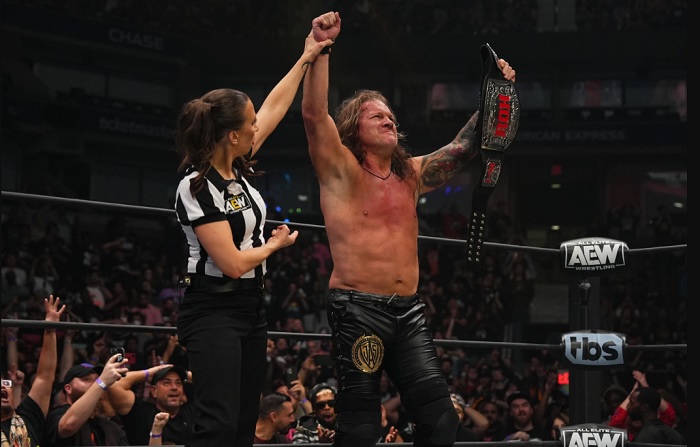 It is hard to believe this now, but Jericho was not always the megastar he is today.  Back in the late '90s, he wasn't even a mid-carder, at least not at first.  In 1996 when he joined WCW he was just a babyface in the cruiserweight division under his Lionheart persona.  As time went on he climbed up to the mid-card but never claimed a spot higher on the card.
On a recent episode of Talk is Jericho, Chris Jericho, Lance Storm, and others watched an old episode of Saturday Night's Main Event from 1987 and it sparked some regret from Jericho.  The episode had a match between Macho Man Randy Savage and Bret Hart and Jericho went into his regret that he was never able to work with them.
"Savage is on fire right here, man," Jericho said. " What a f—ing talent. That's one of my biggest regrets. I never got to work with Bret or Savage, even though I was in WCW with both of them!" H/T To Wrestling Inc. For Transcription
Macho Man's Savage Time In WCW
In 1994 Savage left WWF for WCW hoping to show the world that he still had a few years left in his wrestling career.  Prior to leaving WWF, he was stuck in the commentary booth for much of his final years.
Once Savage joined WCW he retook his position on top of the roster.  While in WCW he joined the nWo and eventually the Wolfpac version as well.  Even though he had lost a step since his WWF days and it was clear he was at the tail end of his career he was able to win the WCW World Heavyweight Championship four times.  Most of his time spent in WCW he was just a cog in the nWo's war against WCW and a very heated and real-life feud with Hulk Hogan.
Bret Hart's Troubled Time In WCW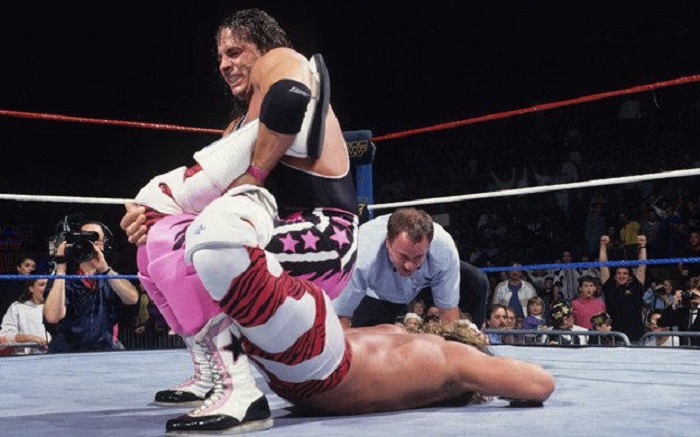 Hart on the other hand came to WCW in 1997 after he left WWF following the Montreal Screwjob.  He took his place on the top of the card just like Savage.  However, just like Savage, it was clear this was not the same version of Hart the world saw in WWF.  Hart's final years in WCW were plagued by personal tragedies and a career-ending injury.
When Jericho was asked why he was never able to work with Hart or Savage even though they were all in WCW at the same time the answer was blunt.
"I was never allowed to get booked with those guys," Jericho said. "It was so stupid."
Chris Jericho On The Rise And Two Hall Of Famers At The End Of Their Careers
When Hart and Savage were in WCW fighting against and with the nWo, Jericho was fighting over the Cruiserweight Title and TV Title. The only real feud with a main eventer was with Goldberg, but never actually turned into a match.
RELATED: AEW Rumored to Reveal CM Punk's Return to Warner Bros. Discovery
By the time WCW was bought by WWF Jericho was in the WWF already and becoming a big star.  Even though WWF hired a lot of WCW's stars, some of their biggest names never came over to WWF or at least not right away.  This included both Hart who retired before WCW died and Savage who only shortly appeared in TNA years later before retiring.
Jericho recalled seeing Savage at a radio station years later and said Savage wished they had gotten to wrestle.
"He was like, 'Yeah, I wish I had a chance to work with you.' I'm like, 'Then why didn't you request it?'
Unfortunately, these two WWE Hall of Famers were never able to wrestle Chris Jericho.  The timing was just not right.  I think a feud with Jericho and Savage would have been very good, but Jericho and Hart would have been excellent.  Their styles just mesh very well, like a less explosive Chris Benoit, and Jericho and Benoit had great matches.
Would you have liked to see Chris Jericho wrestle Savage and Hart?  Which would you rather have seen?  Do you think Jericho was too green in WCW to wrestle them then?  Let us know what WCW legend you wish Jericho had a feud with while he was in WCW.
KEEP READING: Trish Stratus Remembers The Powerful Words Of Inspiration The Rock Told Her
Sources: Talk is Jericho, Wrestling Inc.