WWE Superstar and global icon John Cena recently spoke about how the famous Ruthless Aggression Era was not a great time for him in WWE. The Ruthless Aggression Era of WWE is one of the most famous eras of WWE and wrestling. Of course, the Attitude era gets all the praise and revitalized pro wrestling, but the Ruthless Aggression Era took the momentum and ran with it.
However for Cena, he doesn't have the best memories when it comes to the Ruthless Aggression Era, and he discussed the topic during a recent interview with Sam Roberts.
RELATED: Trish Stratus Remembers The Powerful Words Of Inspiration The Rock Told Her
JOHN CENA REFLECTS ON THE RUTHLESS AGGRESSION ERA
Without a doubt, the biggest young star to be made during the Ruthless Aggression Era is John Cena. While one might think that Cena would look back on the ear with a lot of fondness, but that does not appear to be the case. During his recent interview on NotSam Wrestling, he spoke about why the era was not a particularly fun time for him. At least not at first. He stated the following on WWE's Ruthless Aggression period:
"It sucked for me. I had no direction, I was asked to be a good guy when I'd gotten my experience as a bad guy, so I was asked to do something new. I lost my nickname, I had my real name, so what is a John Cena? I don't know what that is. I was too stupid to realize that I could use the two words, 'ruthless' and 'aggression' and create a personality. I wish I could get that opportunity now." – H/T To Wrestling Inc. For Transcription
Huge Opportunities But Too Green To Take Advantage
Cena was extremely green when he joined WWE. He had only wrestled for around three years when he debuted against Kurt Angle on a 2002 episode of SmackDown. When he first debuted his character was much different than the one the wrestling world knows today. He was a very generic white guy in WWE. There wasn't anything that made him stand out, but it was clear that something special was there.
Cena was given some very big chances against some of the best wrestlers at the time. His first match was against Angle after all. He then entered into a feud with Chris Jericho who is still one of the best.
John Cena then began tagging with Billy Kidman who was a very underrated cruiserweight. However, he still failed to grab the crowd in the way that WWE wanted from him. He was very close to being released from WWE until he got lucky during a WWE European tour. Cena continued during the interview:
"The European tour in the fall saved me, so that's my scariest moment. There have been so many performers that have been released from WWE and go onto really have wonderful careers elsewhere and then maybe, eventually come back, and that's fine. I don't think I would've come back. I don't think I would've done anything else."
The reason the European tour saved Cena's career is that he finally found the gimmick which allowed him to step into the spotlight. He told GQ that while on the tour he started freestyle rapping and it caught Stephanie McMahon's attention. She then asked if he would want to do that on TV.
RELATED: Logan Paul Signs New Big Contract With WWE
This new gimmick made Cena the Doctor of Thuganomics. It consisted of him being a trash-talking, freestyling rapper. This simple change to his gimmick skyrocketed him to the top of the card. Within a few months, he started wrestling in number-one contender matches and for the WWE Championship, and he challenged then-reigning champion Brock Lesnar for the title at WWE Backlash in 2003.
John Cena of course went on to become one of the most recognizable wrestlers of the current era and one of the most decorated winning a record-tying 16 world championships. The only other wrestler to have that many world title runs is WWE Hall of Famer Ric Flair.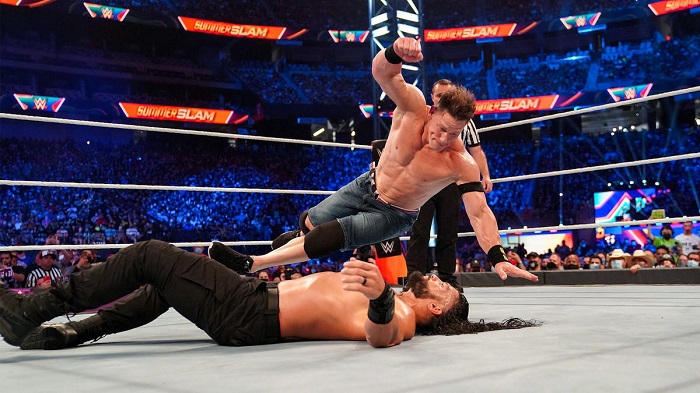 In recent years, Cena has transitioned into a successful acting career with his latest appearance being in the latest installment of the Fast and the Furious franchise, Fast X, where he reprises his role as Jakob Toretto. The last time we saw Cena wrestle was a couple of months back at WrestleMania 39 in Los Angeles when he wrestled Austin Theory for the United States Championship. Theory defeated Cena in the opening matchup for WrestleMania 39: Night 1 to retain the title.
Do you think the Ruthless Aggression era would have been successful without John Cena? Do you think he is the Superstar which most defines the era? If not then who would you say does? Do you miss Cena on WWE TV or are you glad new talent can take his spot? Were you a fan of his Doctor of Thuganomics gimmick? Let us know if you think if Cena would have done well in NJPW or TNA in 2002 if he had been released.
KEEP READING: "Superstar" Billy Graham Dead At Age 79
SOURCE: Wrestling Inc., NotSam Wrestling, Wrestling Inc. GQ