VIZ Media, a renowned producer of manga and anime, has announced the highly anticipated return of BLEACH: Thousand-Year Blood War Part 2 based on the iconic manga by Tite Kubo. Fans can mark their calendars for Saturday, July 8, 2023, as the series makes its comeback on Hulu in the U.S., Star+ in Latin America, and Disney+ in select countries internationally.
BLEACH: Thousand-Year Blood War Part 2 Official Trailer
The second part of this epic anime adaptation will premiere with its first episode at 7:30 AM PDT, simultaneously releasing on Hulu, Star+, and Disney+. Viewers can expect subtitles in English, Latin American Spanish, Brazilian Portuguese, French, German, and Italian. VIZ Media holds the worldwide rights for BLEACH: Thousand-Year Blood War (excluding Asia). Currently, Part 1 of the series is available for streaming in numerous countries across the globe, captivating audiences in Argentina, Australia, Canada, Germany, the United Kingdom, and many more.
RELATED: DEMON SLAYER: KIMETSU NO YAIBA SWORDSMITH VILLAGE ARC ENGLISH DUB LAUNCHES EXCLUSIVELY ON CRUNCHYROLL
BLEACH has achieved immense success since its debut in Weekly Shonen Jump, selling over 130 million copies worldwide (2.7 million copies in the U.S.) and becoming an award-winning and bestselling manga series. The anime adaptation, which spans an impressive 366 episodes, has cemented its place as one of the greatest anime of all time. However, BLEACH is not just a manga and anime phenomenon; it has expanded its universe to include video games, musicals, and a live-action film adaptation, making it a cultural reference point for millions of fans around the globe.
Tite Kubo, the mastermind behind the captivating visuals and storytelling of BLEACH, has made an indelible impact on the fandom world. Brad Woods, the Chief Marketing Officer of VIZ Media, acknowledges Kubo's influence, stating, "Through his visual genius, Tite Kubo has had an indelible impact on the fandom world and the course of manga and anime history." Woods also expresses VIZ Media's honor in acquiring the final arc of Kubo's legendary BLEACH catalog, BLEACH: Thousand-Year Blood War, for fans worldwide.
VIZ Media's exclusive acquisition of BLEACH: Thousand-Year Blood War encompasses various rights, including Video on Demand, Home Video, Electronic Sell-Through, Television, and Merchandise. This ensures that fans can immerse themselves fully in the captivating world of BLEACH beyond the anime series.
Under the skilled direction of Tomohisa Taguchi and with character design by Masashi Kudo, BLEACH: Thousand-Year Blood War promises to deliver an extraordinary viewing experience. The series boasts an incredible soundtrack composed by Shiro SAGISU, setting the tone for intense battles and emotional moments. Part 1 of the series featured the opening theme song "Scar" by Tatsuya Kitani and the ending theme song "Saihate" by SennaRin. Part 2 will introduce a new opening theme song titled "STARS" by w.o.d., further enhancing the overall experience for fans.
RELATED: Crunchyroll Home Entertainment Announce Amazing Summer/Fall 2023 Release Schedule
The beloved characters of BLEACH will be brought to life by a talented cast. Masakazu Morita voices the protagonist Ichigo Kurosaki, Fumiko Orikasa lends her voice to Rukia Kuchiki, and Noriaki Sugiyama portrays Uryu Ishida. The stellar voice cast also includes Yuki Matsuoka as Orihime Inoue, Hiroki Yasumoto as Yasutora Sado (Chad), Kentaro Ito as Renji Abarai, Shin-ichiro Miki as Kisuke Urahara, and Satsuki Yukino as Yoruichi Shihoin, among many others. Each voice actor brings depth and authenticity to their respective characters, enhancing the overall impact of the series.
BLEACH: Thousand-Year Blood War is a must-watch for fans and newcomers alike. As the final battle begins, the secrets and history hidden by the Soul Reapers for a millennium will be revealed. Ichigo Kurosaki, the Substitute Soul Reaper, along with his allies, faces the formidable Wandenreich led by Yhwach, the father of all Quincies. The message from the Wandenreich is clear: in five days, the Soul Society will face annihilation.
Prepare for a breathtaking conclusion as Ichigo's ultimate battle unfolds in BLEACH: Thousand-Year Blood War Part 2. Be sure to catch the premiere on Hulu, Star+, and Disney+ on July 8, 2023.
About BLEACH: Thousand-Year Blood War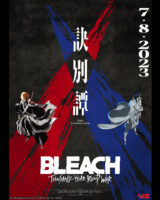 Release Date: July 8, 2023 on Hulu, Star+, and Disney+
Series Director: Tomohisa Taguchi
Character Design: Masashi Kudo
Music: Shiro SAGISU
Part 1 Opening Theme Song: "Scar" by Tatsuya Kitani Ending Theme Song: "Saihate" SennaRin 
Part 2 Opening Theme Song: "STARS" by w.o.d.
Animation Production: studio Pierrot
Distribution: Viz Media
Cast: Masakazu Morita, Fumiko Orikasa, Noriaki Sugiyama, Yuki Matsuoka, Hiroki Yasumoto, Kentaro Ito, Shin-ichiro Miki, Satsuki Yukino, Binbin Takaoka, Houko Kuwashima

Synopsis
The history and truth kept hidden by the Soul Reapers for a thousand long years is finally brought to light. All things must come to an end—as Ichigo Kurosaki's final battle begins! 
Are you excited about BLEACH: Thousand-Year Blood War Part 2? Do you think there could be a second series to follow up afterward? Have you been collecting the new SH Figuarts? Let us know on social media!
Source: VIZ Media
KEEP READING: That Time I Got Reincarnated as a Slime: Coleus' Dream Side-Story Anime Revealed