Park Beyond has revealed a new partnership with mod.io to include cross-platform user-generated content for the upcoming release. Bandai Namco and Limbic Entertainment announced the partnership that will allow players to share their creations with others no matter their preferred platform to enjoy the game. An Open Beta Test is also coming right before launch to allow everyone to try the game and obtain the exclusive Golden Omnicar, with post-launch support detailed.
Park Beyond is the latest park management game developed by Limbic Entertainment, which allows players to create their own ride designs. The new game includes a mix of tools for players to unleash their creativity as dynamic modules enable designs to be limitless.
Whether in the campaign or sandbox modes, players will be able to design the ultimate park of their own design, from sculpting the terrain to buildings and lighting. A range of Editions has also been revealed for the game that comes with a range of perks including the Impossified Edition, which comes with a range of items including an Omnicar Desk Figurine (11cm) and in-game DLC.
Park Beyond Upcoming Content from mod.io
Bandai Namco Europe and Limbic Entertainment announce they are partnering with mod.io to offer players a cross-platform user-generated content (UGC) sharing platform for the upcoming title Park Beyond. mod.io will make its debut in the game in August 2023.
mod.io is a cross-platform UGC solution powering over 150 games' User Generated Content for players on PC and consoles. Whether it be full parks, buildings or any other kind of creations, players of Park Beyond will be able to share them and download creations from others directly in-game or through impossify.com.
RELATED: Park Beyond Closed Beta Test Now Live
"Historically, games like Park Beyond have nurtured remarkable creator communities. In collaboration with Bandai Namco Europe and Limbic Entertainment, our goal is to expand the reach of user-generated content to a broader audience, encompassing both PC and console players. We are thrilled to join with Bandai Namco and Limbic Entertainment, as well as their creator community, in our pursuit of making UGC support universally accessible for their players."

Scott Reismanis, CEO and Co-founder of mod.io.
"Park Beyond's purpose is to allow players to make their childhood dreams a reality. At Limbic Entertainment we think that dreams are meant to be shared. Our goal is to allow as many people as possible to offer the world their most beautiful memories, it was clear that we wanted a cross-platform UGC solution. Thus, working with mod.io, which has a proven track record on several well-known games, was an obvious choice. We can't wait to see what our community will create in Park Beyond and share with mod.io."

Lionel Lovisa, General Studio Manager at Limbic Entertainment.
To ensure perfectly set up services, all mod.io's features for the game will be implemented in August 2023.
RELATED: Park Beyond Is Coming to PC, PlayStation 5 AND Xbox Series X/S On 16th June 2023
Crazy content will also come from the Park Beyond team with DLCs as part of the Season Pass, as well as free DLCs starting from the release of the game. From this August, players can expect a fantastic new theme, three new entertainers, prefabs, and 50+ scenery items, making their parks even more unique. September will bring two new modules for coaster creation, followed this Autumn with the introduction of challenge maps for expert park managers to tackle. And of course, the holiday seasons will bring some free content; players can look forward to pirates dropping anchor in their park.
In between and after, Park Beyond will welcome more unannounced content for players to let their creativity loose and spend countless hours playing.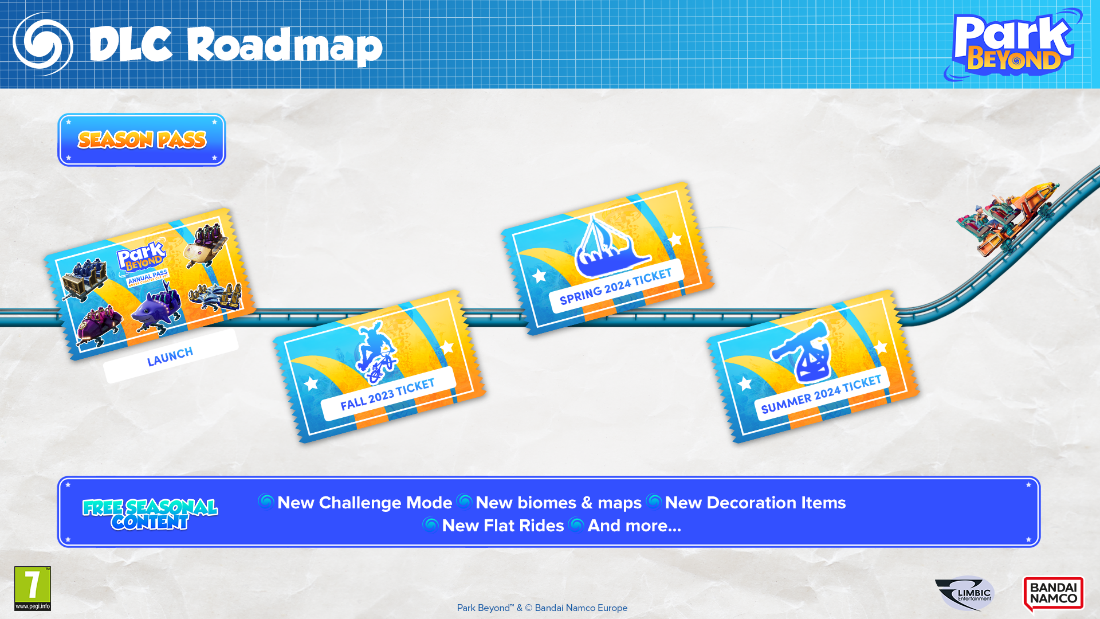 Finally, after the Closed Beta Test in May and gaining valuable feedback from players, Park Beyond will run an Open Beta Test from 7th June to 16th June, which will be the last chance to experience Park Beyond before release and get the Golden Omnicar, the Beta participation bonus.
The epic and mad creations that players will make in the game will be wonderful, so it's awesome that there will be a way to share designs with others. This would also allow content creators that showcase the game to share the insane ideas they have brought to life, allowing players to include a huge mix of unexpected attractions in their park. It will be amazing to see what kind of parks people will make and how this fantastic feature will affect the parks players will make. It's worth trying the game out in the new beta and providing feedback on any issues as this will be the last time players can obtain the participation bonus.
Park Beyond will release on June 16 for PlayStation 5, Xbox Series X|S, and PC. The game's Open Beta Test will start on June 7 and ends on release day. This will be the last opportunity to get the Golden Omnicar as a Beta participation bonus.
About Park Beyond
Release Date: 16 June 2023
Publisher: Bandai Namco
Developer: Limbic Entertainment
Platforms: Steam® (PC), XBOX Series X|S, PlayStation 5
Genre: Simulation Game
Rating: PEGI-3
What do you think of Park Beyond? Are you excited about the mod.io system to share designs? Will you be participating in the Open Beta during June? Let us know on social media and keep following The Illuminerdi for more gaming news.
KEEP READING: ABOUT MY FATHER MOVIE REVIEW: ROBERT DE NIRO CARRIES THIS OTHERWISE MEDIOCRE COMEDY
Source: Bandai Namco