It is with great sadness we mourn the loss of The Iron Sheik, who has died at the age of 81.
The Iron Sheik is a true legend and had one of the purest of heel personas. He wasn't a cool heel or a heel you loved to hate, he was just a heel. Heels like this don't exist anymore and no one did it better in the '80s and '90s.
RELATED: John Cena Says Famous WWE Era Sucked For Him
It was announced via his Twitter that Iron Sheik had passed away peacefully on Wednesday. They released a statement on his passing and his legacy. A brief excerpt of the statement is as follows:
"Today, we gather with heavy hearts to bid farewell to a true legend, a force of nature, and an iconic figure who left an incredible mark on the world of professional wrestling. It is with great sadness that we share the news of the passing of The Iron Sheik, but we also take solace in knowing that he departed this world peacefully, leaving behind a legacy that will endure for generations to come.

Beyond the wrestling persona that the world knew so well. The Iron Sheik was a devoted family man. He cherished the love and support of his wife of 47 years Caryl, who stood by his side through thick and thin, offering unwavering encouragement throughout his life. Their bond was an anchor, providing him with the strength to face the challenges that life presented … "
Iron Sheik's Beginnings
Iron Sheik whose real name is Hossein Khosrow Ali Vaziri was born in Damghan, Iran.  He worked hard to make himself a very accomplished amateur wrestler. He competed for a spot on the Iranian Olympic team for the 1968 Summer Olympics.  He then became an assistant coach to the USA team for the 1972 Olympic Games.
Iron Sheik then began his wrestling career when he met the legendary Verne Gagne. He began his pro wrestling training under Gagne in the same class as Ric Flair. Shortly after he began wrestling for Gagne's AWA and adopted a heel persona. The timing was perfect for Iron Sheik's Iranian gimmick as the Iranian revolution was occurring at the same time.
Iron Sheik had the perfect look for wrestling and especially for the heel side of the roster.  He is a big muscular man who has a body that looks like a tree trunk.  When looking at his face he looked so angry, his mustache and pointed shoes were the cherry on top.  When looking at Iron Sheik there was never any doubt that he was a heel.
A Real "Shooter" And Could Break Anyone's Back And Make Them Humble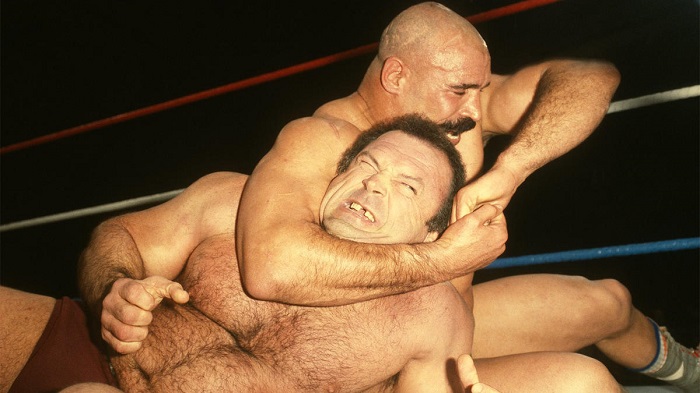 Even though the Iron Sheik was his gimmick it was always clear that he was a legitimate "shooter" and perhaps exemplified the term more than anyone else of his generation. His weekly challenge of asking if other wrestlers could swing his Persian clubs as many times as he could just went to show how dangerous he was in the ring with his strength. Legend has it those were real and not made out of super light wood and wrestlers actually did struggle with them.
RELATED: "Superstar" Billy Graham Dead At Age 79
Iron Sheik began bouncing around wrestling territories in the early '80s before deciding to make WWF his home.  Shortly after joining WWF, he beat the second-longest reigning WWF/WWE champion of all time in Bob Backlund for the championship, but no big deal.
Feuded With Some Of The Biggest Babyfaces Of The Era
Iron Sheik began feuding with some of the biggest babyfaces of WWF including Hulk Hogan and Sgt. Slaughter.  He also wrestled at WrestleMania I, II, and III.  Much of his time in WWF saw him in the tag division where he teamed up with Nikolai Volkoff.  The pair won the WWF Tag Championships on one occasion.
As Iron Sheik's in-ring career began to wind down he began managing and made sporadic appearances until his death.
Iron Sheik's Lasting Legacy
Iron Sheik's wrestling legacy is one of how to be the perfect foreign heel.  He also popularized a submission that is seen quite often.  The next time you see a wrestler apply the Camel Clutch you can thank Iron Sheik.  He was inducted into the WWE Hall of Fame in 2005.
We here at The Illuminerdi would like to share our condolences with the Vaziri family and all of Iron Sheik's fans will miss him dearly.
What would you say is the one must-watch Iron Sheik match?  What would you say is his biggest contribution to the wrestling world?  Do you think he is the best foreign heel of all time?  Let us know what is the first thing which comes to mind when you hear the name, Iron Sheik.
KEEP READING: Next 2 Challengers For WWE World Heavyweight Championship Possibly Revealed
Sources: Iron Sheik's Twitter, WWE