Sand Land will be released as the latest upcoming RPG featuring a huge desert landscape and a wide variety of machines. The new game revealed by Bandai Namco was given its first trailer during the Summer Game Fest livestream showcase for 2023, which you can see below.
Get Ready for an Inspiring Adventure with a Demonic Hero, featuring a Vast World to Explore Full of Secrets, Visceral Action, and Explosive Vehicular Combat. The title will also be available on various platforms, allowing all players to experience an incredible world based on the manga series from Akira Toriyama.  
AKIRA TORIYAMA'S EPIC RPG SAND LAND COMING SOON 
Sand Land is a whole new role-playing game that has been developed by ILCA, inc., which was based on the popular manga created by Akira Toriyama. The Summer Game Fest Kickoff Live show for 2023 announced the upcoming release, which featured many incredible previews and announcements for video games coming soon. The Kickoff livestream was hosted by The Game Awards and showcased many new and upcoming releases including Mortal Combat 1, Final Fantasy VII Rebirth, Prince of Persia: The Lost Crown, and Fortnite: Wilds. 
RELATED: Dragon Ball Xenoverse 2: Hero of Justice Pack 2 Now Available!
The game is currently in the works as a multi-platform release. It's in the works for PlayStation 4, PlayStation 5, Xbox Series X/S, and Windows PC via Steam. Players will be able to explore a world where both humans and demons are suffering from a shortage of water. They will be able to take the role of the Fiend Prince, Beelzebub, Sheriff Rao, and the demon Thief as they embark on an adventure to search for the Legendary Spring that's hidden in the desert.
Beelzebub has the pure heart of a little boy, but he also has superhuman strength and telepathic abilities. Rao is a small-town sheriff who is seeking the aid of demons to save Sand Land from its water shortage. Thief is a wise and old demon with special thieving abilities who joins the two on their quest.
Playing as Beelzebub, players will be able to explore a vast world accompanied by his unlikely group of demons and humans. Whether roaming in various vehicles or traveling by foot, players will encounter dangers as well as helpful characters they meet in the vast desert while uncovering Sand Land's many secrets. Vehicular and character combat is a big part of the action in the game. Players will have access to a variety of vehicles that they can customize and equip with loadouts to traverse the desert, overcome obstacles, and take on a diverse assortment of mighty foes. 
The new RPG is based on the popular manga series created by Akira Toriyama in 2000. Toriyama is best known as the author and creator of Dragon Ball and Dr. Slump. It's set in a desert world where demons and humans are dealing with extreme water shortages, and a ragtag group sets off in search of a hidden water source. This is part of a wider Sand Land transmedia project that will also include a new anime film by Bandai Namco Filmworks' Sunrise Studio, Kamikazedouga Co. Ltd., and ANIMA Inc. The newly announced RPG is the latest edition to the wider transmedia project.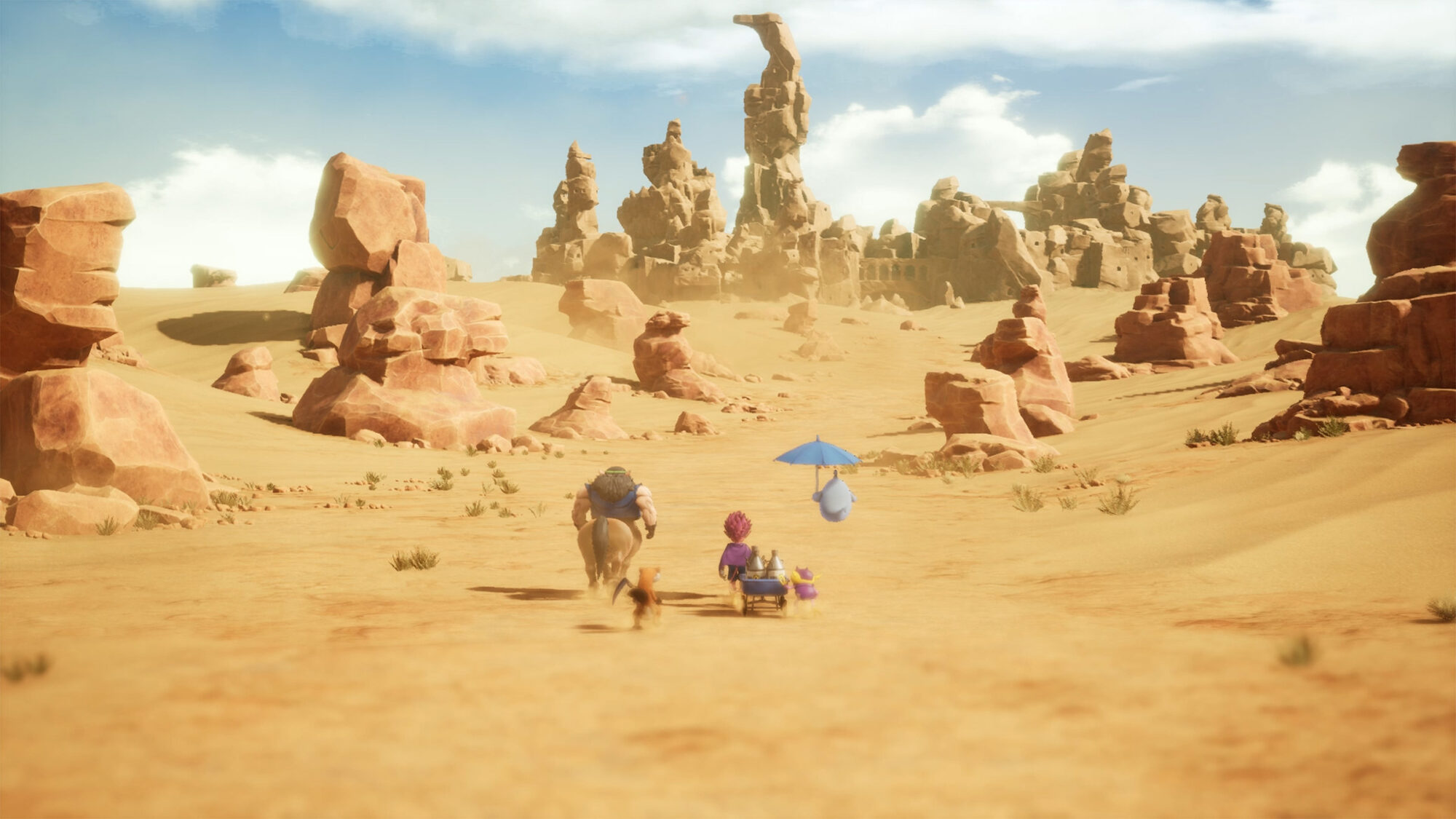 This RPG has an overwhelming mix of tense environments, fantastic monsters, and even a brilliant mix of vehicles. The art style featured in the work of creator Akira Toriyama is instantly recognizable and Sand Land looks to have an incredible mix of aesthetics as it includes mecha, fantasy, and even a modern twist ingrained in the design.
It would be amazing to enjoy this new adventure with friends, but this game will be a single-player experience. However, there will be something for everyone in this RPG and the combat featured will resonate with a lot of gamers. 
RELATED: Season 2 of DRAGON BALL: THE BREAKERS is Available Now!
Sand Land release date has yet to be confirmed but the upcoming RPG will be available later on PlayStation 5, PlayStation 4, Xbox Series X/S, and PC via Steam. 
About Sand Land:
Release Date: TBA
Publisher: Bandai Namco
Developer: ILCA, Inc.
Platforms: Steam® (PC), PlayStation 5, PlayStation 4, Xbox One, Xbox Series X|S
Genre: RPG
Rating: 12
What do you think of Sand Land? Are you excited about the upcoming RPG from Bandai Namco? Which other games are you interested in from The Summer Game Fest 2023? Let us know on social media and keep following The Illuminerdi for more gaming news.
SOURCE: Bandai Namco  
KEEP READING: Dragon Ball Super: Super Hero Home Media Review – HOW ARE THERE 0 SPECIAL FEATURES?