Legendary Marvel Comics artist John Romita Sr. has sadly passed away at the age of 93.
One of Spidey's Definitive Artists Passes On
John Romita Sr. was well-known for his tenure as an artist in his and Stan Lee's run on The Amazing Spider-Man, starting in Issue #39. During Lee and Romita Sr.'s run on the title, Romita Sr.'s art is famous for his depictions of various character-defining moments in Spider-Man's publication history. He also co-created many characters in the run, including Mary Jane Watson, the love of Peter Parker's life. Romita Sr.'s rendition of Spidey's iconic costume would cement the character's impact and be a blueprint for future iterations.
Romita's death was confirmed by his son and comic book artist, John Romita Jr., last night on Twitter.
John Romita Sr. Lived Up To Following in Steve Ditko's Footsteps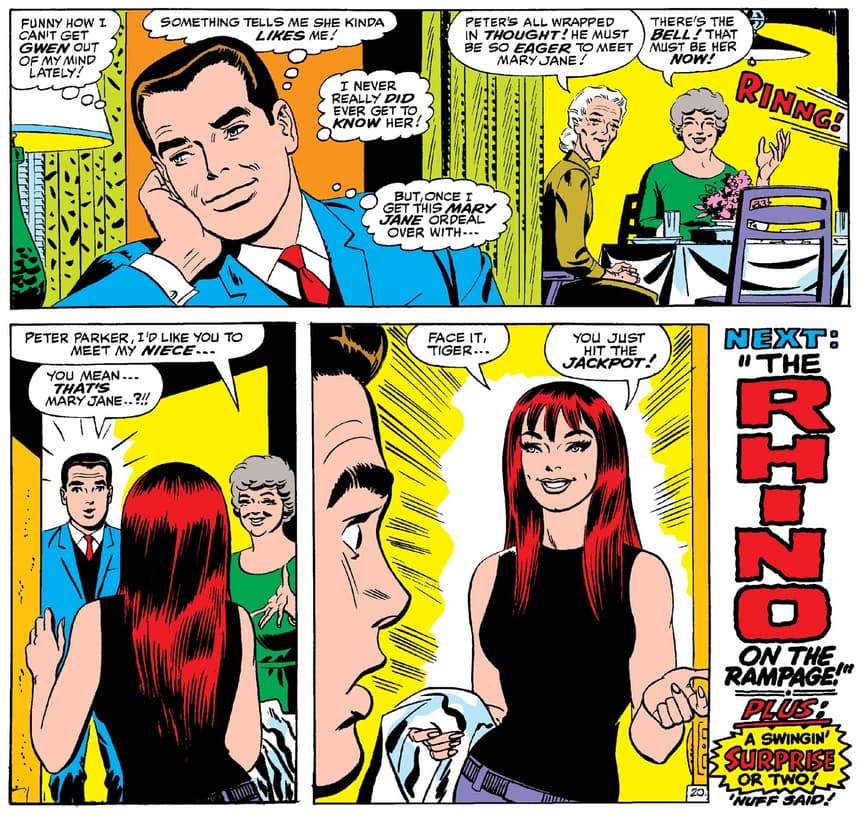 After Spider-Man's co-creator and original artist Steve Ditko left the Amazing Spider-Man comic, Romita Sr. was brought to succeed him. At this point in his career, Romita Sr. was mainly known for being an artist on various romance comics of the time period. This experience would prove to be vital in bringing a new energy to the title, starting a vibrant, romance-driven new era for Spider-Man's world. Romita Sr.'s art would be matched by Lee's ever-present energetic writing style. Romita's art would continue to give the title an almost "Archie Comics but with superheroics" vibe throughout the beginning of the '70s.
Romita Sr.'s art during his and Lee's run would establish the influential looks and identities of villains such as The Green Goblin. Norman Osborn would be unmasked as the diabolical menace immediately at the start of Romita Sr.'s tenure in Amazing Spider-Man Issue #39. Romita Sr.'s artistic focus on the Green Goblin would build the foundation for future work on the character in writer Gerry Conway's later run. Romita co-created the cover for Amazing Spider-Man Issue #121 written by Conway, where Green Goblin famously murdered Gwen Stacy.
Besides a stronger focus on Peter's love triangle and developing relationships with Gwen Stacy and Mary Jane Watson, the arguable peak of Romita Sr.'s artwork would be in Amazing Spider-Man Issue #50. In this issue, Peter Parker gives up on being Spider-Man, starting the famous "Spider-Man No More" storyline. Romita Sr.'s imagery of Parker leaving his suit in the trash would prove to be hugely notable, being paid homage to in Spider-Man 2.
The Fandom Community Pays Tribute to John Romita Sr.'s Impact
Various public figures and corporations have noted Romita Sr.'s passing on Twitter and other social media platforms. Marvel Entertainment released a statement regarding Romita Sr.'s passing on Instagram.
Even DC highlighted Romita Sr.'s more recent artwork for the company.
Romita's utterly massive artistic influence on Spider-Man can still be felt in various comics, movies and television series about the web-slinger. '70s Marvel probably wouldn't have been as creatively fruitful as it was without Romita Sr.'s art to pave the way. Like comic book artists Jack Kirby and Ditko, Romita Sr. deserves equal recognition for being one of the best artists associated with the Marvel Universe. Romita Sr.'s art is a major reason why his run with Lee in Amazing Spider-Man is one of the comic book runs I have to finish reading someday. While Romita Sr. may not be around now, his beloved art will continue to inspire Marvel fans, young and old.
The Illuminerdi team gives our deepest sympathies to John Romita Sr.'s family and colleagues at this time.
What's your favorite comic book panel or cover drawn by Romita Sr.? What's your favorite character Romita Sr. co-created? Have you read Romita Sr.'s and Lee's Amazing Spider-Man run? Let the Illuminerdi know on our social media.
KEEP READING: The Web-Slinging Legacy of Spider-Man: The Animated Series Still Proving '90s Comic Book Cartoons Were More Than Batman And X-Men
Source: The New York Times