WWE Superstar and Women's Tag Team Champion Shayna Baszler recently shared how important and a literal dream come true it was to win the WWE Women's Tag Team Championship with her longtime friend Ronda Rousey.
Since day one Baszler has been extremely dominant in the women's division.  She is a two-time NXT Women's Champion.  She has the second-longest NXT Women's Championship reign just behind Asuka, but the longest total time as champion and the longest total reign as WWE Women's Tag Team Champion.
RELATED: AEW's Badass Britt Baker Defends Women In Hardcore Matches And Reveals What She Loves About the Company
However, since moving up to the main roster from NXT Baszler has failed to achieve the same level of dominance.  For whatever reason, Baszler has yet to have that major successful singles run on the main roster.  Her talent in the ring is apparent, and WWE could see that so they decided to put her in the tag division.
The tag division has seemed to be the perfect place for Baszler on the main roster.  Since joining the tag division she has won the WWE Women's Tag Team Championships three times, twice with Nia Jax and once with Rousey.
Even though Baszler had the tag titles twice before, this one with Rousey was extra special.  While a guest on WWE's The Bump, Shayna Baszler talked about how this win was a shared dream between her and Rousey. She stated the following:
"It's not a lie. We set out to do this 10 years ago. So this is something we have already been living in. That's the thing you hear. It's so cliche, but you hear about people and manifesting … It's all the stuff we did."

H/T To Wrestling Inc. For Transcription
The Scariest Tag Team In WWE
Prior to winning the tag titles, Baszler and Rousey weren't shy about wanting to get their hands on those belts.  Individually they are very dangerous, but together they are close to unstoppable.  They are certainly the most dangerous Women's Tag Team Champions of all time.  They may be the most dangerous tag team since Kane and Undertaker teamed up to form the Brothers of Destruction.
RELATED: Trish Stratus Remembers The Powerful Words Of Inspiration The Rock Told Her
Shayna Baszler continued about what her goal was of winning the tag titles and how she and Rousey are looking to make that happen.
Shayna Baszler added, "I want the same thing she [Rousey] wants. We want to put more women on the scene. These are important. They're titles. We're champions."
"Make Some Friends"
Shayna Baszler also shared one of the secrets to her success as a tag team champion.  She says what makes her tag team unit with Rousey special is that they are actually friends.  She says it is so opportunistic for Superstars to look for a tag team partner only when there is a pay-per-view opportunity.  "Make some friends" is what she wants everyone in the locker room to do.
Baszler got mad when she began talking about how much she has done for the WWE Women's Tag Team Championship and doesn't feel like she gets the recognition she should.
"All everyone talks about is Bayley's reign with these titles. I've done some work with these too, and it's not stopping. We immediately defended. We immediately went after NXT Tag Champions. There's no break in the storm that we're causing."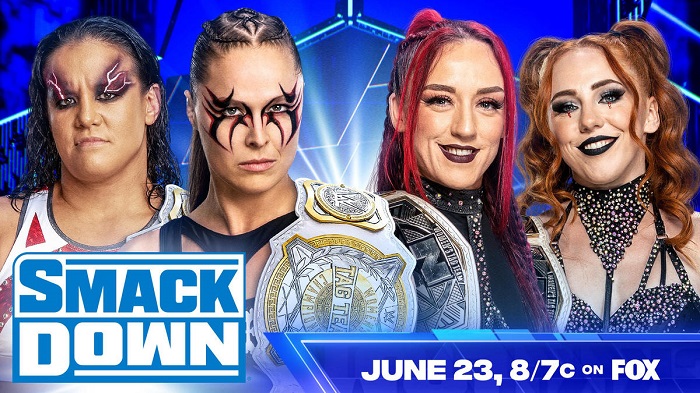 When looking at the landscape of the women's tag division it doesn't look like there is anyone Baszler and Rousey need to keep an eye out for.  Unless a superteam of two high-level singles division Superstars form a team, they may be holding those tag titles for a very long time.
What do you think of Shayna Baszler and Ronda Rousey as a team?  Should WWE keep Rousey a singles competitor?  Who else do you think Baszler could be successful with if Rousey goes solo again?  What do you think Baszler is missing and is preventing her from a successful singles run on the main roster? Let us know who you think in WWE can dethrone the champions.
KEEP READING: WWE's Rhea Ripley Talks About Her Strong Chemistry With Dominik Mysterio
SOURCE: WWE's The Bump, Wrestling Inc.