Kevin Smith may have confirmed that Warner Bros. was indeed thinking about a Batman Beyond movie starring Michael Keaton, though according to him, it may not happen because of The Flash's underperformance at the box office.
This is coming from a third-hand account as Smith retold a conversation he had with Michael Uslan's son during the premiere of The Flash on June 12. (Uslan, as he explained, was one of the people responsible for the studio getting the rights to Batman, and has been an executive producer on every Batman movie under their belt.)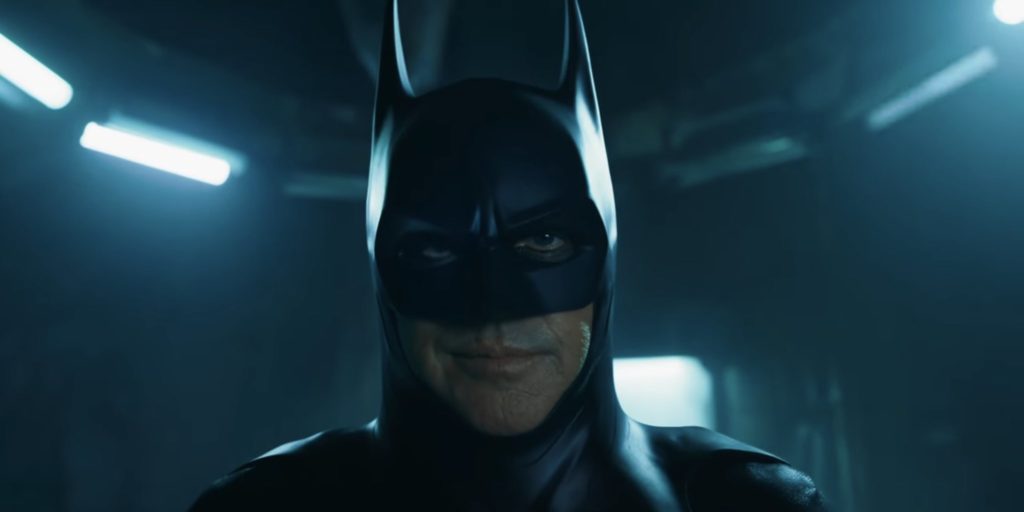 RELATED: Why Batman Beyond: Return Of The Joker Needs To Spin Out Of The Flash
The Batman Beyond moment happened during the spoiler discussion for The Flash during the most recent episode of his podcast, Fat Man Beyond, where Smith said:
"Michael Uslan's kid said that… Michael Uslan, Benjamin Melniker, the two guys whose names have been on every Batman movie and animated film because Michael Uslan was the one that got the rights for Warner Bros. years and years ago. I'm sure that most people have seen him on Batman extras and what not. Wonderful guy, lives in Jersey.

But I saw his kid at the premiere and his kid was like… [I said] 'Where's your dad?' He goes 'He's at home watching the grosses.' And I said 'Why?', and he goes 'Because if this movie does as well as The Batman (and Matt Reeves' The Batman opened at $130M), if this movie opens as well as The Batman, one of the next movies they're gonna make is Batman Beyond with Michael Keaton."
For context, The Flash opened to $55M, which is $12M less than Black Adam, a movie that would go on to gross $391M worldwide by the end of its run. The opening is also much lower than some of the more conservative projections of a $70M opening.
On the flip side, it's also $12.8M less than Aquaman's domestic opening, and that film ended up making over a billion dollars worldwide. There may also be some misquoting on Smith's part when he said that the movie would have to open as big as The Batman, and in fact, he may have referred to that movie's worldwide gross, which is set at $770M. (The Flash, a week into its release, is sitting at $142M, though it will head now into heavy competition in July against Indiana Jones and the Dial of Destiny, Mission: Impossible — Dead Reckoning Part One, Barbie, and Oppenheimer.)
RELATED: The Flash: Teddy Sears Had No Idea He Was In DC's Crazy 2023 Movie
Before we go any further, we must stress that this isn't the first time we are hearing about this. Reporter Jeff Sneider said on The Hot Mic podcast a few months ago that Christina Hodson was writing a solo Batman movie starring Michael Keaton, which James Gunn and Peter Safran killed off two weeks into their jobs. The Wrap reporter Umberto González later commented on Twitter saying that the film would have indeed been a Batman Beyond project.
RELATED: Batman Beyond Creator Bruce Timm On Michael Keaton's Exciting Return And Live-Action "Possibilities"
Hodson became a bit of a darling for DC under the previous regime, as she was given the keys to The Flash and also the canceled Batgirl movie after her take on Birds of Prey. Apparently, she was also offered to write The Brave and the Bold for Andy Muschietti under the new DCU regime but passed in favor of a new Fast and Furious film. Whether this was motivated by Gunn and Safran removing her from Batman Beyond or not, we don't know.
Unraveling the Batman Beyond report
It is interesting that according to Smith, the Batman Beyond project seems like it still had a chance to happen if The Flash would have opened well. There are conflicting ways to look at this. On the one hand, it would make sense for Gunn and Safran to remove this project from development, even as an Elseworlds story, as they were looking into rebooting DC and it would have meant having three different actors as the Caped Crusader in theaters, between the DCU Batman, Robert Pattinson, and then Michael Keaton. Removing any instances from the previous continuity and what the previous regime had planned made complete sense from a creative standpoint, as they are looking to leave their own mark.
At the same time, there was also a report by The Wrap recently saying that a sequel to The Flash could potentially happen at Warner Bros. if the first one did as well as The Batman. So there are some similarities between these stories and either someone got their wires crossed, or the studio was really considering more projects with Keaton as Batman, including the sequel to The Flash and Batman Beyond.
RELATED: El Muerto: Bad Bunny Led Spider-Man Spinoff Yanked From Sony's Production Schedule
Not to mention that Smith's comments, if they are not victims of a broken telephone game, seem to come from an unimpeachable source, even if there is some weird stuff about them. Why does Michael Uslan sound like he can't go to the premiere because he's refreshing Box Office Mojo like a lunatic a few days before the movie is supposed to come out? Hopefully, that's just some misquoting on Smith's part.
It's also very possible that when Gunn and Safran took over they simply stopped any development on the Batman Beyond script, but as they say, no one is ever really gone. Perhaps after seeing some of the reactions people had on social media to Keaton's return, and after reading the response to the first few screenings of the film, they are considering exploring the Batman Beyond project. Of course, it's too early to say, but it's not looking good if that is the case.
Why Warner Bros. Should Stay Away From Batman Beyond
If The Flash has proven anything by now is that, despite what social media may tell you after you drop the first trailer or make the official announcement three years in advance, modern audiences are simply not interested in Michael Keaton as Batman. The truth is that the bulk of the people that The Flash targeted grew up on Christian Bale as their Batman, and trying to capitalize on nostalgia was ultimately a mistake.
Regardless of the quality of what they put out, James Gunn and Peter Safran may be the best thing that happens to DC outside of The Batman and Joker since the Christopher Nolan days, simply because they will at least get it together and deliver a cohesive narrative that doesn't rely on people knowing who Eric Stoltz is. Batman Beyond, much like Michael Keaton's Batman, seems to be another title grown out of nostalgia and targeting people that grew up on that animated series.
RELATED: The Flash 2: Director Proclaims Controversial Actor Ezra Miller Will Return If There Is A Sequel
The truth is that audiences are showing time and again that they are no longer interested in that kind of stuff. Even Spider-Man: No Way Home understood that what people going to the movies and grossing $2 billion at the box office are interested in seeing is much more recent. The undeniable truth is that what was going on before Gunn and Safran was simply not working, as they couldn't even break even on a film starring The Rock and unofficially promoting Henry Cavill's return as Superman.
Movies like Top Gun: Maverick or Avatar: The Way of Water understood that people are not interested in revisiting the past that much. Both of them, the two highest-grossing films of 2022, were sequels over a decade in the making, and they didn't over-rely on nostalgia for what had come before. Maverick told its own story that honored the first film but that didn't require you to revisit it before watching it. Meanwhile, the second act of The Flash is very lacking for someone who isn't caught up in the nostalgia of uncovering the Batmobile once again.
But what do you think? Do you agree that Warner Bros. should not go through with the rumored Batman Beyond project, or do you wish they would revisit it? What did you think of The Flash? Would you want to see a Batman Beyond movie with Christian Bale? Let us know your thoughts on this story on our social media, and stay tuned for more!
KEEP READING: The Flash: Classic Batman's Reason For Retirement To Be Revealed in 2023 Movie's New Deleted Scene
SOURCE: Fatman Beyond, Twitter