Malakai Black talks about pitching his "Aleister Black" gimmick to Triple H and what an amazing talent Seth Rollins is.
Black has been one of the top talents who his home promotion is failing to pull the trigger on. He is extremely talented and has everything he needs to be a world champion, but has never held the top championship in the top two US promotions.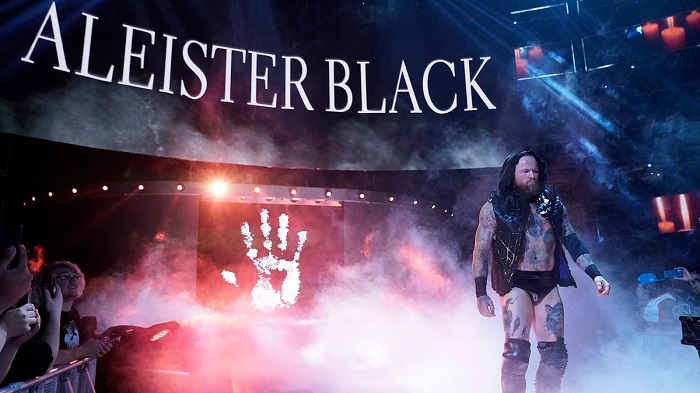 Malakai Black is currently in AEW after he was released from WWE due to budget cuts in 2021. While in WWE he initially didn't have a clearly defined gimmick until he pitched his "Aleister Black" persona to Triple H.
RELATED: Matt Hardy Praises Orange Cassidy And Compares Him To Huge WWE Legend
While a guest on The Undisputed Podcast With Bobby Fish, Malakai Black talked about how the core of his WWE gimmick was based on Lucifer, falling from grace and seeking redemption.
"I've always been obsessed with that idea…So when I pitched the idea for Aleister to [Triple H], I said, 'The idea that I have is, what if Lucifer was cast out, and he fell down, and he woke up and he had no idea who he was. But he knew that he did something awful, but he couldn't put his finger on it. He knew he did something so heinous, so bad, that no matter what he did he has this quiet urge to redeem himself, but he doesn't know why. And that's the conversation me and [Triple H] started having about the Aleister character."

– Malakai Black –
Don't Think His Character Came Across Clearly
I would not have guessed this was the core to his character. It may have changed a little bit once that shift in character was underway otherwise it was a big failure because it didn't come across.  
Since joining AEW, Malakai Black's character has remained mostly the same with just a name change. His character has seemed more like a black magic occultist similar to Aleister Crowley than a fallen angel seeking redemption. The dark entity character has recruited two members and formed the House of Black group with Buddy Matthews and Brody King. The House of Black are the current AEW World Trios champions after defeating The Elite for the championships.
A Little Advice From Seth "Freakin'" Rollins
Malakai Black's popularity is undeniable and perhaps it is because of AEW's willingness to give their wrestlers room to explore their characters. This is something WWE is not known for and even though he was able to tap into his darker gimmick a little, it was not to his full potential. However, maybe he wouldn't be quite as successful if he hadn't spent time in WWE and be able to work with one of WWE's top wrestlers.
RELATED: Christian Cage Talks About Being A Good Heel And Long Friendship With Edge
When Malakai Black was in WWE he was able to work with the current World Heavyweight Champion Seth Rollins and pick his brain. Black talked about what an unrecognized talent Rollins is and how much he learned from Rollins.
"I think that a lot of people don't understand how much of an MVP he [Rollins] has been…I learned a ton from working with Seth, when we were in the pandemic era, and even before that right before we shut down and stuff. The conversations I would have with him and the advice that he would give me and his perspective on the way he does his promos, the way he puts it in his head and how comes up with stuff. 

Every week he would give me questions like, 'I want you to answer these,' and I'd have to sit down and think about it and I don't think people realize how incredibly good this dude and how consistent of a wrestler he's been for decades. He's the man."

– Malakai Black –
Rollins Is The True Hero Of WWE
Malakai Black made it clear that even though the Bloodline storyline may be the top story in WWE, it is Rollins who has some of the top moments in WWE.
Rollins just had a hard fought battle with Finn Balor at Money in the Bank and has Balor's Judgement Day member, Damian Priest, hinting at cashing in his MITB briefcase on Rollins.
SummerSlam is coming up on August 5 and Rollins doesn't have an opponent yet. Cody Rhodes came out to offer himself up as a challenge, but Rhodes may be too busy with Brock Lesnar for that.
Black believes Rollins greatest strength is his consistency
"When it comes to Seth, not only is his in-ring phenomenal, his mic skills are great, his mindset is great, his consistency, to be consistently in the spotlight, consistently on that upper tier."

– Malakai Black –
How would you describe Malakai Black's AEW and WWE characters? Are they vastly different or exactly the same? Do you think the Lucifer inspiration came across? Would you like to see Black go after singles gold? Can you see Rollins' influence on Black? Let us know who you want to see Rollins face at SummerSlam.
KEEP READING: Matt Hardy Talks Jeff's Heartbreaking Relapse And How Proud He Is Of His Brother
Sources: Wrestling Inc., The Undisputed Podcast With Bobby Fish, Wrestling Inc.