Becky Lynch reveals the pressure she feels representing women's wrestling and the worst move to go wrong in her career.
Lynch's nickname isn't "The Man" for no reason. In the last few years she has proven herself as one of the top women on Raw and in WWE.
Most recently Becky Lynch competed in the Women's Money in the Bank match. She came out on the losing end of the match as IYO SKY came down with the briefcase. Lynch has been in an on-going feud with Trish Stratus and Zoey Stark which doesn't look like it is going to end anytime soon.
No one in the WWE represents the women's division as much as Becky Lynch does. This is both as the face of the division and the attitude women have by always trying to outdo their previous match and prove they can main event.
RELATED: Shayna Baszler Talks About What A Huge Moment It Was Winning Tag Titles With Ronda Rousey
In a recent interview with Cosmopolitan UK, Becky Lynch was asked if she feels pressure representing women's wrestling.
"Oh I feel an immense amount of pressure to represent women in this sport," Lynch said. "Not only for me and for what I wanted when I was a kid because when I was younger, when I was a teenager. When I was watching wrestling, I couldn't point at somebody and say 'that's what I want to do,' because there was always a ceiling on what the women could do. They couldn't be the main event of WrestleMania. 

Now we stomped that out, but I have a two-year-old daughter and I want to make sure that it remains that way, that it never goes backwards. That we keep moving forward, that we keep challenging the status quo, that we're in the main event."

– Becky Lynch –
Highs And Lows Of Women's Wrestling
Women's wrestling has been up and down over the years. It went from three or four women wrestling each other to three or four women who could wrestle and 15 who could barely wrestle. The new age of women's wrestling was first ushered in by Lita, Stratus and others in the early and mid 2000s. 
Since 2015 with the "women's revolution" women's wrestling has gained in popularity substantially. The best news is that it has stayed there and not reverted like it had in the past.
RELATED: LA Knight on Why Frustration Helps Him Be a Better Wrestler
At WrestleMania 35, in 2019, women's wrestling hit its peak when Becky Lynch, Ronda Rousey and Charlotte Flair main evented WrestleMania. The first time women had ever main evented.
Becky Lynch was asked about what the worst move that went wrong in the ring. She talked about the injury she suffered and explained why it was so hard for her to recover from it:
"[Worst move that went wrong] was at my expense. It was a Glam Slam from Bianca Belair on to me last SummerSlam. It ended up separating my shoulder and I was out for four months. So that would probably be the worst, which touchwood, we're doing well"
Lynch continued by talking about coming back from the injury:
"Coming back from an injury was more mental than physical, because I hadn't ever had an injury when I was in WWE that took me out for a substantial amount of time.

Now I was out for four months and especially when it initially happened. I had trouble picking up my daughter and she didn't understand what was going on, and so it kind of messed with my head a little bit in terms of, 'I don't want to get hurt.' So for the first time ever in my career I was scared of getting hurt and I had never had that before." H/T To Wrestling Inc. For Transcription
– Becky Lynch –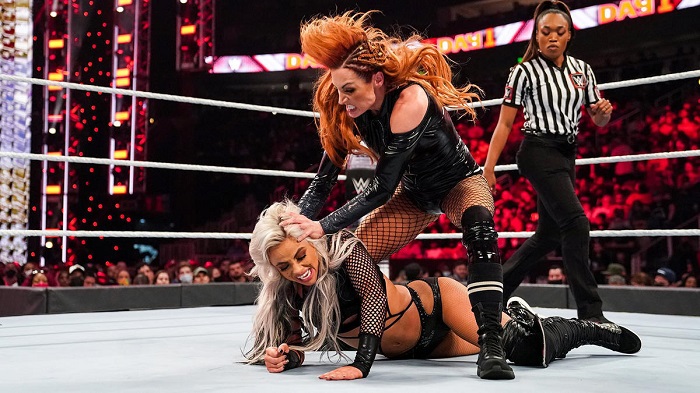 The Mental Part Of Injury Recovery
Injuries are common in wrestling, but they are all human so it is also common for them to come back different from when they left. They don't do the same moves they did before, they don't have the same confidence and a lot of times they just aren't as good as they were before because of the mental aspect of recovery. Eventually they get back to that place, but it can take a while.
Do you think Becky Lynch is the face of women's wrestling in WWE? If not then who is? Do you think there is any chance of women's wrestling going back to the Divas era or the Bra and Panties match era? Did you notice a change in Lynch when she returned from her injury? Has she returned to where she was before her injury? Let us know if you think Lynch will be the first woman to main event night two of WrestleMania.
KEEP READING: Malakai Black Talks Core To His Popular WWE Character And What He Learned From Seth Rollins
Sources: Wrestling Inc., Cosmopolitan UK