AEW star Christian Cage recently explained what he thinks makes a good heel and about immediately bonding with Edge earlier in their careers. In 2021, Christian Cage joined AEW and has shown the modern wrestling audience just how good he still is.  Not long after joining with AEW, he started teaming up with everyone's favorite underdog, Jungle Boy.  Eventually, he turned on Jungle Boy and became one of the biggest heels in AEW as he controls a literal dinosaur, Luchasaurus.
CHRISTIAN CAGE: HIS RISE IN WRESTLING AND HIS INJURY RELATED RETIREMENT
During a recent episode of Swerve City Podcast, Christian Cage talked about what it takes to be a good villain in wrestling. He stated the following:
"To me, the most important aspect of being a true villain is having no redeeming qualities, you've got to throw those out the window,. You learn those from classic heels, villains like a guy like The Iron Sheik, he was ahead of his time almost with some of his mannerisms and his delivery and his persona. He was a true villain and a trailblazer."

H/T To Wrestling Inc. for the transcription
Cage has been in wrestling for a very long time.  He made his WWF debut back in 1998 as a member of The Brood.  It didn't take long for him and his kayfabe brother at the time, Edge, to break out on their own.  They became one of the top tag teams in pro wrestling during the Attitude Era.
Cage had a lot of success as a tag team wrestler and some as a singles wrestler. However, he had difficulty stepping out of Edge's shadow and being compared to him. Once Cage left WWE and made his way to TNA, the world got a chance to see just how good Cage is. He proved himself as a very talented wrestler who is no longer in anyone's shadow.
RELATED: AEW's Badass Britt Baker Defends Women In Hardcore Matches And Reveals What She Loves About the Company
Following his return to WWE in 2009, Cage retired from wrestling in 2014 due to concussion-related concerns and other injuries. He stayed retired until 2021 when he and Edge returned to WWE. Cage's time with the company was short and sporadic before joining AEW.
CHRIST CAGE ADMIRED THE IRON SHEIK
The reason Cage thought late WWE Hall of Famer, The Iron Sheik, was such a good heel was because he had his eyes on what was going on in the world and what would garner the most heat. The Iron Sheik also had a full commitment to his character. Everything that he said, The Iron Sheik believed, even if the real person behind the gimmick did not. Cage stated on The Iron Sheik:
"As long as you're delivering it and you believe what you're saying and you believe it with every ounce of your being, for you that's true and you're right and you're justified, even though it's probably wrong. That's how I look at it."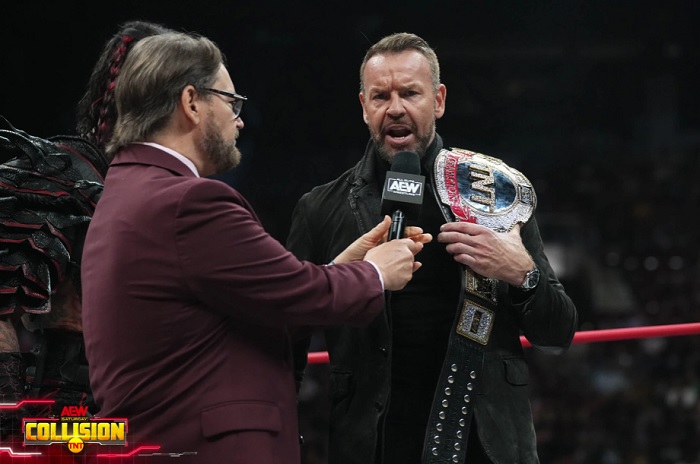 Believing what you are saying is probably the most important aspect of any gimmick.  Ric Flair believed that he was "The Man" and lived the limousine riding, jet flying, styling, and profiling lifestyle of a superstar.  That is part of what makes a good heel into a great heel.
RELATED: WWE Legend The Iron Sheik Dead At Age 81
Christian Cage rose up the ranks of pro wrestling with his best friend by his side, Edge.  Although they are not real-life blood brothers, they might as well be because of how close they are and how long they have known each other. The former WWE World Heavyweight Champion also discussed meeting Edge back in sixth grade and how Edge helped him be less shy.
"The reality is I just can't shake the guy. Believe me, I've tried [laughs] but he keeps coming back. We hit it off when I moved into a new town, in the sixth grade, and I was a really shy kid. I wouldn't even get out of the car to go to school. So, the teacher sent a couple of students and Adam [Edge] was one of them. He talked to me and made me feel better, so when I went to school, we started talking, and we both realized that we loved wrestling. So, our initial bond was wrestling, and also this Ninja throwing star, we've told that story tons of times."

H/T to Wrestling Inc.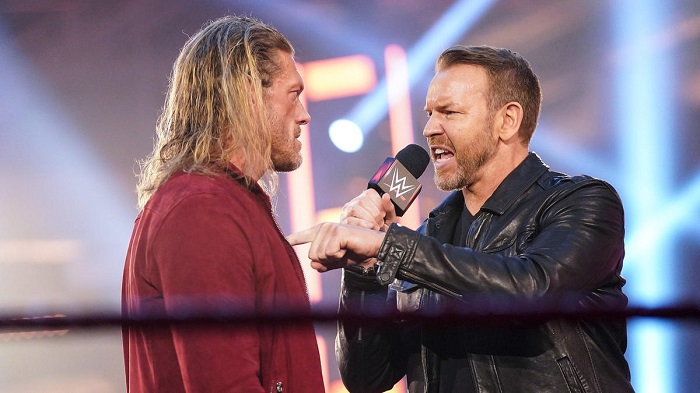 CHRISTIAN CAGE AND EDGE HAVE BEEN BEST FRIENDS SINCE SIXTH GRADE
It is inspiring to think that these two kids who became friends in sixth grade were both able to become very accomplished pro wrestlers. Christian Cage revealed that he and Edge's plan was always to eventually split up and become singles wrestlers. 
Having this as a plan from day one meant there was no worry about how to work without their partner.  It also ensured there would not be any jealousy and they always respected the other and were happy for the other's success. Cage said on Edge, "We cheered for each other through all our victories, picked each other up during our defeats." He continued, "It's just the way we've always been."
What do you think of Cage's renaissance in AEW? Do you think Christian Cage is a good heel? Do you agree in regards to what makes a good heel? Who do you think has accomplished more or are they too different to compare? What do you think of his new role as more of a manager for Luchasaurus? Let us know if you would like to see Edge join AEW so the pair can retire together.
SOURCE: Wrestling Inc., Swerve City Podcast, Wrestling Inc.
KEEP READING: Bron Breakker Recalls Valuable Lessons Learned From Veterans And Not Being Called Up Yet