Warner Bros. Pictures is set to release the feature film Blue Beetle, marking the first time this DC Super Hero will grace the big screen. Directed by Ángel Manuel Soto, the film stars Xolo Maridueña in the dual role of Jaime Reyes and his super alter ego, Blue Beetle. And if the trailer is any indication, this might be the surprise hit of the summer.
Blue Beetle Official Trailer
The first trailer already did a lot excite fans, but the official trailer gave everyone so much more! If the film matches the level of anticipation this trailer created, there's a good chance the movie can be a smash hit at the box office. While there are numerous great films out right now, they are all in competition with each other. So none of them are really positioned to be impressive box-office earners because of it. Blue Beetle will release in a much quieter field.
RELATED: Mission: Impossible – Dead Reckoning Part One Review – Impossibly Elevates the Franchise
But back to the film, Blue Beetle follows Jaime Reyes, a recent college graduate who returns home with high hopes for his future. However, he finds his home is not as he left it. As he grapples with his purpose in life, fate steps in when Jaime stumbles upon an ancient alien relic known as the Scarab. The Scarab chooses Jaime as its symbiotic host, bestowing upon him an incredible suit of armor with extraordinary and unpredictable powers. This unexpected event forever alters Jaime's destiny as he transforms into the Super Hero, Blue Beetle.
The Film's Colony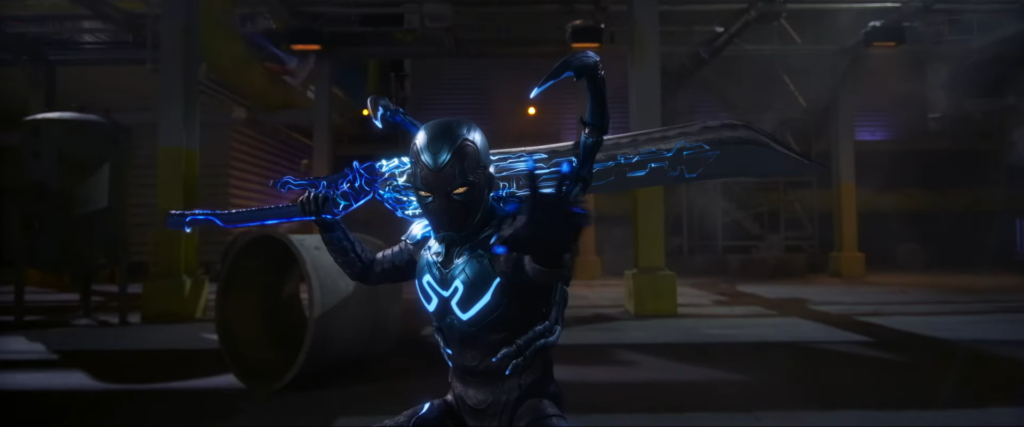 The film boasts an impressive cast alongside Maridueña, including Adriana Barraza as Jaime's grandmother, Damían Alcázar as his father, Raoul Max Trujillo as Carapax, Oscar winner Susan Sarandon as Victoria Kord, and George Lopez as Jaime's Uncle Rudy. Other cast members include Elpidia Carrillo, Bruna Marquezine, Belissa Escobedo, and Harvey Guillén.
The screenplay, penned by Gareth Dunnet-Alcocer, is based on characters from DC. The film is produced by John Rickard and Zev Foreman, with Walter Hamada, Galen Vaisman, and Garrett Grant serving as executive producers.
RELATED: Deadpool 3: First Look at Hugh Jackman As Wolverine In Classic Yellow and Blue Comic-Accurate Costume
The creative team behind the scenes includes director of photography Pawel Pogorzelski, production designer John Billington, editor Craig Alpert, Oscar-nominated costume designer Mayes C. Rubeo, visual effects supervisor Kelvin McIlwain, and composer Bobby Krlic.
Blue Beetle is set to soar into theaters next month! The film will be distributed worldwide by Warner Bros. Pictures. The official trailer for the film has been released and can be viewed on YouTube. The trailer showcases the transformation of Jaime Reyes into the Blue Beetle and provides a glimpse into the thrilling adventure that awaits audiences.
Blue Beetle releases exclusively in theaters on August 18, 2023.
About Blue Beetle
Release Date: August 18, 2023
Director: Angel Manuel Soto
Cinematography: Pawel Pogorzelski
Producers: Peter Safran, John Rickard
Screenplay: Gareth Dunnet Alcocer
Executive producers: Walter Hamada, Zev Foreman, David Siegel
Cast: Xolo Maridueña, Adriana Barraza, Damían Alcázar, Elpidia Carrillo, Bruna Marquezine, Raoul Max Trujillo, Oscar winner Susan Sarandon, George Lopez, Belissa Escobedo, Harvey Guillén

Synopsis:
Recent college grad Jaime Reyes returns home full of aspirations for his future, only to find that home is not quite as he left it. As he searches to find his purpose in the world, fate intervenes when Jaime unexpectedly finds himself in possession of an ancient relic of alien biotechnology: the Scarab. When the Scarab suddenly chooses Jaime to be its symbiotic host, he is bestowed with an incredible suit of armor capable of extraordinary and unpredictable powers, forever changing his destiny as he becomes the Super Hero BLUE BEETLE.
What do you think about the Blue Beetle trailer? Do you think this could be the start of the DCU's Teen Titans? Which other characters and heroes are you expecting cameos from? Let us know your thoughts and theories on social media!
Source: ET
KEEP READING: Joy Ride Review – Raunchy, Risque, and Really F*)@!#g Funny