Karrion Kross recently discussed why AJ Styles is ahead of his time and how he is doing things that will be studied years down the line. Kross is a very seasoned wrestler having wrestled all over the world and being exposed to many different styles of wrestling.  He has been a big draw in all the promotions he spent time in, but most of his success has been in WWE.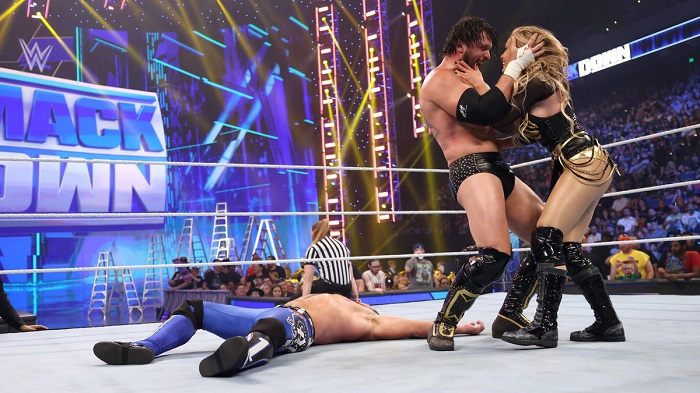 Most recently Kross and Scarlett Bordeaux have been engaged in a feud with Styles and The OC. On a recent episode of Keepin' It 100, Kross spoke about working with Styles and how amazing he is. Karrion Kross stated the following about AJ Styles:
"He's amazing to work with. He's the best. The thing that stands out to me is that he has a ring IQ of nobody that I've ever met. I've met people with high ring IQs. The way he sees wrestling is, he was ahead of his time when he was coming up in TNA, and I think in a lot of aspects, he's still ahead of his time, even present day.

"The things that he's doing, there are nuances that people aren't even picking up that people will study a decade from now going, 'He was the only one doing that'. I won't say what it is, but if you know you know if you watch his work."

H/T to Wrestling Inc. for the transcription
AJ STYLES WAS THE FACE OF TNA AND INFLUENCES MODERN WRESTLERS
Styles was the face of TNA for years.  It isn't an exaggeration to say that without Styles there might not be an IMPACT Wrestling today.  He was TNA's version of John Cena, Chris Jericho, Randy Orton, or CM Punk.  He was their top homegrown star and their go-to guy.
However, no one was doing what Styles was doing in the ring except maybe Rey Mysterio in WWE.  Styles has influenced a great deal of the modern-day wrestling style.  Without Styles popularizing the new age acrobatic style we may not have Seth Rollins, Will Ospreay, Ricochet, Kenny Omega, Finn Balor, and many others.
TICK TOCK, WWE TIME TO PUSH KARRION KROSS
Kross and Bordeaux were a significant force in NXT.  He won the NXT Championship on two separate occasions.  However, once he moved up to the main roster he struggled to reclaim the glory he had in NXT.  He had a disastrous debut and run on Raw, but we don't talk about that.
Since returning to WWE Kross and Bordeaux have spent their time on SmackDown.  Even though their time there has been lackluster, they have faced some high-profile wrestlers such as a heated feud with Drew McIntyre and most recently with Styles.  Hopefully, this feud with Styles will put enough of a spotlight on Kross for WWE to push him a little bit and he can have a run like he did in NXT.
RELATED: LA Knight on Why Frustration Helps Him Be a Better Wrestler
One of the things Karrion Kross likes about Style is that he isn't afraid to get physical with Kross. "He'll bring it," Kross said on Styles. "He's someone I can get in the ring with where I know he's going to punch me in the face, I'm good with it, he knows I'm good with it, and he knows I'm going to suplex him on his head. People are going to get their money's worth when we work."
Karrion Kross is currently stuck in an area where WWE doesn't quite know what to do with him.  He has a great look and is good in the ring, but WWE isn't willing to push him.  I think his gimmick is in a weird spot.  He is walking the line between the supernatural with his entrance, but his promos are very realistic and not supernatural.  If WWE decides which direction they want him to go, it will help him a lot.
RELATED: RELATED: AJ Styles On The WWE World Heavyweight Championship Being A Secondary Title
Do you agree that Styles is one of the best wrestlers in the business today?  What is one thing you think he does better than everyone else?  How do you feel about Karrion Kross' current position on the roster?  Should WWE push him up on the roster?  Or should they send him back down to NXT?  Do you think he would do better on the Raw roster?  Let us know if you think he has what it takes to be the United States champion.
SOURCE: Keepin' It 100, Wrestling Inc.
KEEP READING: Cody Rhodes Admits The Huge Pressure He Feels To Surpass His Father's Legacy