LA Knight recently spoke to Mark Andrews on My Love Letter to Wrestling about how he uses frustrations and anger to improve himself as a wrestler. Knight has become a very hot Superstar lately.  He competed in the Men's Money in the Bank match this past Saturday, and he was also one of the favorites to win the match.  The crowd was behind him and whenever he climbed the ladder the crowd went nuts.  Unfortunately, he could not pull down the case, and Damian Priest came down with the MITB briefcase.
Knight's popularity has skyrocketed as of late and fans have gotten on board the hype train.  He has proven himself as very capable of being one of WWE's top guys in the very near future.  However, none of this is new for fans of TNA/IMPACT Wrestling or NWA over the last few years.
RELATED: WWE's Rhea Ripley Talks About Her Strong Chemistry With Dominik Mysterio
LA Knight made a name for himself in TNA/IMPACT as Eli Drake (YEAH!!!) and broke into the mainstream of pro wrestling.  However, TNA/IMPACT or NWA doesn't have the same level of viewership as AEW and certainly not WWE.  Knight was becoming a star, but very few people were watching him turn into one.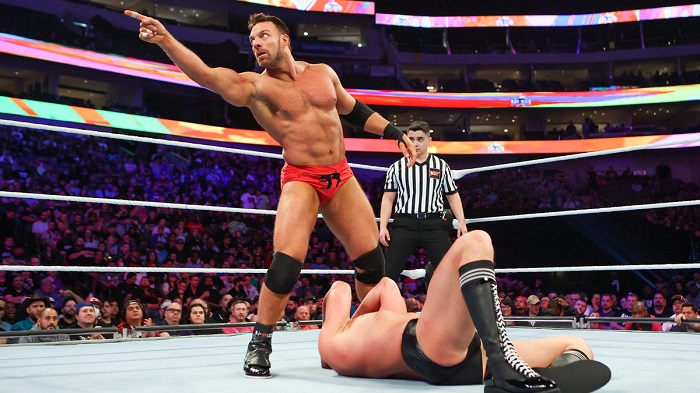 LA Knight was recently a guest on My Love Letter to Wrestling and he talked about his time in IMPACT and his frustration with not leaving sooner. He stated the following:
"[Going to Impact] was the first time I'd seen real money … in wrestling. Yeah, there's a lot of fondness there. There's also a lot of frustration that I didn't leave sooner. And not because there was an issue there, necessarily, but just because I had the opportunity to come [to WWE] earlier. But I was lured in by that evil, evil money." 

H/T to Wrestling Inc. for the transcription
KNIGHT COULD NO LONGER MAKE AN IMPACT IN IMPACT WRESTLING
Knight was in TNA/IMPACT from 2015-2019.  While there, he climbed up the rank, having high-profile matches with WWE Hall of Famer Kurt Angle, Drew Galloway [aka WWE's McIntyre], EC3, and Trevor Lee [Cameron Grimes], among many others.  He eventually won the top prize and won the IMPACT World Championship.
Knight eventually felt like he reached the ceiling in IMPACT and decided to move on.  He carries a lot of frustration with him from back then because people tried to "kill" his career. LA Knight continued during his chat with Mark Andrews:
"There's a lot of anger, there's a lot of frustration, but there's also a lot of vindication at this point. [Wrestling] is my biggest love and my biggest frustration."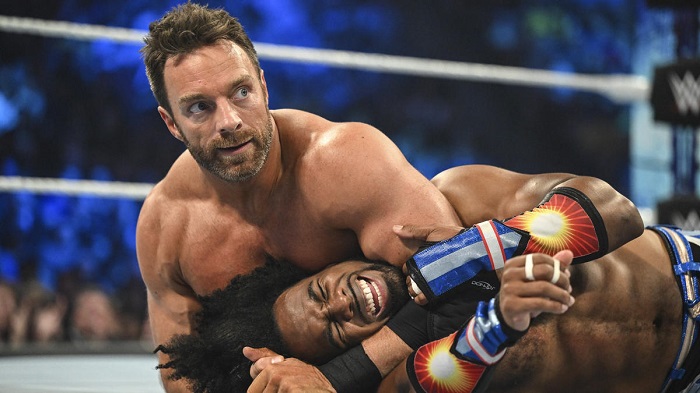 LA KNIGHT RETURNS TO WWE
In 2021, LA Knight returned to WWE after he was released back in 2014.  He made his way back to NXT, but this time, he had a whole lot more experience and people knew him from his days in IMPACT. Knight discussed how everything he says comes from a real place and has real emotion behind them which may be why fans have been able to latch onto his character. He continued:
"I believe every single word I'm saying. Maybe that sounds psycho to some people, maybe it doesn't. But I'm so drawn into what I'm doing, and there's so much real emotion from the last 10 to 20 years where I'm just like, 'I should've been taking over the world so long ago.'

"It's all as real as can be. The journey, in a lot of ways, even though I was broke, and I didn't have a car for years, and I was getting eviction notices and stuff like that. It was a rough go. But there's some strange fondness that I do have for that struggle. Maybe it's that weirdness, where I need that adversity or that negativity to push up against."
CAN LA KNIGHT BECOME A WORLD CHAMPION?
It is very apparent that LA Knight has what it takes to be a big star.  The only thing holding him back is if WWE is willing to pull the trigger on his push.  Since joining WWE the only gold he has won was the Million Dollar Championship, which is far less prestigious than it sounds.
The highlight of Knight's WWE career so far is probably his appearance in the MITB match, but the lowest moments are his lackluster feud and match with Bray Wyatt and the awful Maximum Male Models gimmick.  Neither of them are his fault for failing.
RELATED: Bron Breakker Recalls Valuable Lessons Learned From Veterans And Not Being Called Up Yet
Even though Knight has become pretty popular, he still has his detractors.  He was asked if he feels that his skills in the ring get overlooked because he is so good on the mic. He stated the following:
"Thank you for that, but usually I see the rap where, 'He's great on the mic and okay in the ring,' but for me, I'm okay with that because all the guys I liked the most when I was coming up, I'd say were mostly the same. My favorite guy when I was a kid, Hogan. My favorite guy when I was in high school, still kind of Hogan, NWO version, but then [Steve] Austin, Rock, [Ric] Flair. Like Flair was very good, but he didn't do anything spectacular. Most of the stuff was psychology and things looking good and snappy and things like that."

H/T Wrestling Inc.
WWE has a style of wrestling that lends itself to mic skills over flashy moves.  It is much better to be amazing on the mic and ok in the ring than vice versa.  The story of the match is what WWE loves rather than crazy spot after crazy spot.  If that is what fans want then just watch Darby Allin in AEW jump off something.
The wrestlers Knight says influenced him are just some of the greatest of all time. Not bad company to keep. All of them are some of the best ever on the mic, but not big spots or even Moonsaults in that bunch.
What do you think of LA Knight?  Is he the next big thing?  Do you see the Austin, Rock, Flair, and Hogan influences?  Do you think he is better now than he was in TNA/IMPACT?  Do you think he is ready for a main title pursuit or should he go after the mid-tier title first?  Let us know who you would like to see Knight feud with next regardless of brand.
KEEP READING: Kevin Owens Talks Favorite Big WrestleMania Moment And Not Having Matches In Canada
Sources: Wrestling Inc., My Love Letter to Wrestling, Wrestling Inc.