Capcom has officially launched its innovative online team-based action game, Exoprimal™. This revolutionary game developed using Capcom's proprietary RE ENGINE, introduces a unique concept where soldiers in advanced combat armor face off against hordes of ferocious dinosaurs. Exoprimal is now available worldwide on Xbox Series X|S, Xbox One, Windows, PlayStation®5, PlayStation®4, and PC via Steam for MRSP $59.99. It is also available with Xbox Game Pass for console, PC, and Cloud.
The Exoprimal Universe: A Battle for Survival
Set in 2040, Exoprimal presents a world where dinosaurs have mysteriously reappeared, posing a grave threat to humanity. In response, the powerful Aibius Corp. employs its next-generation artificial intelligence, Leviathan, to predict dinosaur outbreaks and deploy Exofighters to protect the affected areas. These warriors, equipped with advanced armor known as Exosuits, are humanity's last line of defense.
RELATED: Exoprimal™ Unveils Exciting Post-Launch Roadmap Ahead of 7/14 Release
The game's main mode, Dino Survival, sees two squads of five Exofighters competing to complete various objectives before their opponents, all while battling against swarms of dinosaurs. The missions in Dino Survival change from one game to the next based on players' progression through the story. Some matches pit squads against one another, whereas others require rivals to band together to take down major threats like the monstrous Neo T. Rex.
Customizable Combat: Choose Your Armor, Define Your Strategy
Exoprimal offers an arsenal of 10 Exosuits, each with unique abilities. Divided into Assault, Tank, and Support classes, every Exosuit plays a distinct role in tackling the dinosaur threat and assisting their team. Players can also change Exosuits at any time during battle to adapt to the ever-changing situation on the ground.
RELATED: New Black Panther Game Promises To Explore Epic World of Wakanda Like Never Before
As players progress through Dino Survival, they unlock new Exosuits, gear, cosmetic items, and narrative content. The story of the Hammerheads crew unfolds through story-related missions, cutscenes, and "lost data," which includes audio logs, documents, and more that can be pieced together in the Analysis Map to solve the mystery behind the wargames and dinosaur outbreaks.
Post-Launch Updates: More Action, More Adventure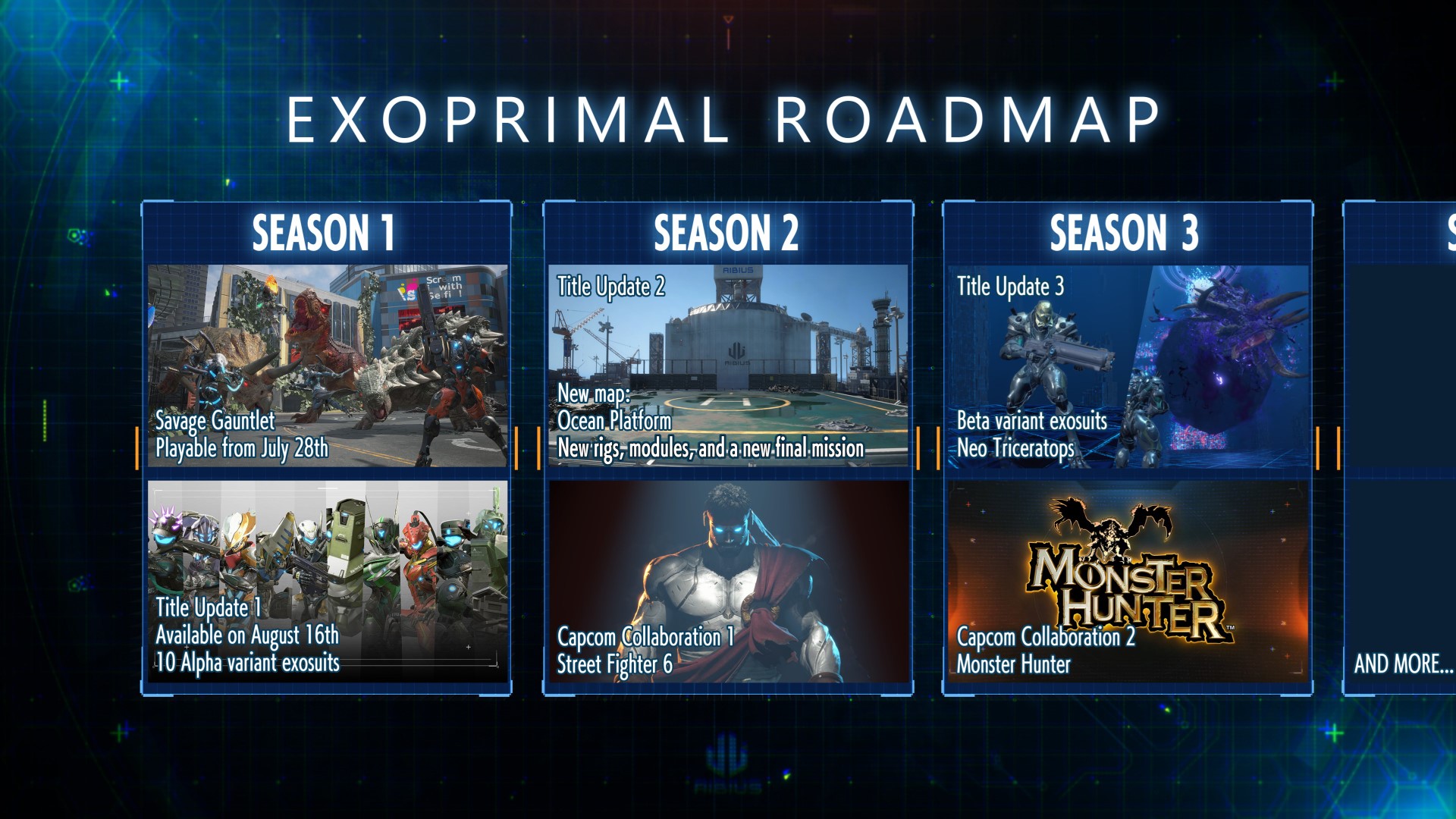 Capcom is committed to supporting Exoprimal with robust post-launch updates that add significant new features. Starting with a new mode, Savage Gauntlet, launching on July 28, 2023, players can expect a challenging PvE experience with missions that rotate weekly and can be replayed for higher rankings and rewards.
Title Update 1 will then arrive on Aug. 17, 2023 with 10 Alpha variant Exosuits that provide new ways to play Dino Survival and Savage Gauntlet. Future title updates will include collaborations with Street Fighter™ 6 and Monster Hunter™, Beta variant Exosuits, new enemies, stages, missions, and more.
Exoprimal is set to redefine the online team-based action game genre, offering players an immersive, action-packed experience like no other. With its innovative gameplay, extensive customization options, and exciting post-launch updates, Exoprimal is a must-play for any gaming enthusiast.
Exoprimal is out now Xbox Series X|S, Xbox One, Windows, PlayStation®5, PlayStation®4, and PC via Steam. It also arrives day one with Xbox Game Pass for console, PC, and Cloud.
About Exoprimal
Initial release date: July 14, 2023
Mode: Multiplayer video game
Genres: Fighting game, Third-person shooter
Developer: Capcom
Platforms: Xbox Series X|S, Xbox One, Windows, PlayStation®5, PlayStation®4, and PC via Steam
Publishers: Capcom, Capcom U.S.A., Inc.
Engine: RE Engine

Synopsis
Exoprimal is an online team-based action game pitting humanity's futuristic Exosuit technology against history's most ferocious beasts – dinosaurs. Set in 2040, players are pulled into wargames orchestrated by the advanced A.I. Leviathan. In the main game mode Dino Survival, teams of five Exofighters race to complete objectives while fending off hordes of dinosaurs to survive. Each match is different from the last, and players can swap between Exosuits at any time to change their tactics as new challenges arise. Along the way, players will unlock story sequences and earn rewards to customize their Exosuits.
Have you already started playing Exoprimal™? Are you excited about the new game modes and Exosuit variants? Which collaboration are you looking forward to the most – Street Fighter 6 or Monster Hunter? Let us know what you think on social media!
Source: Capcom
KEEP READING: [SDCC2023] Sonic the Hedgehog Speed Cafe: A New Exhilarating Pop-Up Dining Experience