Dr. Britt Baker D.M.D. gives tips on how she is able to balance her two jobs when one of those jobs is pro wrestling.
Baker is one of AEW's top women's wrestlers. She is constantly pushing the limits of what women are allowed to do in pro wrestling. Getting a black eye or bloodied during a match is just another day in the office for her.
What makes Baker's accomplishments even more amazing in AEW is the fact that she has a second job and doesn't look to be dropping it anytime soon. Her second is as a dentist with her own private practice in Florida.
RELATED: Matt Hardy Talks Jeff's Heartbreaking Relapse And How Proud He Is Of His Brother
Being a pro wrestler is a full-time job and leaves very little free time or even time to spend with family. However, Baker is able to make it work and is able to be successful at both jobs. During a recent episode of Mark Andrews: My Love Letter to Wrestling, Baker talked about how she is able to balance both careers.
"The plates are spinning. It's just time management really. You just find a way to do it,"
Britt Baker continued:
"When it's something you want to do, when it's two things you want to do, you just make it happen. Sometimes it's a little bit of a sacrifice for sure. Maybe like fun, and your social life, and stuff like that. At the end of the day, I love what I get to do and I'm thankful I get to have two careers. I don't ever take that for granted, and I try to never catch myself complaining that I have to go to work either day, because I'm so thankful."

– Britt Baker –
Don't Know If I'd Rather Be A Dentist Or A Pro Wrestler So I'll Do Both
Britt Baker didn't have a successful dental career and then decided she wanted to be a pro wrestler. She decided to do both at the same time. The same year she enrolled in wrestling school, she also enrolled in dentistry school.
Less than a year after graduating from dentistry school she was signed to AEW. While practicing dentistry she climbed up the ranks in AEW and eventually became the AEW World Women's champion in 2021.
Dentistry and pro wrestling don't seem like they would have any kind of crossover at all, but they surprisingly have a lot. Baker goes into why being a dentist comes in real handy in the world of pro wrestling.
"All the time. They actually call me to the medical room and the trainer's room anytime there's a dental issue to come take a look. On the other side, I have quite a few wrestlers that are my patients. I can't tell you who they are, so they can't sue me. I do have some wrestler patients."

– Britt Baker –
Britt Baker: Looking To Make More Firsts In AEW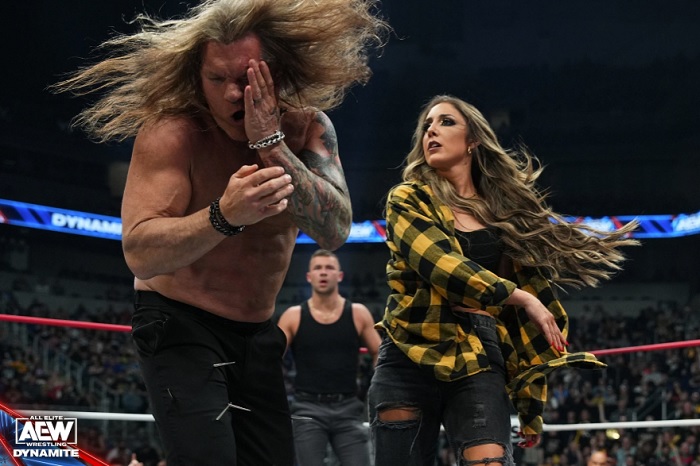 Britt Baker loves being a dentist and wants to continue with it. However, she also loves wrestling and wants to keep wrestling and push the limits in wrestling.
The wrestler has already had some firsts in AEW. She was the first woman to main event AEW Dynamite and the first woman to have a Unsanctioned Lights Out match which she had with Thunder Rosa.
RELATED: Christian Cage Talks About Being A Good Heel And Long Friendship With Edge
Baker wants to continue having firsts in AEW and has her sights set on a very special type of match in wrestling.
"Blood & Guts would be awesome, to have a women's match in Blood & Guts," Baker said. "I hope, before I retire, that's a regular feature of the Blood & Guts show. Just to have the female presence, I think that would be such a spectacle. We have some crazy girls in AEW that would be willing to really put their bodies on the line, and I think that match would really, really deliver."

– Britt Baker –
Britt Baker Says Women Need Blood & Guts
A Blood & Guts match is very similar to the WarGames match WWE puts on, but is closer to the original version from Jim Crockett Promotions/WCW. The main difference between WWE and AEW's version is that wins are only decided by submission or surrender in a Blood & Guts match.
Another thing Britt Baker wants to see women in AEW do in the near future is for women to main event an AEW PPV in the near future. She believes that the reason this hasn't happened yet isn't because women are ready for it, but is because AEW has so many talented wrestlers that there isn't always room.
What do you think of Britt Baker's booking in AEW? Were you sad that she was knocked out of the Owen Hart Foundation Women's Tournament? Do you think she should stop practicing dentistry and focus on wrestling? What is another thing you would like to see women's wrestlers do in AEW? Let us know if you think women in AEW or in WWE are currently being booked better.
KEEP READING: Karrion Kross Explains Why AJ Styles Is A Huge Pleasure To Work With
Sources: Wrestling Inc., Mark Andrews: My Love Letter to Wrestling, Wrestling Inc.