Hulu, one of the world's leading streaming platforms, has long been a favorite destination for fans of Adult Animation and Anime. With a library that spans over 20,000 episodes across both genres, Hulu has consistently provided a rich and diverse selection of content for its viewers. Today, Hulu takes a significant leap forward with the launch of "Hulu Animayhem," a dedicated sub-brand that brings its extensive Adult Animation and Anime collection into the spotlight.
Introducing Hulu Animayhem: A New Era for Animation on Hulu
Hulu Animayhem is more than just a new brand—it's a commitment to super-serving fans of Adult Animation and Anime in a way that only Hulu can. This initiative is designed to cater to the specific needs and interests of these fans, providing them with a dedicated space where they can explore and enjoy their favorite shows.
RELATED: [SDCC2023] Yu-Gi-Oh! TCG: Celebrating 25 Years with New Releases and Exciting Events
The launch of Hulu Animayhem is marked by the release of a new hero spot and creative key art. This vibrant and dynamic artwork features some of the most beloved characters from Adult Animation, serving as a visual celebration of the genre and a clear indicator of the rich content that viewers can expect to find within the Hulu Animayhem brand.
But Hulu Animayhem is not just about watching—it's about participating. The campaign includes a range of interactive social media elements designed to engage fans and foster a sense of community. These include a TikTok bracket challenge, where fans can vote for their favorite shows, and AR filters that allow fans to bring their favorite characters into their own world. These interactive elements provide fans with new and exciting ways to connect with their favorite shows and share their love for Adult Animation and Anime with others.
A Treasure Trove of Fan-Favorite Titles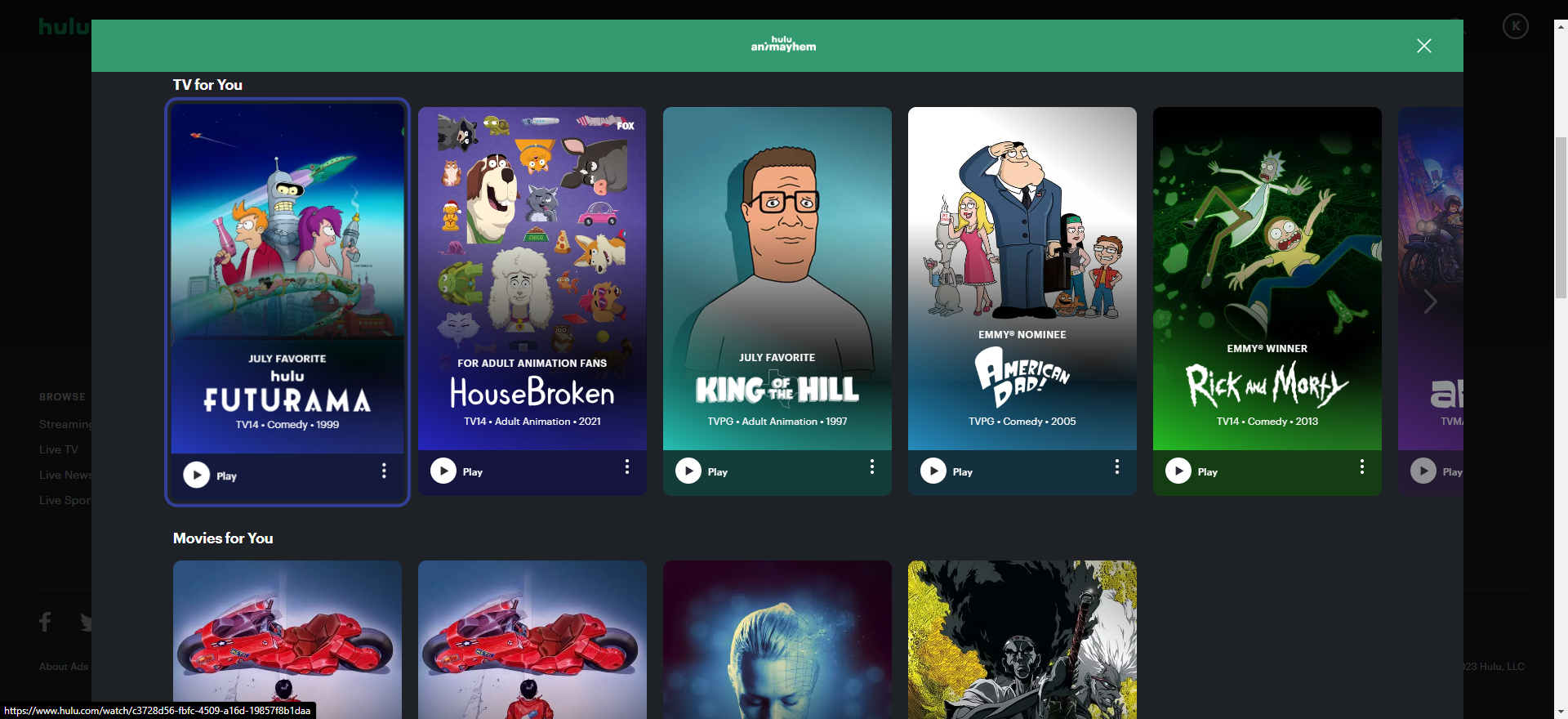 At the heart of Hulu Animayhem are the shows themselves. Fans can look forward to newly branded hubs for both genres on Hulu, where they can find a wide array of their favorite titles. These include the Hulu Original Futurama (Season 11 premieres on 7/24), Solar Opposites (Season 4 premieres on 8/14), Viz Media's Bleach: Thousand-Year Blood War (Season 1, Part 2 premieres on 7/8), Freeform's Praise Petey (Series premieres on 7/21, next day on Hulu), Viz Media's Naruto Shippuden (Season 8 premieres on 8/1), FX's Archer (Final Season premieres on 8/30, next day on Hulu), and the Hulu Original Undead Unluck (coming in October 2023), among many others!
Hulu Animayhem Takes Over San Diego Comic-Con
"Hulu Animayhem" is not just making waves online—it's also set to make a significant appearance at the upcoming San Diego Comic-Con. The activation will take over the Bayfront Parking Lot, offering fans a fully immersive journey. This 2D experience will transport fans right into the center of their favorite shows, creating a memorable and engaging experience for all attendees.
"Solar Opposites": INSIDE THE WALL (Hulu Original/20th Television Animation)
ZAP! Yumyulack has done it again. As fans enter the 2nd Dimension, they find themselves shrunken down and tossed into the beloved Wall, in this larger than life experience.
Season four premieres on August 14, 2023 with 10 episodes, followed by a Valentine's Day Special coming in 2024.
"The Great North": ALANIS BOREALIS (FOX/20th Television Animation)
Fans will step into the expansive Alaskian landscape to join Judy Tobin as she asks for life advice from her imaginary best friend and famed 90's singer/songwriter Alanis Morrisette. A projected Alanis constellation will appear in the sky and fans can witness the fun, playful interactions between the characters (and maybe even pick up some tips themselves!).
"American Dad": HALL OF INFINITE ROGERS (FOX/20th Television Animation)
The CIA's most wanted alien has endless disguises. As fans continue to make their way through the experience, they get a look into just how infinite Roger's collection of disguises really is!
"Family Guy": 360 TIME TRAVEL & LIVING ROOM (FOX/20th Television Animation)
Step on Stewie's infamous Time Travel Pad and take a trip through the 2nd Dimension with this unique photo opp.
Guests can also grab a photo on the iconic couch or just sit back and stay awhile as they enjoy the magnitude of Hulu Animayhem content Hulu has to offer.
"Archer": WALL OF AGENCY HEROS (FX)
Playing homage to Archer's opening credits, fans can step in to join the cast in this iconic photo moment.
"The Simpsons": LIVING ROOM (FOX/Disney+/20th Television Animation)
The iconic living room has landed in front of the giant Hulu Animayhem TV. Guests can grab a photo or sit and stay awhile as they enjoy all the content Hulu has to offer.
"Bob's Burgers": GRAND RE-RE-RE OPENING (FOX/20th Television Animation)
Fans of Bob's Burgers won't be able to resist bellying up to the counter and snapping a pic with their favorite animated family – The Belchers.
"Futurama": FUTURAMA HAS LANDED ON HULU (Hulu Original/20th Television Animation)
Futurama is BACK for a new season and will be debuting as a Hulu Original Monday, July 24!
The last piece of the activation will feature an incredible 55 ft replica of HQ, along with a crash-landed Planet Express ship. Inside HQ, fans will be able to immerse themselves in the beloved series with a variety of photo moments and immersive set builds.
RELATED: [SDCC2023] Super Impulse to Make Grand Debut at Comic-Con
With the launch of Hulu Animayhem, Hulu continues to solidify its position as a leading streaming destination for Adult Animation and Anime content. Whether you're a fan of classic shows or looking forward to the latest releases, Hulu Animayhem is your one-stop-shop for all things animation. So, why wait? Dive into the world of Hulu Animayhem today and discover a whole new way to enjoy your favorite Adult Animation and Anime shows.
Check out "Hulu Animayhem" and to explore the Adult Animation and Anime libraries, please visit Hulu.com/HuluAnimayhem.

Which shows are you most excited to watch on Hulu Animayhem and why? How do you think Hulu Animayhem will change your viewing experience of Adult Animation and Anime? What are your thoughts on the interactive social media elements like the TikTok bracket challenge and AR filters? Share your thoughts and join the conversation on social media!
Source: Hulu
KEEP READING: [SDCC2023] Sonic the Hedgehog Speed Cafe: A New Exhilarating Pop-Up Dining Experience