This July, the Yu-Gi-Oh! Trading Card Game (TCG) is set to celebrate its 25th anniversary with a bang. Fans can look forward to a month filled with significant milestones, colossal events, and key products that encapsulate the past and present of Dueling.
In honor of this silver jubilee, Konami Digital Entertainment, Inc. is re-releasing five classic booster sets from the game's early years. These include the Legend of Blue Eyes White Dragon, Metal Raiders, Spell Ruler, Pharaoh's Servant, and Invasion of Chaos. Both nostalgic fans and newer Duelists can now revisit the genesis of the Yu-Gi-Oh! TCG.
The Future of Dueling Unfolds
As July progresses, the future of Dueling takes center stage. The third 100-card booster set of 2023, Duelist Nexus, introduces new Synchro Monsters, a new World Premiere theme, and the first new monster Type since Cyberse monsters were introduced in 2017. Plus, Duelist Nexus is the first core booster to include Quarter Century Secret Rares, with 25 cards available in the stunning new foil rarity!
RELATED: [SDCC2023] Super Impulse to Make Grand Debut at Comic-Con
July also brings back the fan-favorite World Championship Qualifiers (WCQ). The North America WCQ takes place during the July 7 weekend in Raleigh, North Carolina. Qualified Duelists will compete for fabulous prizes, Dueling glory, and a chance to compete for the title of Yu-Gi-Oh! TCG World Champion at the Yu-Gi-Oh! World Championship 2023 (WCS) in Tokyo this August.
Before the 2023 season concludes, Duelists from all walks of life are invited to celebrate their fandom at one of the world's biggest pop culture conventions: San Diego Comic-Con!
Celebrating 25 Years of Yu-Gi-Oh! TCG
The 25th anniversary celebration began in April with the release of Legendary Collection: 25th Anniversary Edition. Now, the journey down memory lane continues as five of those sets return in individual booster packs and full booster boxes. Rediscover the phenomenon of Legend of Blue Eyes White Dragon, Metal Raiders, and Spell Ruler from 2002. Revisit the release that raised the bar for competition, Pharaoh's Servant from 2003. And relive one of the game's greatest sets ever, the legendary Invasion of Chaos from 2004.
RELATED: [SDCC2023] 9th Annual Her Universe Fashion Show Brings Geek Chic to SDCC 2023 with a Celebration of Disney, Pixar, Marvel, and Star Wars
On July 28, a new season of competitive Dueling begins with the arrival of Duelist Nexus and the introduction of Illusions. This new monster Type, the first since Cyberse monsters in 2017, can't be destroyed in battle and can't destroy opposing monsters in battle either. Instead, they wield powerful effects that trigger when they go head-to-head with other monsters.
Gold Pride Accessories Collection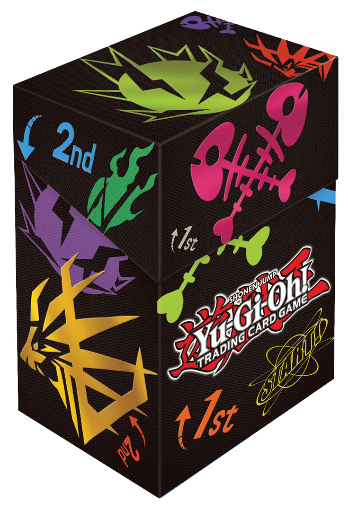 Protect and display your cards with the brand-new Gold Pride Accessories collection. This collection includes a 9-Pocket Duelist Portfolio, Card Sleeves, and everything else you'll need to join the race.
RELATED: [SDCC2023] Mattel To Unleash Awesome New Toy Extravaganza at San Diego Comic-Con 2023
The 2023 North America World Championship Qualifier takes place in Raleigh, North Carolina on the weekend of July 7-9. On July 19 to July 23 at the San Diego Convention Center, KONAMI is bringing Yu-Gi-Oh! to San Diego Comic-Con!
This July celebrate 25 years of Yu-Gi-Oh! TCG with new releases, exciting events, and a journey through the past and into the future of Dueling. For more information on KONAMI's extensive Organized Play programs, visit www.yugioh-card.com/en/events.

What are your thoughts on the upcoming releases and events for the Yu-Gi-Oh! TCG's 25th anniversary Which classic booster set are you most excited to revisit and why? How do you think the introduction of the new Illusion-Type monsters will change the game dynamics? Share your thoughts and deck builds with us on social media!
Source: Yu-Gi-Oh!
KEEP READING: [SDCC2023] Funkoville Makes Epic Return to Comic-Con: Funko's Plans for Bigger, Better, and More Fun!