As the gripping narrative of Warrior unfolds in Season 3, fans are treated to a mix of intense drama, action-packed scenes, and brilliantly choreographed martial arts. The gritty Chinatown streets remain a character in itself, alive and vibrant amidst the growing tension. Each episode carefully layers new dimensions to the existing conflicts, setting a rapid pace that holds viewers at the edge of their seats. And just when the audience thought they had seen it all, the series drops a bombshell – a surprise cameo.
*SPOILERS AHEAD IF YOU HAVEN'T WATCHED WARRIOR S3 Episode 6*
Shannon Lee Talks About Returning to Acting in Warrior Season 3
In an unexpected delight for fans, Shannon Lee, the daughter of martial arts legend Bruce Lee and the executive producer of the hit series Warrior, makes a cameo appearance in Season 3. This surprise guest appearance signifies a poignant tribute to Bruce Lee, who had originally conceptualized the show, and brings a sense of authenticity and connection to the legendary martial artist's vision. Learn more about the cameo and how it came to be from our exclusive interview with her.
RELATED: Shark Week Set to Make Huge Waves with Jason Momoa as the 2023 Host
"Well, we'd been talking actually for a while about having me come on the show for some sort of cameo role. And we were trying to make it happen for season two, but it just didn't work out. And so when we finally got season three, we knew we were going to try to fit that in. And, you know, Jonathan was talking to me about the different possibilities of character. And I have to say he definitely didn't take it easy on me from an acting perspective.

I was like, you know, I've been acting in like 20 years, but it was such a fun, amazing opportunity, not only to get in front of the camera, but to have me on this show, you know, that is my father's show. And with this cast and crew who are phenomenal and amazing and, also to be able to play a character that really is sort of like a pivotal, helps catalyze a pivotal moment for Assam's character in the arc of the season.

And so I, I just felt really blessed to be able to do it. And for me, you know, my acting career back in my 20s was really challenging and marked by a lot of grief over the loss of my brother. So the ability to get to come back and step in front of the camera as you know, a grounded, more mature human being at this point in time and in this way was purely a pleasure and also just such a blessing."

-Shannon Lee, Executive Producer of 'Warrior'–
RELATED: The Afterparty Season 2 Review – An Incredible Whodunnit Mosaic of Comedy, Drama, Mystery, and Genre-Hopping
Warrior is one of the best series on television and holds an incredibly significant role in representing history and the legacy of Bruce Lee. It was powerful to see Shannon Lee partake in the fun and magic of the series she works tirelessly to bring to life.
Warrior Season 3 airs new episodes every Thursday, exclusively on MAX.
About Warrior Season 3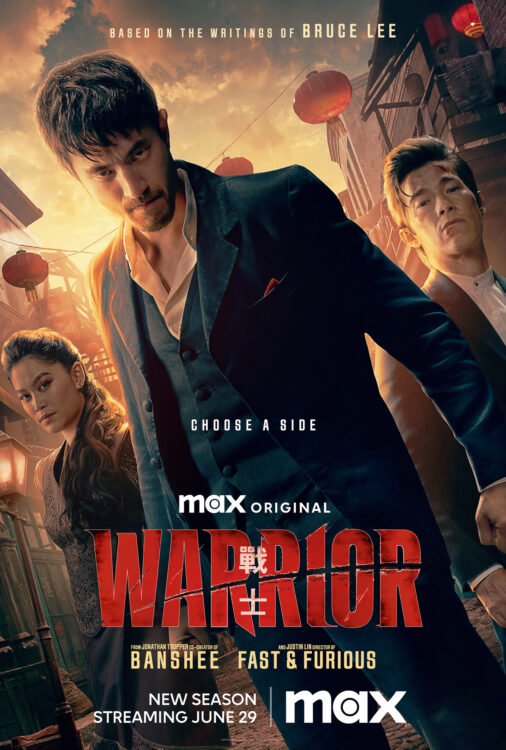 Release date: June 29, 2023, exclusively on MAX
Creator: Jonathan Tropper
Showrunners: Evan Endicott & Josh Stoddard
Executive Producers: Evan Endicott, Josh Stoddard, Jonathan Tropper, Justin Lin, Danielle Woodrow, Andrew Schneider, Shannon Lee, Brad Kane, Richard Sharkey
Co-Executive Producers: Lillian Yu, Francisca X Hu
Production: Perfect Storm Entertainment, Tropper Ink Productions, Bruce Lee Entertainment
Cast: Andrew Koji, Olivia Cheng, Jason Tobin, Dianne Doan, Kieran Bew, Dean Jagger, Tom Weston-Jones, Hoon Lee, Perry Yung, Langley Kirkwood, Miranda Raison, Chen Tang, Chelsea Muirhead, Mark Dacascos, Joe Taslim

Logline
In the wake of the race riots that upended Chinatown in season two, Mai Ling uses her government connections to consolidate power, while Ah Sahm and the Hop Wei must find new ways to survive.
Did you catch Shannon Lee's part in the latest episode of Warrior? What do you know about the late 1800's San Francisco? How do you feel about this season's Western? Let us know your thoughts, theories, and reactions, on social media!
KEEP READING: Warrior Season 3 Review – The Best Action-Drama Series of the Summer