Chris Miller's mosaic murder mystery series, Afterparty, is coming back with season 2. This time around, Aniq, Zoe, and Detective Danner, team up to find out who killed Zoe's Sister's husband on the night of their wedding. What should have been the celebration of the beginning of Grace and Edgar's lives together turns into a full breakdown of each family as they all share their stories proving their innocence, or hiding the truth. The high tension and even higher emotions of weddings reach new peaks when there is a murderer to be found among the family and friends of the wedding party.
New Case, Same Detectives
Afterparty Season 2 follows the events of Season 1. Aniq and Zoe, played by Sam Richardson and Zoë Chao, have continued their relationship and have developed quite an annoyingly cute rapport. Detective Danner, Tiffany Haddish, has left the force and is now an author writing a book based on solving the case of Xavier's murder in the first season. However, the murder of Zoe's Sister's Husband, Edgar (Zach Woods), reunites Danner with Aniq and Zoe, to find Edgar's murder, and ideally prove Zoe's Sister, Grace (Poppy Liu) did not kill him.
RELATED: "Stephen Curry: Underrated" – An New Apple Original Film Celebrating the Rise of an Icon
Though they were technically on the same side in the first season, they are definitely fully on the same side in Season 2. Aniq isn't working outside of Danner to prove his innocence, instead, he is openly and directly working with her to solve the case. Zoe is also technically working with them, but she is far closer to the case and is investigating on her own, but still in contact and support with Aniq and Zoe. The dynamic works really well, as Aniq ends up being in the middle of the logical, Danner, and emotional, Zoe, which creates some dramatic moments and also greatly expands the perspectives and understandings of the events.
Masterful Mosaic
The Afterparty plays off the theme that everyone is living their own movie. It's meant to be a philosophical standpoint to highlight people see things differently but is experienced literally in the series. The basic structure of the series is that our detectives get the testimony of a new character every episode. Each new character retells their story from their perspective. Each perspective is told in a different style of filmmaking. Season 2 features a heist, a noir mystery, a Wes Anderson homage, and more.
RELATED: Secret Invasion Review [Ep 1-2]- Shakes the MCU to Its Core
The different styles vary tremendously, yet all work together to create one beautiful mosaic of a series. There is the main timeline that progresses and grounds the series which is featured in parts throughout every episode. But otherwise, every episode of The Afterparty has a completely different look and feel than every other episode in the season. Aniq and Danner's episodes do feel like their episodes in the first season, but that's because they're both characters who have been in both seasons, which adds to the impressiveness because it feels like sequels.
A big round of applause for the behind-the-scenes teams that bring the episodes to life. With the same base set, they are able to make completely different worlds with the use of props, lighting, effects, etc. Audio and visual perfection all around. Then on the editing side, switching from the movie world of a character's testimony to the real world never feels out of place. It may be jarring, but usually only to enhance the emotion of the scene. It is a thoroughly entertaining experience.
The final piece of the mosaic is the performers. Each character of The Afterparty has the daunting task of playing the same characters through 10-ish genres. It is also great to see each character take the lead for an episode, giving the series a gripping and unpredictable energy that keeps viewers fully bought into the story. It's also a lot of fun trying to decipher if something is a clue, just how a character sees another character or a made-up part of the story.
If I Had To Complain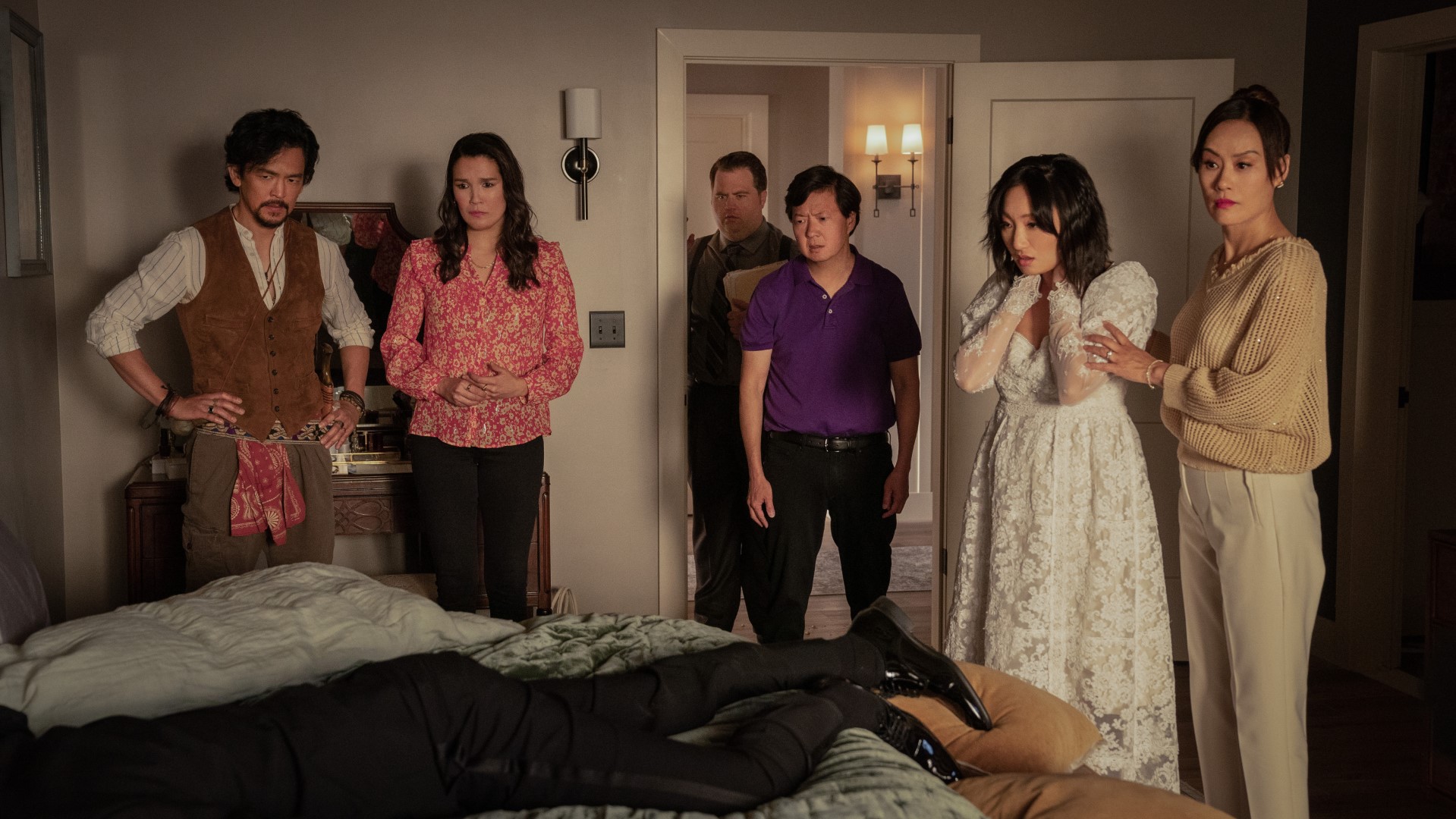 Honestly, there is no complaint. I love the series. I have seen 9 of the 10 episodes and am fully hooked. But because no one takes people who like most things seriously here's the one "critique" I have. The Season 2 chemistry is not as strong as Season 1 of The Afterparty. The Season 1 cast truly felt like a high school reunion. Season 2, it's two different families and some pretty tightly connected wedding guests. So there is inherently less connection tying them all together.
RELATED: Skull Island Review – An Island Full of Fearsome Creatures But the Focus is On 6 Random Humans
That said, the cast works flawlessly together. There may be some overt cartoonishness that doesn't always land, but it also makes sense. And it does not feel forced or out of character. If anything, it makes the performances feel more real as most real people tend to do things that don't land every now and then.
The Afterparty is Where It's At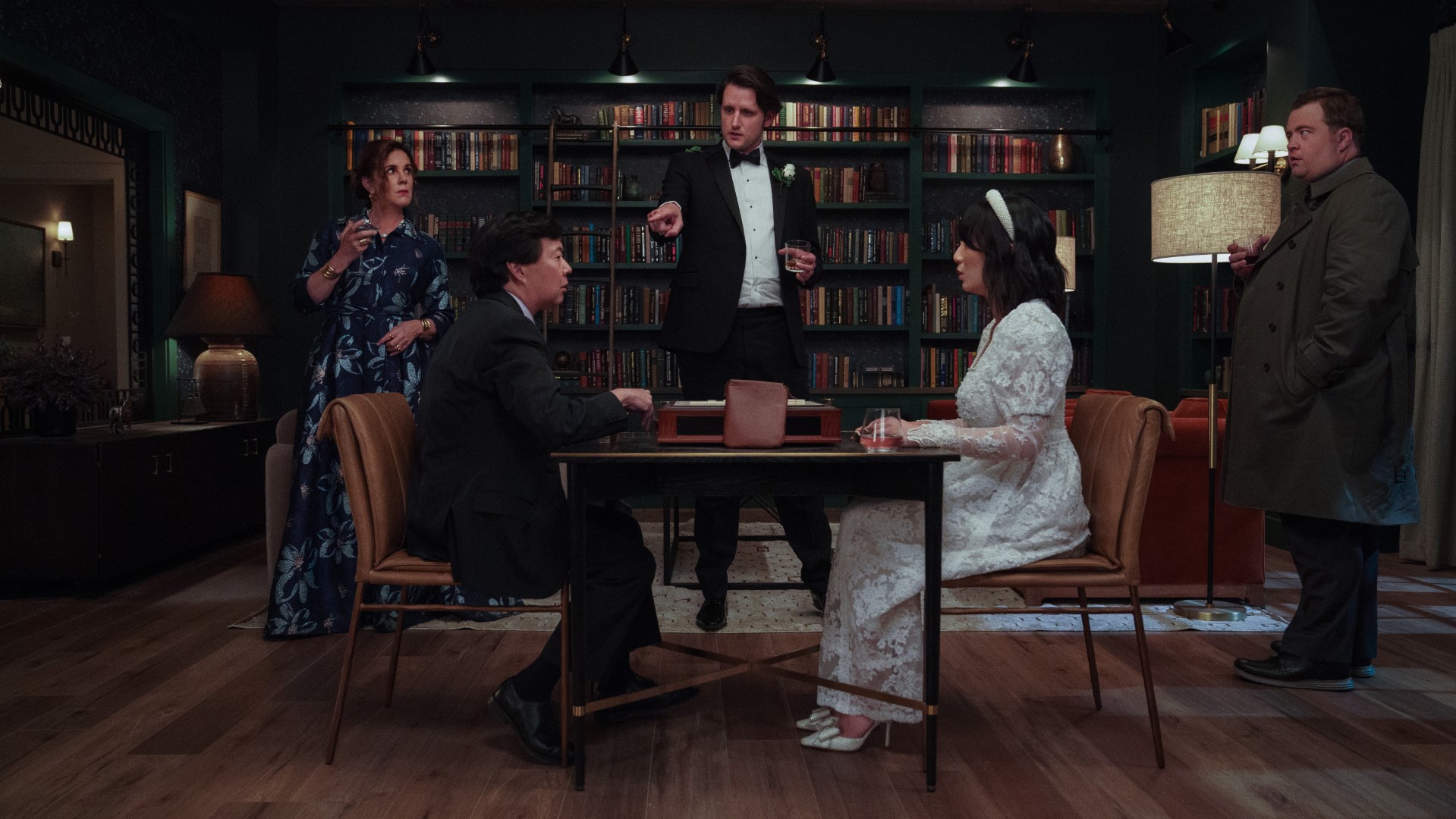 Season 2 of The Afterparty is a masterpiece of mosaic storytelling and a ridiculously fun whodunnit. It's fun, it's hilarious, and it's dramatic. It is a wonderfully layered experience that is heavy in craftsmanship but light-hearted in delivery. Fans can sit back and relax to a truly excellent murder mystery or go into a filmmaking masterclass of cross-genre fusion that few projects do well, let alone perfect. A stellar cast, superb storytelling, and surprising twists make every episode a must-see.
For being damn good television and story that gets better with every rewatch, I give The Afterparty Season 2 a 9/10.
The Afterparty Season 2 premiers on July 12, 2023, exclusively on Apple TV+; new episodes every Wednesday.
About The Afterparty
Release Date: Season 2 releases July 12, 2023, exclusively on Apple TV+ 
Creator: Chris Miller 
Co-Showrunners: Chris Miller and Anthony King 
Executive Producers: Chris Miller, Anthony King, Phil Lord 
Producer: Aubrey Lee 
Production: Lord Miller 
Episodes: 10 
Cast: Tiffany Haddish, Sam Richardson, Zoë Chao, Elizabeth Perkins, Zach Woods, Paul Walter Hauser, Poppy Liu, Anna Konkle, Jack Whitehall, Vivian Wu, John Cho, Ken Jeong
Synopsis From Academy Award winners Chris Miller and Phil Lord, each episode of "The Afterparty" explores a different character's account of one fateful evening, all told through the lens of popular film genres and unique visuals to match the storyteller's perspective.
In season two, a wedding is ruined when the groom is murdered and every guest is a suspect. Detective Danner (Haddish) returns to help Aniq (Richardson) and Zoë (Chao) solve whodunnit by questioning family members, star-crossed lovers and business partners, and hearing each suspect's retelling of the weekend, each with their own unique perspective and visual style.
Are you excited about The Afterparty Season 2? Did you correctly guess the murderer in Season 1? Do you already have guesses for Season 2? Let us know your thoughts and theories on social media!
KEEP READING: Warrior Season 3 Review – The Best Action-Drama Series of the Summer