The world of gaming is buzzing with anticipation as Insomniac Games unveils exciting details about their upcoming PlayStation 5 game, Marvel's Spider-Man 2, at the San Diego Comic-Con. Slated for release on October 20, 2023, the game promises to take players on an exhilarating new adventure featuring their favorite web-slinging heroes.
Old Friends, New Enemies
The Comic-Con panel kicked off with the premiere of a brand-new trailer, setting the stage for the story in Marvel's Spider-Man 2. The arrival of Kraven's hunters in the city sparks a mystery that the Spider-Men and MJ must unravel. As they delve deeper into Kraven's motivations, they find themselves up against a formidable adversary – the symbiote, threatening to wreak havoc on Marvel's New York and everything they hold dear.
RELATED: Disney Lorcana TCG Releases Awesome Companion App Ahead of Eagerly-Anticipated Retail Launch
The trailer showcases Peter's new Black Suit, which not only alters his personality but also grants him unique, powerful symbiote abilities. The gameplay trailer also hints at how these new powers strain Peter's relationships with Miles, MJ, and Harry.
Expanding the Spider-Man Universe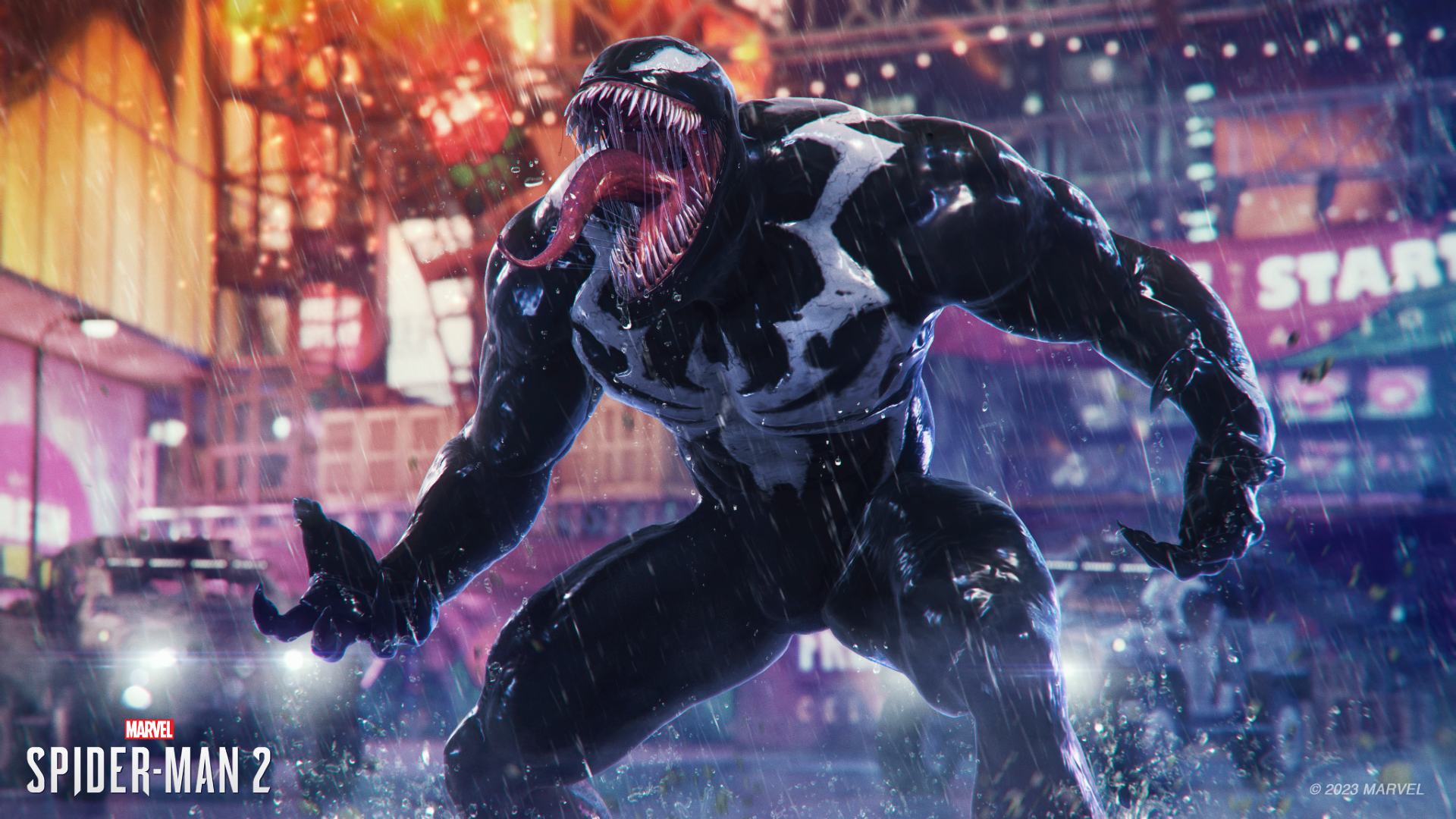 Marvel's Spider-Man 2 introduces an expanded Marvel's New York, allowing players to swing across the East River and explore Brooklyn and Queens. Iconic locations like Coney Island also make their debut in the new trailer. The game promises an immersive experience with stunning visuals, haptic feedback, adaptive triggers, ultra high-speed SSD, and Tempest 3D AudioTech, all exclusive to the PlayStation 5 console.
RELATED: 'Resident Evil: Death Island' Cast Share How They Crafted Their Wonderful Chemistry Despite Shooting Separately
Limited Edition PS5 Console Bundle
The panel concluded with the unveiling of the Marvel's Spider-Man 2 Limited Edition bundle. The bundle features a PS5 console and DualSense wireless controller with designs inspired by the symbiote's transformation and power. The limited edition design will be available in various bundles, with pre-orders starting July 28.
RELATED: Bandai Namco Europe Announces Awesome Gamescom 2023 Line-Up
Marvel's Spider-Man 2 is more than just a game; it's an evolution of the Spider-Man story. With two playable Spider-Men, iconic Marvel Super Villains, and an expanded Marvel's New York, it's a thrilling ride that fans of the franchise wouldn't want to miss. And, if it's even possible, to get fans even more hyped, watch the video of Tony Todd performing the iconic line, "We are Venom!" in our exclusively clip from Hall H at San Diego Comic-Con 2023, below.
Get ready to swing into action with Marvel's Spider-Man 2 coming exclusively to PlayStation 5 on October 20, 2023!
About Marvel's Spider-Man 2
Release Date: October 20, 2023
Platform: PlayStation 5
Genres: Action-adventure game, Platform game
Mode: Single-player video game
Composer: John Paesano
Developer: Insomniac Games
Publisher: Sony Interactive Entertainment

Synopsis
Spider-Men, Peter Parker and Miles Morales, return for an exciting new adventure in the critically acclaimed Marvel's Spider-Man franchise for PS5.
Swing, jump and utilize the new Web Wings to travel across Marvel's New York, quickly switching between Peter Parker and Miles Morales to experience different stories and epic new powers, as the iconic villain Venom threatens to destroy their lives, their city and the ones they love.
What are your thoughts on the new trailer for Marvel's Spider-Man 2? How do you feel about the introduction of the symbiote and its impact on Peter's relationships? Are you excited about the expanded Marvel's New York? Share your thoughts on social media and join the conversation!
And while we have you, here's a message of support of the WGA & SAGAFTRA Strike from Yuri Lowenthal at the Hall H Panel
Source: PlayStation
KEEP READING: [EXCLUSIVE] 'Last Expedition' 'Tech Breakdown' Teaser Trailer Premiere for Gala Games Upcoming Revolutionary FPS