Disney Villainous is a unique board game that allows players to step into the shoes of some of Disney's most infamous villains. Each villain has their own objectives and strategies, making every game a unique experience. There are currently 21 villains total players can play as over the course of 5 expansions to the original game. With Disney100 in full swing, Ravensburger has released a special edition of the base game reintroducing 4 villains. With another expansion set to drop later this year, we wanted to know how the villains are chosen. Luckily lead designer of the Villainous franchise, Mike Mulvihill, details the process in our exclusive interview.
How Villains are Chosen for Disney Villainous?
With 21 villains already available, and if trends continue, 3 new villains coming in the "Filled With Fright" expansion, we were dying to know how the villains are chosen for Disney Villainous. We were fortunate enough to be able to ask the lead designer of the Villainous franchise some questions, and he gave us our answers.
RELATED: Disney Lorcana TCG Releases Awesome Companion App Ahead of Eagerly-Anticipated Retail Launch
"We actually go through a process each time we do a Villainous product that breaks down into a few simple steps.

We begin every Villainous set by asking: Who is our compelling headliner or cover character? Who is that Villain that'll stop you while scrolling or walking down the aisle the moment you see them? Sometimes that's popularity – sometimes it's an iconic, unique silhouette. We keep a list of them!

From there, we aim to create a compelling set of Villains in each game. We do this by considering things like eras or styles, objectives or play patterns, deep-cut characters or surprises and many other criteria to ensure an awesome product. The licensor has to approve our initial plans before we move forward"

-Mike Mulvihill, Lead Designer of the Villainous Franchise-
Bringing Characters into Disney Villainous
It's one thing to choose the character, it's a whole other thing to bring them into Disney Villainous. It's a complex process, but luckily Mike gave us an overview.
"OMG! Kevin this is a whole separate interview!!!!! Let me give you an overview…

I told you above how we pick the characters for a box. From there we follow this plan:

Taking any feedback from the licensor – we move on to the next stage and start the game work. We begin with the locations to ensure the art team has the time they need to create those larger pieces and make sure they look cool and work visually together. Then we work with the Villains to create mechanics and cards that serve as the base "engine" for play – which we then purposely try to cause problems for through the design of Fate cards. The creation of the board actions is last because the engine needs to exist before we can plot the actions you will need to play your engine.

Then of course we go to the testing phase where everything gets rewritten, re-concepted and revised. This process goes on until we are ready to print (although for me, a game is never really done).
The art process is a bit different. While making the cards for mechanics, we will scour the movie for cool and important images. That is turned over to our awesome art team even before playtesting has begun. Since every card is a painting, they have a longer and more direct licensor approval process to ensure our designs live up to the standard of the IP holder. We're not just talking about card art paintings here either – all elements of the game, from the back of the card to tokens, go through this approval process.
I need to give credit to our awesome art team for the sculpted game movers: Jake Breish is the Art Director on the Villainous Lines. We have worked together on every Villainous product. He's a genius! He is the look-and-feel person. Chris Buckley is our Graphic Designer on all of Villainous and does insanely incredible work. Kevin Coomes manages Technical Production which means he brings it all to life.
Our mover aesthetic for Villainous is "perfume bottle": the pieces must create a look that mimics the look of the Villain but also abstracts it a bit. The goal is to be recognizable but not a bust or caricature.
The art team begins the process by sketching ideas – sometimes up to 20 plus – then as a team, we reduce them down to two or three for licensor approval. Once approved – we create samples and sculpts to compare size, look and feel and make sure it's manufacturable before we green light full production.
I should mention that there's an additional but similar process for color selection that Jake also leads."

-Mike Mulvihill, Lead Designer of the Villainous Franchise-
Why Those 4 for the Disney Villainous "Introduction to Evil" Disney100 Edition?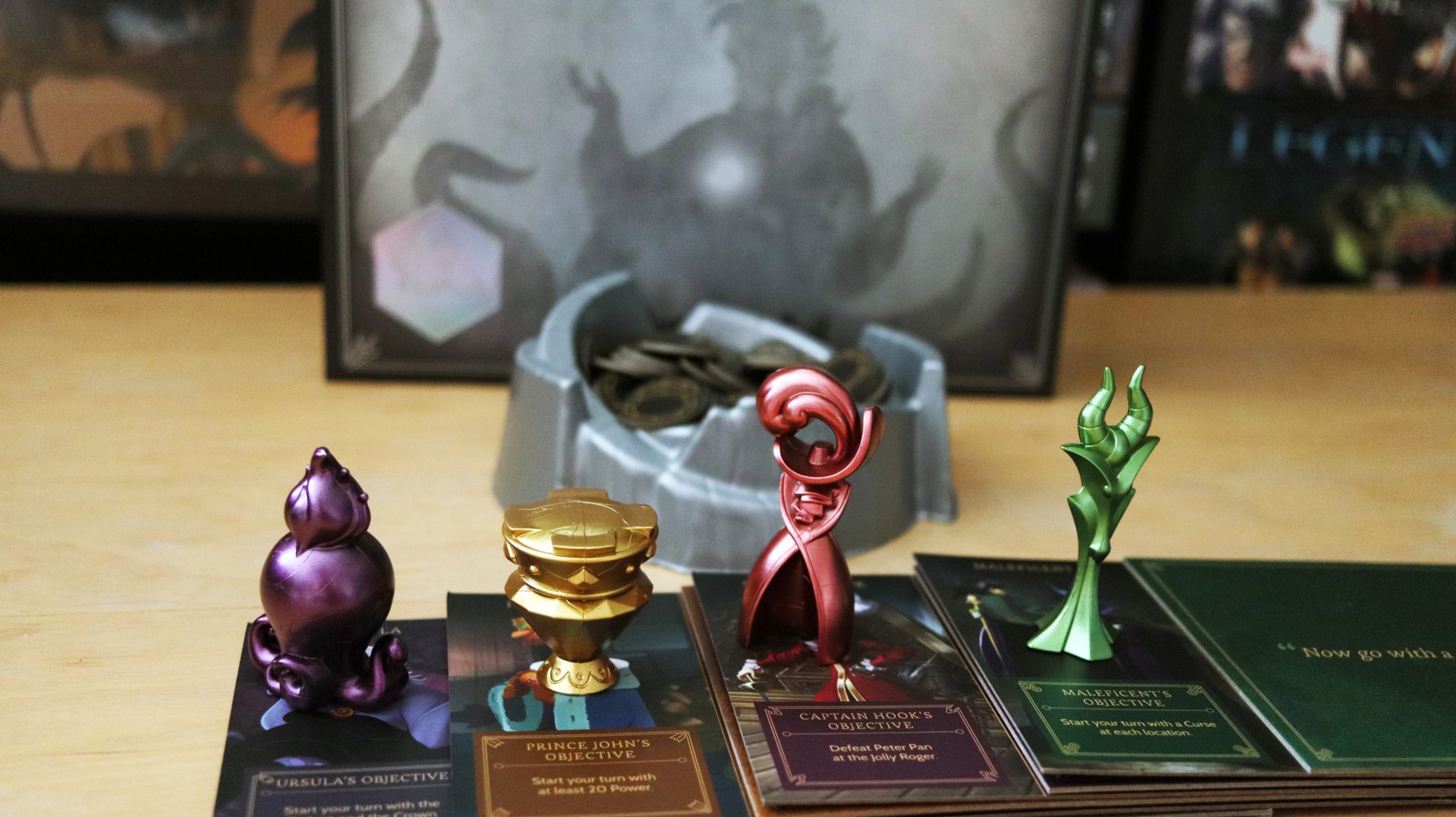 With the Disney100 Edition of Disney Villainous, the game features Prince John, Maleficient, Captain Hook, and Ursula. These characters were featured in the original release of the game. They are fan-favorites amongst players, and iconic to Disney history, but we wanted to know why these 4 out of the 21 available characters were chosen.
RELATED: The Arkham Asylum Files: Panic in Gotham City, A Groundbreaking Augmented Reality Gaming Experience
"For Introduction to Evil – we had two major goals. As the name says we wanted to make a product for those Disney or curious game fans that really were nervous about taking on a new hobby or deep diving into games where they may not be comfortable. We also know The Worst Takes It All (Original Green Box) was 5 years on the shelf, which is really long time in the world of board games!

We had been talking internally about how to update, streamline and improve that original out-of-the-box experience for a while. The Disney100 anniversary came along right as we were revisiting these conversations, and we knew it was the perfect opportunity to create a beginner-friendly introduction to Villainous that learned from our team's experience, incorporated fan feedback, and celebrated this Disney milestone.

As for the character choice, we love those 6 "Worst" characters! We knew that "Intro" wouldn't be a true introduction without the most iconic Villains out there. So, our decision was to review the data we had on gameplay for those characters and decide which we can update – streamline their play for new players and improve their competitive balance."

-Mike Mulvihill, Lead Designer of the Villainous Franchise-
Maleficent is a personal anguish of mine in the game, as I have not been able to win as her. However, her place in the game and iconic status in the lore of Disney, as well as Prince John, Ursula, and Captain Hook make complete sense. Disney Villainous is a great way to experience and enjoy these characters and one I can't recommend enough to strategy tabletop players and fans of Disney. Be sure to check back later for more from our interview with Mike Mulvihill and learn all you can about the Villanous franchise.
The Disney Villainous "Introduction to Evil" Disney100 Edition is exclusively available at Target for the MSRP of $34.99.
The standard Disney Villainous base game is available everywhere board games are sold.
About Disney Villainous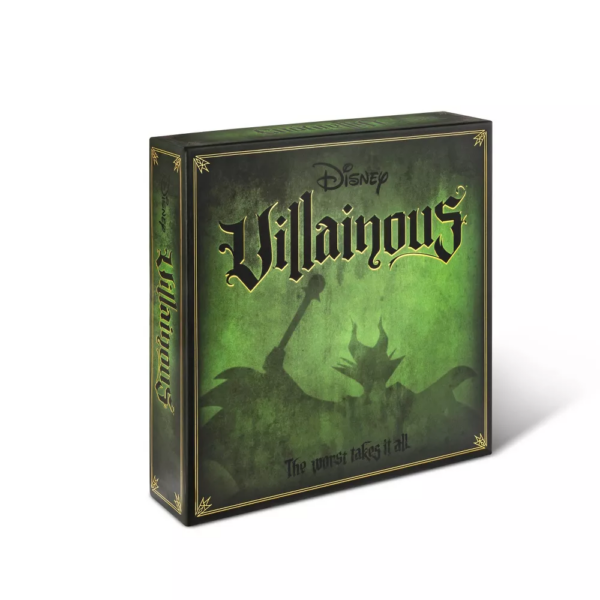 Original Release: 2018
Genre: Strategy
Players: 2-6
Playtime: 45-120min
Age: 10+
Designer: Prospero Hall
Publisher: Ravensburger

Description:
You are the Villain! Command your henchmen, defeat the heroes, and enact your evil scheme. In Villainous, the story-based gameplay allows players to experience events from the classic Disney films, Aladdin, Sleeping Beauty, The Little Mermaid, Robin Hood, Alice in Wonderland, and Peter Pan in exciting new ways. Each Villain plays differently, offering rich strategy to explore, surprising combinations to discover, and plenty of replay value.
We'd love to hear your thoughts on the Disney Villainous! Which villain do you want to see next? How did you strategize to achieve your devious objectives? Did you find the game beginner-friendly as promised? Share your game night pictures and experiences with us on social media!
KEEP READING: 'Disney Villainous' Disney100 Edition Review – Being Bad Has Never Been So Good