The Teenage Mutant Ninja Turtles (TMNT) franchise has been a staple in pop culture since its inception in the 1980s. From comic books to animated series, action figures to blockbuster movies, the TMNT brand has left an indelible mark on generations of fans. One of the most recent and successful additions to the franchise is the comic series The Last Ronin, a dark and gritty tale set in a dystopian future where only one turtle survives. Despite the comic's success and popularity, fans hoping for a feature film adaptation will be disappointed. Instead, Nickelodeon, the current rights holder of the franchise, has opted for a video game adaptation.
Why We Won't Be Getting The Last Ronin Feature Film
RELATED: TMNT: Mutant Mayhem Review – The Best and Biggest Surprise of 2023
In a recent interview with ComicBook.com, Teenage Mutant Ninja Turtles co-creator Kevin Eastman explained why The Last Ronin is not being made into a feature film. According to Eastman, Nickelodeon, who has been a supportive partner in the TMNT franchise, did not want to take The Last Ronin concept into a mainstream live-action movie. The reason being, they didn't want it to compete with their upcoming project Teenage Mutant Ninja Turtles: Mutant Mayhem, which is expected to be a major hit.
"Nickelodeon, who has always been a great partner and great friend to all the things in letting us do what we do, they really didn't wanna take The Last Ronin concept into full on mainstream, like a big live-action movie, something to compete with Mutant Mayhem (which is gonna be phenomenally awesome).

They collectively came up with the idea of a video game because we could go all the way there. They could basically take it all the way into all things Ronin-verse. They've taken all the different drawings and moments… the stuff we've seen so far is goosebump city. It's really phenomenal. They took stuff right out of the pages of the comic book."

-Kevin Eastman, Co-Creator of the Teenage Mutant Ninja Turtles-
Instead of a movie that could compete or distract from their more family-oriented Teenage Mutant Ninja Turtles: Mutant Mayhem, Nickelodeon suggested a video game adaptation of The Last Ronin. This decision was made because a video game would allow the creators to fully explore the "Ronin-verse". Eastman expressed his excitement about the video game, stating that what he has seen so far is "goosebump city". He praised the game developers for their phenomenal work in bringing the comic book's scenes and moments to life.
RELATED: 'Nickelodeon All-Star Brawl 2' Promises Animated Mayhem on Consoles and PC Later This Year
The TMNT franchise has a long history in the video game industry, dating back to 1989 with the release of the NES game and an arcade title. Since then, there have been numerous TMNT video games, including recent titles like Shredder's Revenge, and features in games such as Nickelodeon All-Star Brawl.
While it remains to be seen whether The Last Ronin video game will rank among the best TMNT games, but the optimism expressed by Eastman is a positive sign. Fans of the comic and newcomers alike can look forward to experiencing this unique TMNT world in a new and interactive way.
But until then, fans can enjoy Teenage Mutant NInja Turtles: Mutant Mayhem out now in exclusively in theaters.
About TMNT: Mutant Mayhem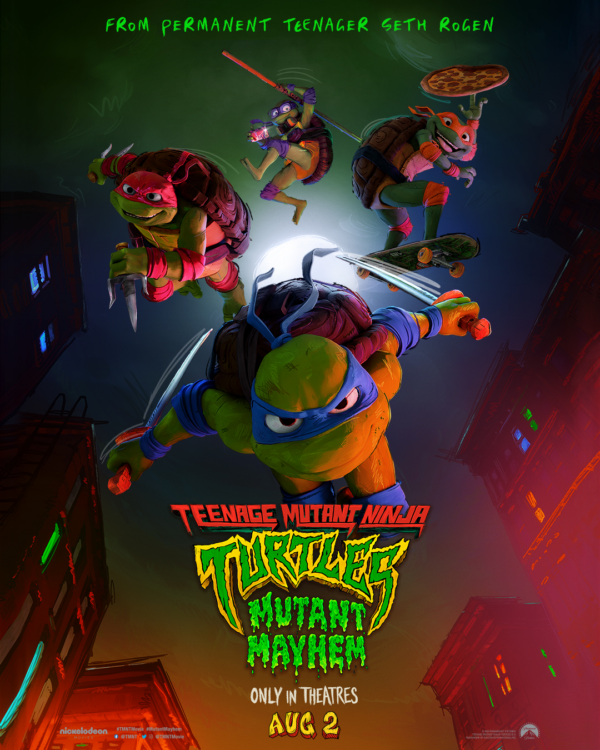 Release Date: August 2, 2023
Directed by: Jeff Rowe
Co-Directed by: Kyler Spears
Screenplay by: Seth Rogen & Evan Goldberg & Jeff Rowe, Dan Hernandez & Benji Samit
Based on the Teenage Mutant Ninja Turtles Characters Created by Peter Laird and Kevin Eastman
Produced by: Seth Rogen, p.g.a., Evan Goldberg, p.g.a., James Weaver, p.g.a.
Executive Producers: Ramsay McBean, Josh Fagen
Cast: Micah Abbey, Shamon Brown Jr., Hannibal Buress, Rose Byrne, Nicolas Cantu, John Cena, Jackie Chan, Ice Cube, Natasia Demetriou, Ayo Edebiri, Giancarlo Esposito, Post Malone, Brady Noon, Seth Rogen, Paul Rudd, Maya Rudolph
Post-Credits: 1 mid-credit scene

SYNOPSIS
After years of being sheltered from the human world, the Turtle brothers set out to win the hearts of New Yorkers and be accepted as normal teenagers through heroic acts. Their new friend April O'Neil helps them take on a mysterious crime syndicate, but they soon get in over their heads when an army of mutants is unleashed upon them.
Do you think we can see a feature film or maybe an animated feature of The Last Ronin in the future? Are you excited to see the Turtles on the big screen again? What kind of game do you hope The Last Ronin will be like? Share your thoughts and join the conversation on social media!
Source: ComicBook.com
KEEP READING: 'TMNT: Mutant Mayhem' Sequel and New 2 Season Series in The Works