Bryan Danielson talks about Wheeler Yuta joining the Blackpool Combat Club and what lesson John Cena taught him he still uses.
Danielson and his career has been segmented into different eras and he has been very successful in each. Only a few wrestlers can claim they have done the same. The first which comes to mind is The Undertaker. Bryan Danielson's eras are the Ring of Honor era, WWE era and currently the AEW era. It can be argued that the AEW era may be his best. He has the knowledge of over 20 years experience and the freedom to so his skills in AEW.
Perhaps the most important thing he did in AEW thus far is becoming a founding member of the no nonsense BCC.
Danielson last wrestled in late June when he defeated Kazuchika Okada at Forbidden Door. He fractured his arm during the match, but still pressed on to complete the match and the post-show media duties. He is currently recovering from the surgery he underwent to repair his arm.
RELATED: Cody Rhodes Looks Back Proudly On His Final Days In AEW
During a recent interview with Sports Illustrated, Bryan Danielson revealed why he continued on with the match after breaking his arm.
"I like to put myself in uncomfortable positions just to see if I can keep a good attitude," Bryan Danielson said. "There's been days when I didn't eat just to see if I could keep a good attitude."
Bryan Danielson Trying To Toughen Everyone Up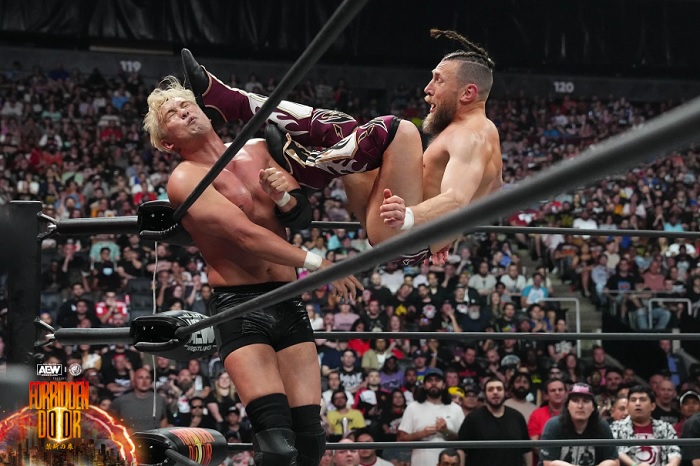 Bryan Danielson and toughness are two things which have always gone hand-in-hand throughout his career. This toughness is something he wants to instill in AEW's younger roster. His first student is the former "happy go lucky" and former Best Friends member Wheeler Yuta.
Danielson detailed what he does to ensure Yuta forgets his former carefree attitude and makes his mind and body as tough as possible. A month prior to Danielson's Forbidden Door match, Danielson and Yuta went to the desert to hike, do pushups and neck bridges. He wanted to see how far he can push himself and Yuta before one of them breaks.
RELATED: Britt Baker Talks About The Insane Wrestling Trolls She Has To Deal With
Bryan Danielson talked about what his and Yuta's training routine consists of:
"I go in earlier with Wheeler to teach and train, and I also pick his brain as a younger wrestler," Danielson said. "That makes me a better wrestler. Through the process of teaching, I'm becoming better. Wheeler joining the group has been good for him. It's been good for the rest of us. Helping him with some things makes me realize I need to work on certain things."
Both Teaching And Learning From Younger Wrestlers
Bryan Danielson has always been the type of wrestler who always wants to improve and be better. He is a sponge for knowledge and learning from a younger wrestler's perspective can only aid in his own wrestling knowledge.
Danielson can hardly recognize the person Yuta has become since leaving The Best Friends. He has become a new and vicious person and Danielson is all for it. Yuta has had the BCC mentality rub off on him and Danielson attributes the knowledge of why on something Cena told him once.
"The idea of Wheeler being with the Best Friends before, and now being with us, that makes us seem different," Bryan Danielson said. "The idea is, when you join us, you can't be that anymore. That kind of stuff is cool. I tried to get that across in one of my nights on commentary when Mox, Claudio, and Wheeler were wrestling The Best Friends and Rocky [on Dynamite in June]. My point was, those are the guys Okada hangs out with. Look at the guys I hang out with. That tells you so much.

It was actually John Cena who I first heard say this–you become the five people you spend the most time around. So who do you want to become? The guys taking everything lightly? Or the guys, from a storyline perspective, taking this seriously and working to become the best?"
Cena with a profound life lesson. Honestly not surprising at all. Even though Danielson is the BCC member with the most experience, besides William Regal who is with WWE again, it is hard to not see the other members rubbing off on each other. Moxley's toughness and brutal style is definitely present in Danielson's wrestling.
What have you thought of how the BCC has been booked in AEW? What have you thought of Yuta's transformation? Did you like him better before? Can you see BCC and more specifically Danielson rubbing off on Yuta? Have you noticed the BCC member's styles rubbing off on each other? When Danielson returns would you like to see him challenge for the AEW World Championship, Trios Championship or Tag Championship? Let us know if you agree with Cena that "you become the five people you spend the most time around" or if that is so far off.
KEEP READING: Kevin Owens Reflects On Big WrestleMania Moments And His Future Retirement
Sources: Sports Illustrated, Wrestling Inc.