We are now about to enter the final two months before The Marvels comes out in theaters worldwide, and while most of the talk surrounding the movie lately has been in regards to the Hollywood strikes and whether or not it will move from its release date, some significant rumors have appeared online recently about its runtime.
According to the Twitter (X?) account @Cryptic4KQual, which has been spot on as far as runtimes for upcoming TV shows, trailers, and movies go, the upcoming Marvel movie will have a runtime of barely 100 minutes.
RELATED: Loki Season 2 Intriguing Rumor: Jonathan Majors To Play More Than One Kang Variant
They say that the latest version of the film sits at around one hour and 38 minutes, with the credits starting at about one hour and 33 minutes. That would immediately make The Marvels the shortest movie in the MCU, behind The Incredible Hulk's 112 minutes.
Why The Marvels' Short Runtime May Be Good News
Whenever the runtime for a new blockbuster movie is announced/leaked, and Marvel is certainly leading the charge here, there is an immediate uproar. Half the Internet thinks it's too short, while the other half believes that runtime is too long.
Nobody can agree until they watch the movie and likely change their perspective: It should have had an extra 15 minutes to explain (insert plot point); it should have cut these sequences to make it more exciting. It happens every time, and by the time the next one comes out, we still haven't learned. We need to just let the filmmakers do their job, and then once we've seen the final product, we can render our judgment.
However, there are still a few things to read from this leaked runtime. First, it seems very obvious by now that Marvel is very happy about cutting down on their runtimes. Except for Guardians of the Galaxy Vol. 3 and Black Panther: Wakanda Forever, both of which had very strong voices behind them who needed the extra runtime because of special circumstances, Marvel movies released since 2022 have had runtimes under or around two hours.
Doctor Strange in the Multiverse of Madness generated a lot of talk when it was announced that it would be 126 minutes, especially as it was seen as a climactic event that would have to introduce so many different universes and set the MCU in a whole new direction. Many saw it as Endgame 2.0.
RELATED: Loki Season 2: Why Is Sylvie Working at McDonald's? Hilarious Reason Revealed!
However, the final product didn't turn out that way, whether or not Sam Raimi could have used more minutes to flesh it out or not will depend on the viewer. Thor: Love and Thunder was also the source of a lot of headlines after it was reported that then-Disney CEO Bob Chapek had mandated an under-two-hour runtime. The film's final runtime was 125 minutes.
The truth, though, is that Hollywood has a massive runtime problem. Just this summer, Mission: Impossible – Dead Reckoning Part One was two hours and 43 minutes; Indiana Jones and the Dial of Destiny was two hours and 34 minutes; Oppenheimer was three hours; The Little Mermaid was two hours and 15 minutes; Spider-Man: Across the Spider-Verse was two hours and 20 minutes. Some of these films were heavily padded and arguably ran too long.
In the fall, we'll have a 210-minute Martin Scorsese movie, Killers of the Flower Moon. I mean sign me up for this, but even the best reviews for Sorsese's latest opus point out that it could have done with a much shorter cut.
Marvel Studios has been the source of so many industry changes over the past few years, from the necessity to build long-running franchises and even cinematic universes, to the heavier investment in visual effects and spectacle movies. Thankfully, Oppenheimer is proving that the days of audiences going en masse to see a long, intellectual drama are not entirely gone, and that argument is very pertinent here.
The evidence suggests that audiences are franchised out, and Marvel fatigue is more real than it's ever been. Perhaps promising an all-killer, no-filler experience with The Marvels will be enough to bring them to the theaters. That might serve the theatrical experience and audiences more for The Marvels rather than a longer movie over two hours.
When is The Marvels coming out?
Right now, the plan is for The Marvels to roll out in November. However, that date will possibly shift in the coming days, but there are two possibilities. After the recent delay of Dune: Part Two, which was set to open on November 3, all IMAX screens from November have become available (it's also been announced that Killers of the Flower Moon will have an IMAX run, though we still don't know for how many weeks).
Currently, Lionsgate has the new Hunger Games prequel, The Ballad of Songbirds and Snakes, set to open later in the month, so Disney could decide to move The Marvels into Dune's former spot to take advantage of one extra week of IMAX exclusivity. This is an argument solid enough to upend the following, which still has some weight of its own.
RELATED: Avengers: Secret Wars Rumored to Have Lost Writer Michael Waldron
Given the current state of things in Hollywood, with both the WGA and SAG-AFTRA on strike against the AMPTP, the truth is that unless a movie is just one or two months away, at most, they are all subject to delays into 2024 as the studios still haven't been able to agree to the writers' and actors' proposal for a new contract, and both guilds are on strike. That prevents Brie Larson, Iman Vellani, and Teyonah Parris from going on a promotional tour to raise awareness about the movie, which could ultimately hurt its chances at the box office.
As it stands today, though, The Marvels isn't facing a lot of competition anyway, so perhaps running a few ads on commercial breaks during big sporting events and on TikTok will be enough to let everyone know that there's a new Marvel movie out in theaters. We will know best after Labor Day when studios are expected to make final calls on their fall schedules. The Marvels is currently slated for a Nov. 10 release in theaters.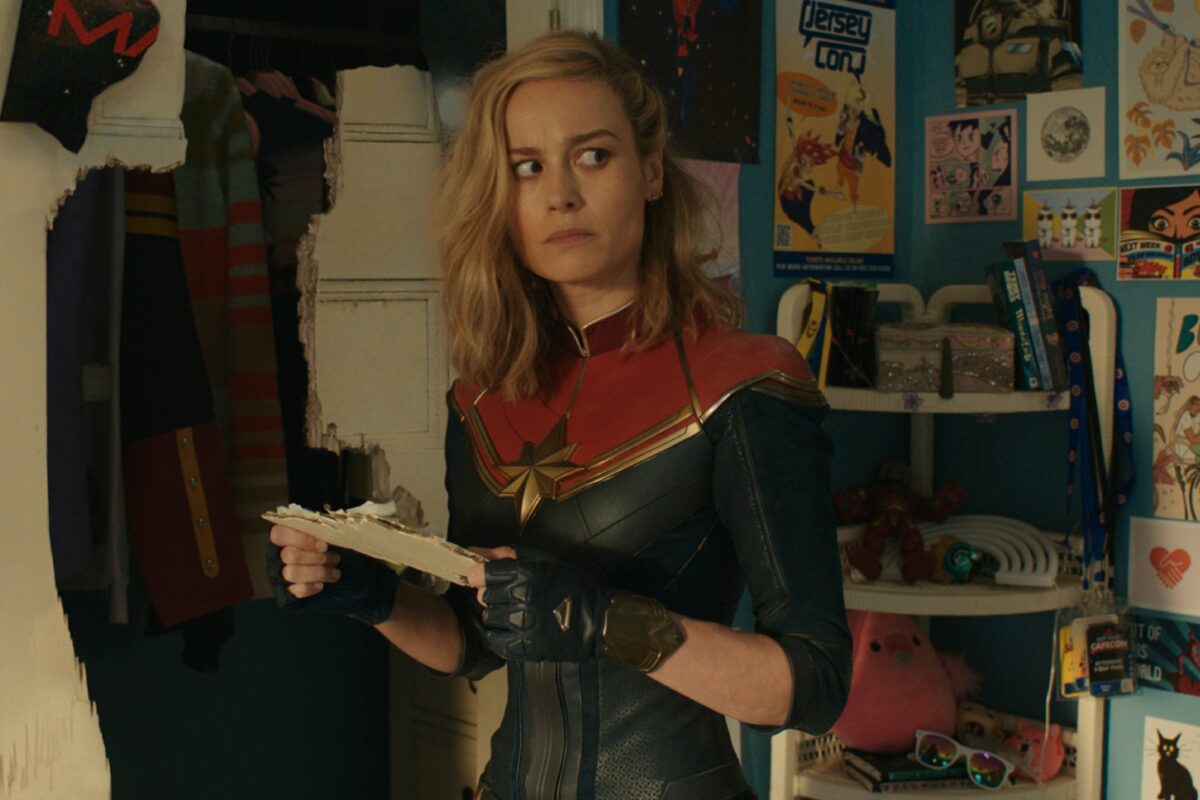 What do you think about the rumored runtime for The Marvels? Do you think it will open in November, as planned, or that it will move into next year? After all, Marvel still has a slot to fill in May since Deadpool 3 won't be able to make it due to the strike. Are you excited for the movie? Let us know your thoughts on our social media, and stay tuned for more Marvel news!
SOURCE: Cryptic HD Quality
KEEP READING: Violent Spider-Man 2 Story Spoilers Revealed With New PlayStation Rating