A new rumor suggests that Jonathan Majors will play more than one role in Loki season 2.
---
Going back just a few years, putting the Marvel logo at the beginning of the film was not only a sign of box office success, it was also a near guarantee of the audience having a great time at the movies. The franchise, like the theatrical exhibition business, seemed to be in a healthy state and fans had plenty of good reasons to look forward to the next title from Marvel Studios.
Right now, the odds are worse than flipping a coin that the new project will captivate audiences the way they used to; and here we are again, on the verge of the release of a new Disney Plus series in Loki season 2, hoping this time the Asgardian gods will be on our side.
Hoping that the audience didn't give up on them after the failure of Secret Invasion (that 7% Rotten Tomatoes score for the finale, even if it's only from 14 reviews, should be on the studios' headquarters' front door and splashed all over the walls as they figure out a way to make up for their recent disappointments), the studio will release new episodes of Loki on October 6.
RELATED: Jonathan Majors' Assault Trial Postponed With New Trial Date on September 6
However, despite the inclusion of 2022's favorite human Ke Huy Quan, the season already comes in with a lot of baggage due to the inclusion of Jonathan Majors amid his own legal troubles in New York City. Interestingly enough, the actor could be convicted by the court while the series is on the air, which could turn into Marvel's biggest PR disaster ever. Now, a new rumor has appeared online, hinting at Jonathan Majors having an even bigger presence in the new series than we expected.
Jonathan Majors and He Who Returns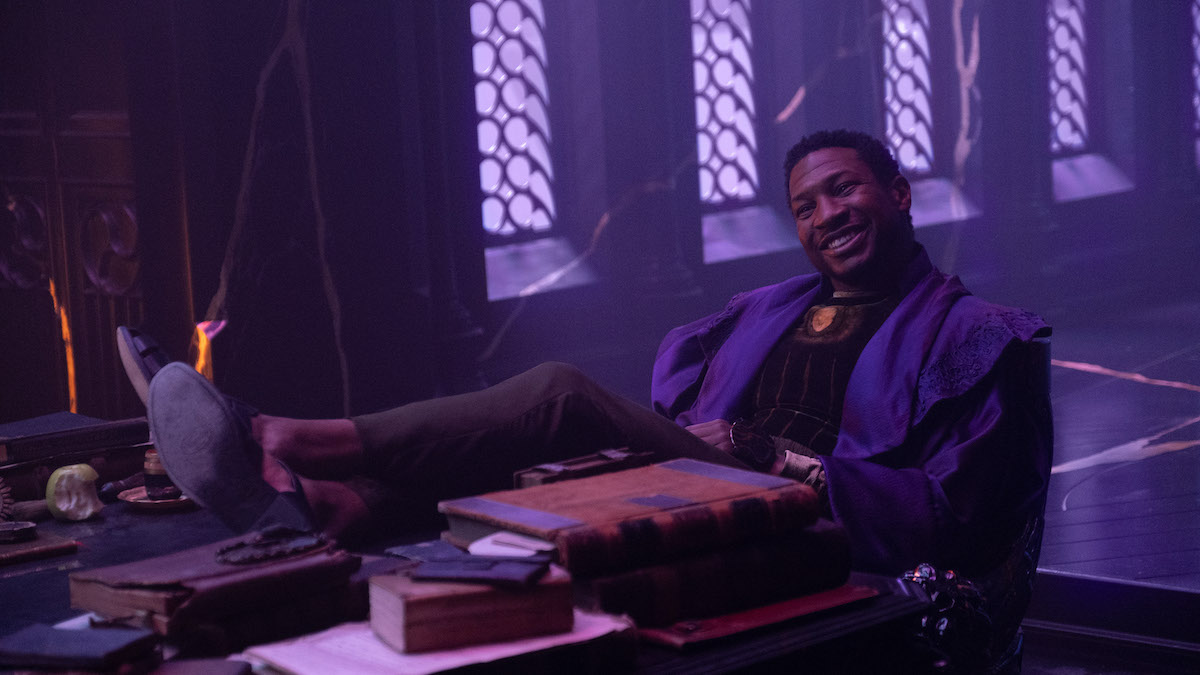 Álex Perez from The Cosmic Circus (from whom I stole the pun above) shared a story recently with new details about Majors' involvement in the new season of Loki. We already know from the post-credits sequence of Ant-Man and the Wasp: Quantumania, and the trailer for season 2, that Victor Timely will be appearing in at least one episode. The Cosmic Circus previously revealed that Timely's demonstration will be part of the World's Columbian Exposition, set in 1893, in Chicago, Illinois.
RELATED: New Daredevil: Born Again Rumor: Punisher To Battle Racist Cops and Kingpin's Master Plan Reveal
We haven't really seen what happens with him after said demonstration, which will be interrupted by a Miss Minutes-centric action setpiece as previewed by the trailer. However, we assume that Timely will confront/be confronted by Loki, who is probably looking for more people like the mysterious character he met at the Citadel at the End of Time and who has suddenly taken over his life.
Well, according to The Cosmic Circus, Majors is also returning to play He Who Remains in the second season of Loki, despite the fact that he was killed in the season finale. An act that prompted the multiverse to branch off into infinite realities and thus unleashed the events of the Multiverse Saga.
RELATED: New Deadpool 3 Rumor Is Terrible For Scarlet Witch Fans
They are hearing that it will be new footage and not repurposed material from the first season, which raises so many questions on its own. If we were to guess, though, this sounds like something that will be a part of the prologue or beginning of the season, as Loki deals with the aftermath of what happened in "For All Time. Always."
Loki Season 2 Is One of Three Projects Still Dated for 2023
Despite the recent delay of Dune: Part Two by Warner Bros., Disney has not yet decided to push back any of their fall titles. That not only includes Loki, but also The Marvels, which may be in a good spot now that all November IMAX screens have become available, and Echo, which, last we heard, was still coming out on November 29 (although the series was missing from Disney's recent schedule).
RELATED: The Marvels Producer Reveals Spoiler That Directly Connects Upcoming Blockbuster To Avengers 5 & 6
Things become a little more complicated after that, as Marvel's next project is dated for May 3, 2024 — as of today, this is still Deadpool 3, though since they haven't been shooting for almost two months, the studio will soon have to consider delaying it. Disney Plus series Ironheart and Agatha: Coven of Chaos have both wrapped and are in post-production, waiting for release dates to be set.
What do you think about this new Jonathan Majors rumor? Do you believe that He Who Remains will return in the second season of Loki or do you not believe this to be true? If so, when do you think he will appear? Will they bring back the Citadel at the End of Time, or will he appear somewhere else? Who will be the next Kang variant to appear in the MCU after Loki? Let us know your thoughts on our social media, and stay tuned for more coming soon!
KEEP READING: Loki Season 2: Why Is Sylvie Working at McDonald's? Hilarious Reason Revealed!
Source: The Cosmic Circus