We recently sat down and talked with Erik Henry, the VFX Supervisor for Invasion Season 2. With a passion for science fiction and a career spanning decades, Henry's expertise has been instrumental in bringing the otherworldly elements of the series to life. He shared insights into the process of translating the creators' visions to the screen, the challenges of blending realism with fantastical elements, and the intricate process of creating standout VFX sequences.
A Dream Project
Erik Henry's enthusiasm for the project was palpable from the start. His love for science fiction and aliens played a significant role in his decision to join the industry. Working on Invasion was a culmination of that passion.
"You know, aliens and science fiction are something that probably got me into the industry so many years ago. So being able to get the trust of Simon Kinberg, the show's creator, and helping him develop this and bring it to life has been a dream come true."

-Erik Henry, 'Invasion' Season 2 VFX Supervisor-
RELATED: Randall Park Thoughtfully Talks What He Wants to Direct After 'SHORTCOMINGS'
Balancing Realism with Fantasy
One of the challenges of working on a show like Invasion is striking the right balance between realism and the fantastical. Henry emphasized the importance of collaboration with special effects teams and relying on a strong script.
"We always rely on the special effects guys to help us with moving things so that our CG aliens feel like they're actually interacting with something… If you have a good script that respects the science behind and the ecosystem that we built from season one, it will be grounded and feel more real."

-Erik Henry, 'Invasion' Season 2 VFX Supervisor-
RELATED: 'Love in Taipei' Interview – Abigail Hing Wen Discusses Finding Your Own Unique Path and Embracing Challenge
From Page to Screen
Henry delved into the intricate process of bringing VFX sequences from the script to the screen. Using the opening scene of season two as an example, he highlighted the importance of collaboration, meticulous planning, and the sheer amount of time and effort that goes into each episode.
"A great scene to talk about is the very first one… Alex Sakharov, the director of that episode, and I collaborated on storyboards and previz that helped mold that scene into something of a first-person experience. It took six weeks to shoot it, we were prepping it first for an equal amount of weeks, and it took about 26 weeks to post it. Each one of these episodes is like a little feature film."

-Erik Henry, 'Invasion' Season 2 VFX Supervisor-
RELATED: Tobe Nwigwe Details Why Great Movie Soundtracks Need to Stand Alone As a Song
Erik Henry's dedication to his craft and his passion for science fiction shine through in Invasion Season 2. His ability to seamlessly blend realism with the fantastical, coupled with his meticulous approach to VFX, has played a pivotal role in the show's success. As Invasion continues to captivate audiences, it's clear that the magic behind the scenes is just as compelling as the story on screen.
INVASION Season 2 now streaming globally on Apple TV+, with new episodes every Wednesday.
About INVASION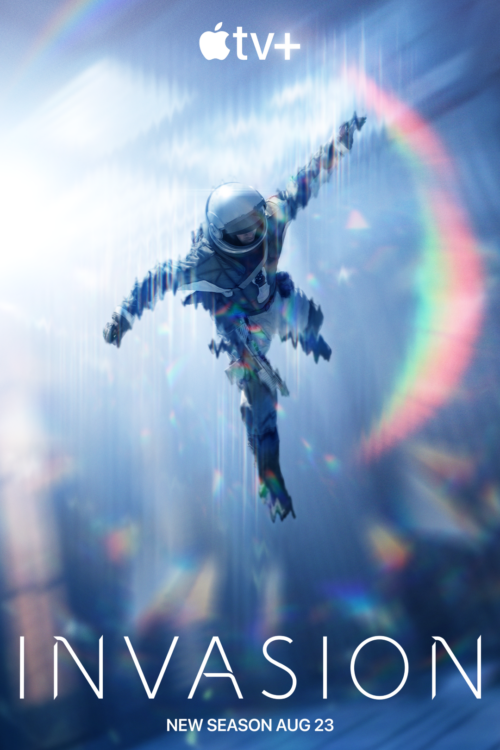 Release Date: Season 2 Premieres August 23, 2023
Executive Producers: Simon Kinberg, David Well, Audrey Chon, David Witz, Alik Sakharov, Andrew Baldwin, Katie O'Connell Marsh
Production: Boat Rocker Studios
Distribution: Apple TV+
Cast: Golshiteh Frahani, Shioli Kutsuna, Shamier Anderson, India Brown, Billy Barratt, Azhy Robertson, Paddy Holland, Tara Moayedi, Enver Gjokaj, Nedra Marie Taylor, Naian González Norvind

Synopsis
From Academy Award-nominated and two-time Emmy Award-nominated producer Simon Kinberg and David Weil, "Invasion" is a sweeping, character-driven science fiction drama series that follows an alien invasion through different perspectives arouhat do you think of Alik Sakharov's approach to visual storytelling in Invasion Season 2? Do you agree with the importance of creating a unified vision for the opening sequence? How do you feel about the character-based drama set against the backdrop of an alien invasion? Share your thoughts and reactions to Sakharov's insights and the second season of Invasion on social mediand the world. Set across multiple continents, "Invasion" stars Shamier Anderson, Golshifteh Farahani, Sam Neill, Firas Nassar and Shioli Kutsuna.
Are you captivated by the visual magic of Invasion Season 2? How do you feel about the balance between realism and fantasy in the show? What VFX sequences stood out to you the most? Dive into the world of Invasion and share your thoughts with us on social media!
KEEP READING: INVASION S2 Exclusive Interview – Alik Sakharov on Bringing His Visual Storytelling to the Acclaimed Series