Top WWE Superstar Cody Rhodes recently looked back on his current WWE run with pride and reflected on his devastating pectoral injury that happened in June 2022 during a recent chat with Dale Earnhardt Jr. on The Dale Jr. Download. When Rhodes returned to WWE in March 2022, he was a completely different wrestler.  He was no longer the midcarder striving to reach the top of the main event. The Stardust gimmick was a thing of the distant past.  His skills vastly improved since leaving WWE in 2016.  In his time working the indies, big WWE rivals, and helping to found WWE's biggest rival in AEW, he learned a lot.
WWE pushed him to the top when he returned.  They gave him a huge match Seth Rollins at WrestleMania 38.  Since then, he has had high-profile matches and feuds with some of the biggest stars in WWE including Roman Reigns and Brock Lesnar. While speaking to Earnhardt Jr. on Earnhardt's podcast, Rhodes spoke about what he thinks about his current run in WWE. Cody Rhodes stated the following:
"There's a ton of talent right now. The business is legit booming, but I feel this run has exceeded my expectations in every way, just because I'm experiencing things that only my heroes ever got to experience. I'm in on the high-level discussions. I'm hearing things that I always wanted to be. 

"Again, I wanted to be the starting quarterback. That's what I wanted to be, and being in a position where you're real close to that, whereas I say Roman is the starting quarterback, he really is. But where you're right there and you're able to offer something so unique and so different. The run has really exceeded my expectations, so much so that I have the thought if it ends tomorrow, thank gosh I had it. Unbelievable."

H/T to Wrestling Inc. for the transcription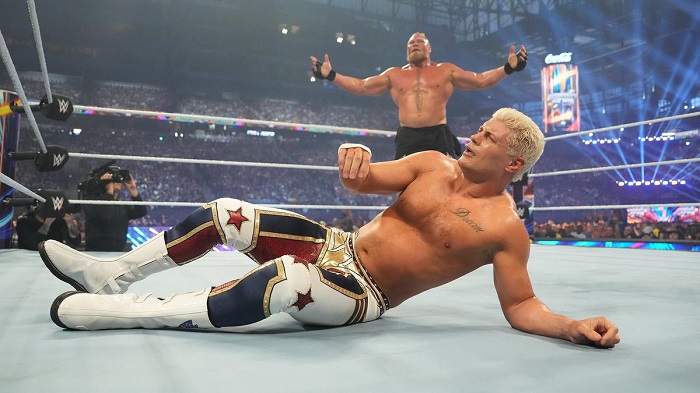 WHY CODY RHODES IS ONE OF THE BEST ACTIVE WRESTLERS IN WWE
WWE and AEW are very talent-rich right now, and that has been the case in WWE for the last 10 years or so.  A lot of the young wrestlers who got their start in once-independent promotions like Ring of Honor (ROH) eventually found themselves at the top of the card in WWE, such as AJ Styles, Bryan Danielson, and Seth Rollins. As of 2023, WWE hasn't been this rich in talent in a long time, maybe since the Ruthless Aggression Era.
Roman Reigns is clearly the face and top guy in WWE.  There is no arguing with that.  However, WWE's number two guy is currently up for debate.  Three names top the list for the number two spot: Seth Rollins: Brock Lesnar; and Cody Rhodes.  To think Rhodes is even in the Top 10 of WWE male Superstars, compared to where he was when he left WWE in 2016, is staggering.
Cody Rhodes may not have gold around his waist just yet, but that doesn't mean he's not topping WWE merchandise sales. The American Nightmare reportedly topped merchandise sales regularly throughout the year and has consistently outsold all of his peers.
Cody Rhodes' coming back to WWE and on top has made him grateful for what he has.  He also shared that he wants the fans to know that if his career ends tomorrow, he is grateful to them and WWE for giving him the opportunity to return.
RELATED: Booker T Praises The Miz And Thinks He Will Go Down As An "All Timer"
CODY RHODES' TORN PECTORAL INJURY EARNED HIM MORE RESPECT FROM THE FANS
Cody Rhodes' momentous WWE return almost ended right when he was gaining momentum.  At last year's Hell in a Cell premium live event in June, he wrestled injured.  Just prior to the event he tore his pectoral muscle while training.  He wrestled the match against Rollins with one side of his chest full of blood. 
The injury looked very severe and it made fans question if he should be in the ring, or if he would be able to return once he recovered.  After the match, he received surgery and was out of action until January of this year. Rhodes talked about his injury and what it was like wrestling with the injury. Speaking about the injury to Earnhardt Jr., Rhodes stated:
"It's one of the strangest audience reactions I've ever had. I didn't know, would they think this is cool? Really what it came across was, we don't know how to feel about this. Talking about myself, he seems like he's very injured, half of my body at that point. It was a complete tear, thing was ripped to shreds. And that bruise just kept getting bigger and bigger and it was running down.

I thought I might have some other problems in my bicep and stuff because it was just getting bigger and bigger. I cramped up too, so it's ripped off from here, but it's still hanging up here, and all of a sudden it shot up real high. It looked like I had a giant chest."

H/T to Wrestling Inc. for the transcription
HOW A NASTY INJURY TRANSFORMED HIM INTO A HUGE STAR
Rhodes had already come into WWE with a lot of steam, but that injury put him over the top in the eyes of the fans.  After the match, he gained a lot of respect from the WWE Universe, making fans take him a lot more seriously. It inadvertently distanced Cody Rhodes from his days as the Stardust. He truly became "The American Nightmare."
The reaction to Cody's performance against Seth Rollins at Hell in a Cell reminded me a lot of the reaction to Becky Lynch having her nose broken, with blood all over her face all those years ago. That became a signature moment in Becky Lynch's rise to stardom and main event run in WWE.
RELATED: Seth Rollins Reveals Which Big Name Would've Been His NXT Pro And Relationship With Cody Rhodes
Rhodes went on to say the picture of him with the giant bruise from his torn pec is one of the pictures he signs most for fans. He just can't escape that image and it will follow him for the rest of his career.
What have you thought of Rhodes' second run in WWE?  If it ended today would you consider it a success?  If not, what do you think he needs to accomplish?  Where would you rank him in the ranking of WWE's top guys?  Do you think Cody Rhodes would have been as popular without his pec injury?  Let us know if you think he would have become as popular if he had stayed with WWE and not left.
SOURCE: Wrestling Inc., The Dale Jr. Download, Wrestling Inc.
KEEP READING: Tommy Dreamer Explains Growing Up Hating Terry Funk And Funk's Mentorship Of Wrestlers