Amazon Studios and Sony Pictures Television are gearing up for the premiere of their highly anticipated series, Gen V, set to debut exclusively on Prime Video on September 29. As a precursor to the series launch, an orientation video for Godolkin University has been unveiled, offering a glimpse into the intriguing world of Gen V.
Orientation Awaits
The orientation video, available on the school's official website, introduces the upcoming class to the esteemed Godolkin University. It features warm welcome messages from notable figures such as Professor Brink, portrayed by the talented Clancy Brown, and Dean Indira Shetty, brought to life by Shelley Conn. Additionally, several of the university's top-ranked students share their insights, ensuring that new students are primed for a memorable academic year. Alongside the video, a series of images from the series have been released, further whetting the appetite of eager fans.
RELATED: MR. & MRS. SMITH Begin Their Top Secret Mission on Prime Video in 2024
Inside the World of Gen V
Gen V is not just another college drama. Set against the backdrop of the malevolent universe of The Boys, the series delves into the lives of students at Godolkin University, an elite institution exclusively for superheroes. Here, young supes are molded to become the next wave of heroes, with the added allure of profitable endorsements. While college life typically revolves around self-discovery and revelry, for these students, the challenges are amplified by their unique abilities. Explosive situations, both figuratively and literally, are the order of the day.
RELATED: THE WHEEL OF TIME S2 Interview – The Difficulty Of Navigating The Interviews Before the New Season
However, not all is as it seems. A group of these young superheroes soon uncovers a dark and sinister plot unfolding within the university's hallowed halls. Faced with this revelation, they must grapple with a pivotal question: will they emerge as the heroes or the antagonists of their narrative?
The series boasts an impressive ensemble cast, including Jaz Sinclair, Chance Perdomo, Lizze Broadway, Shelley Conn, Maddie Phillips, and many more. Notable guest stars such as Clancy Brown and Jason Ritter grace the series, with familiar faces like Jessie T. Usher and Colby Minifie reprising their roles from The Boys.
RELATED: One Piece Renewed For Season 2 With Hilarious Announcement By Oda-san!
At the helm, Michele Fazekas and Tara Butters serve as showrunners and executive producers. The series also benefits from the expertise of industry stalwarts like Eric Kripke, Seth Rogen, and Evan Goldberg, among others. Produced by Sony Pictures Television and Amazon Studios, in collaboration with several renowned production houses, Gen V promises to be a riveting addition to the superhero genre.
As the premiere date approaches, fans worldwide are eagerly awaiting the chance to dive into the captivating world of Gen V. With its compelling storyline, stellar cast, and ties to the beloved The Boys universe. Gen V premieres exclusively on Prime Video on September 29, 2023.
About Gen V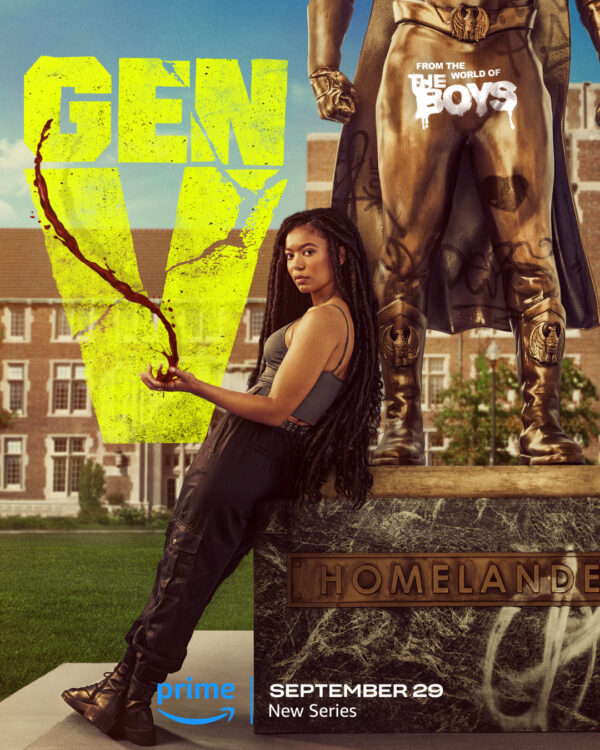 Release: September 29, 2023
Showrunners: Michelle Fazeka & Tara Butters
Executive Producers: Michelle Fazeka, Tara Butters, Eric Kripke, SEth Rogen, Evan Goldberg, James Weaver, Neal H. Moritz, Ori Marmur, Pavun Shetty, Ken Levin, Jason Netter, Garth Ennis, Darick Robertson, Craig Rosenberg, Zak Schwartz, Erica Rosbe, and Michaela Starr
Co-Executive Producer: Brant Engelstein
Produced by: Sony Pictures Television and Amazon Studios, in association with Kripke Enterprises, Point Grey Pictures, and Original Film
Cast: Jaz Sinclair, Chance Perdomo, Lizze Broadway, Shelley Conn, Maddie Phillips, London Thor, Derek Luh, Asa Germann, Patrick Schwarzenegger, Sean Patrick Thomas, and Marco Pigossi
Synopsis
From the world of The Boys comes Gen V, which explores the training of the first generation of superheroes to know about Compound V, and that their powers were injected into them, rather than God-given. These young, competitive heroes put their physical and moral boundaries to the test, competing for the school's highly coveted top ranking. They quickly come to learn that ambition comes with sacrifice, and the difference between right and wrong is not as clear as they once believed. When the university's dark secrets come to light, the students must come to grips with what type of heroes they are going to become.
What are your expectations for Gen V? How do you think it will compare to The Boys? Are you excited about the new characters and the university setting? Share your thoughts and join the conversation on social media!
Source: Prime Video
KEEP READING: THE WHEEL OF TIME Season 2 Review – The Wheel is Spinning Magic Now