The fifth episode of Ahsoka definitely brought a lot of emotions for long-time Star Wars fans, from seeing Hayden Christensen as Anakin Skywalker/Darth Vader again to watching Clone Wars battles in live-action to seeing the much-anticipated Ahsoka the White. But there is so much more story to tell, as we still haven't met Lars Mikkelsen's Grand Admiral Thrawn and we certainly haven't found Ezra (Eman Esfandi) yet. Part Six will hopefully deliver on both of those fronts, but will it have enough time to do so?
It's now almost become a tradition that a few days before the new episode of Ahsoka comes out, the runtime leaks on social media. The sixth episode, out on September 19, 6 pm PT, is no exception — according to Twitter account @DiiamondFiire, the new episode will be 46:26 long with credits, so taking out the usual 3:40-long credits and the initial recap, we're essentially left with a 40-minute episode.
Ahsoka – Episode 6 – Runtime

*DRUMROLL*

46:26!

This is EXCLUDING Extended D+ credits. This means it only includes the official Lucasfilm ones which are usually 3:40 in length.

Cut off the recap and stuff you basically got a 40 minute episode!

— DiamondFire (@DiiamondFiire) September 11, 2023
Will We Meet Grand Admiral Thrawn in Ahsoka Episode 6?
The premise of the Ahsoka series was laid out going all the way back to The Mandalorian season 2 when Rosario Dawson's character asked Morgan Elsbeth about Grand Admiral Thrawn's whereabouts. That episode acted as the perfect backdoor pilot for the spinoff, as it worked as a part of the larger story that season and also set up more stories to tell down the line. Dave Filoni put pen to paper even before the episode made it to air to start crafting the storyline of the show, which was conceptualized as the sequel series to Star Wars: Rebels.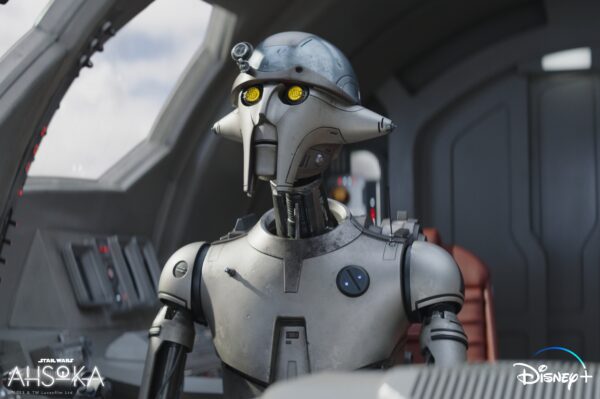 The reasoning behind that description is, of course, that Rebels left its main protagonist traveling into wild space with the lead villain of the last two seasons and the promise during the epilogue that both Ahsoka Tano and Sabine Wren would go looking for them. Five episodes in, we still haven't found them.
RELATED: Watchmen Creator Alan Moore Demands All Future DC Royalties Be Donated To Black Lives Matter
Of course, there is an argument to be made that this isn't the "Where's Ezra?" show. It's the Ahsoka series, and with Part Five we finally got the payoff to an arc years in the making — Ahsoka, traumatized by her experience in the Clone Wars, has been lost ever since. But when the Force essentially asked her if she wanted to live to fight another day or give it all up, she stood up and put on the white cloak.
Except for Hera Syndulla, all of the main characters in the series are now on their way to Peridea, the distant galaxy where the star map says Grand Admiral Thrawn is located. It's safe to assume, then, that we will finally meet with the blue-faced villain once and for all. Of course, if logic applied, it would take a long time to find a single individual in an entire galaxy, but when has logic applied to Star Wars? The real question here should be whether or not we'll be meeting Eman Esfandi's Ezra Bridger as well, and I suspect the answer will be yes.
RELATED: Donald Glover's New Star Wars Lando Series Now Heading To Big Screen As A Movie
I sense a massive twist in the making here in regards to Ezra. He will probably not be an ally to Thrawn, that would be too short-sighted for Filoni, benefitting a momentary shock but sacrificing. so much character work and more storylines, but I have a feeling there's something else going on with the young boy from Lothal. I wish I was able to sense more through the Force.
Ahsoka returns with a new episode on Tuesday, at 6 pm PT. Are you looking forward to it? Do you think its 40-minute runtime will be enough, or do you wish it were longer? It's probably best to wait and see how the story plays out. Do you think we'll be meeting Thrawn this week? What about Ezra? Let us know your thoughts on our social media!
SOURCE: Diamond Fire
KEEP READING: A Million Miles Away Movie Review: Michael Peña and Rosa Salazar Bring Heart in Compassionate Biopic