20th Century Studios' upcoming sci-fi epic from director Gareth Edwards, The Creator, is being hailed as one of the best films of the year and almost unanimously as a visual masterpiece. From the stills and the trailer, it is evident that visually the film is going to fully live up to the acclaim. But outside of the technical aspects that bring it to life, what is it about The Creator that takes it to a whole different level of appreciation? I believe it's because all of the technology in the world looks like they would make awesome toys.
Technology in the World of The Creator
The world of The Creator is incredibly designed and populated. From the clothing accessories to the giant warcraft that orbits the planet, all of it looks hella freakin' cool. Something about the technology, especially the vehicles, takes it to a different level of appreciation. One that other massive sci-fi films, from the same studio, just do not garner. And I think, it's the appreciation that turns into the desire to have it as a toy.
RELATED: Donald Glover's New Star Wars Lando Series Now Heading To Big Screen As A Movie
Gareth Edwards and James Klein Wants Bandai to Make Toys of Their Vehicles
During the press conference, Hunter Bolding from That Hashtag Show asked "Where did the influence for some of the vehicle designs in the movie come from?" To which director, Gareth Edwards, attributes most of the credit to production designer, James Klein, and their secret hope for a famed toy company to make toys of their creations.
"James Klein, who is our production designer, should take credit for a lot of that. We wanted to put a tank in the movie that felt like something that should be in an anime film, you know, like one of these futuristic, crazy, over-the-top tanks. But if you just scale up a tank, it doesn't look very exciting. And so it was like trying to create negative space and cut things out where it still retains the basics of a tank but has a shape you wouldn't expect.

And we always wanted our secret hope was that we wanted Bandai, which is the company who make all these toy models of manga and anime characters. We wanted Bandai to release this as a model kit one day. And so we'd actually take Bandai boxes off the Internet and put our tank on it to see if it felt like something if we were in the store, we'd go, oh, my God, I got to get that. And until we got really excited and jealous and wanted to buy this toy, like we kept going until it looked right."

-Gareth Edwards, Director of 'The Creator'-
RELATED: Brightburn 2: Horror Sequel In Development With Cringeworthy Plans To Implement AI Into Production
After the film, I was talking about how much I wanted toys from the film. And now it makes complete sense why toys were such a focus for me. Edwards and Klein used my favorite toy company as a benchmark for their designs. So not only does The Creator scream award-worthy visuals, it also radiates must-have toys, which is an incredibly powerful combination that even the best of films often do not attain.
But that might just be because I'm a borderline addicted collector. Find out if you get the same feeling when The Creator releases in theaters on September 29, 2023.
About The Creator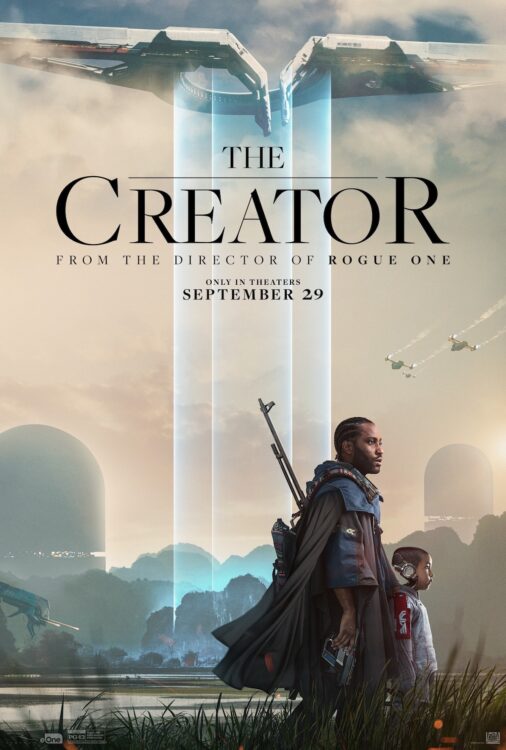 Release Date: September 29, 2023
Director: Gareth Edwards
Cinematography: Greig Fraser and Oren Soffer
Producers: Kiri Hart, Arnon Milchan, and Jim Spencer
Screenplay: Gareth Edwards and Chris Weitz
Executive producers: Zev Foreman, Natalie Lehmann, Nick Meyer, and Yariv Milchan
Cast: John David Washington, Madeleine Yuna Voyles, Gemma Chan, Ken Watanabe, Allison Janey, Amar Chadha-Patel, Ralph Ineson, and Sturgill Simpson

Synopsis
Amidst a future war between the human race and the forces of artificial intelligence, Joshua, a hardened ex-special forces agent grieving the disappearance of his wife, is recruited to hunt down and kill the Creator, the elusive architect of advanced AI who has developed a mysterious weapon with the power to end the war… and mankind itself.
Do you want Bandai to make The Creator toys? Would you want toys of the vehicles or the robots? Which Bandai line do you think the film best falls into? Let us know your thoughts and share your shelfies with us on social media!
KEEP READING: Gareth Edwards Recalls His Original Inspiration for The Creator