Part one of The Continental is releasing very soon on Peacock. In celebration, Peacock hosted an incredible interactive press day where members of the press got to partake in some of the incredible tasks that go into bringing the world of John Wick to life. As well as an exclusive fireside chat with Executive Producers Basil Iwanyk and Erica Lee, and Executive Producer and Director Albert Hughes.
The $50K Dog Bone
During the fireside chat, moderator Kate Hahn, senior writer with TV Guide and TV Insider, asked if Iwanyk and Lee could share some fun stories from working with the franchise. Iwanyk shared a surprising story involving Daisy, the puppy that was sadly murdered in the first John Wick.
RELATED: THE CONTINENTAL Review [Part 1] – An Explosive Beginning to a John Wick Icon
"I think one that comes to mind from John Wick 1 is that you know everyone loves the dog Daisy. That dog was actually a male dog named Andy and we had to VFX the penis out. I've done that on one film too. $50,000 worth of penis removal. "

– Basil Iwanyk, Executive Producer 'The Continental'-
There Were No Plans After John Wick

Iwanyk continued with another fun story, using the unnamed pitbull that travels with John Wick as an example. Basically, after the first film, the team had no expectations to continue with the universe. It's surprising considering we are now covering the first spin-off of the films. But at the time, there was apparently no thought of doing more.
RELATED: UNIVERSAL STUDIOS HOLLYWOOD REVS UP FOR NEW FAST & FURIOUS-THEMED ROLLER COASTER AS 'FAST X' HITS HOME MEDIA
"I mean on the dog it shows you by the way where our mindset was about John Wick 1. The pit bull at the end of the movie when the pit bull comes out I went to Chad [Stahleski] and I'm like, 'Chad I thought you hated pit bulls, I hate pit bulls too, Why the fuck is there a pit bull?'

And he's like, 'It's Dave Leitch's choice and besides we're never going to come back here again so who cares.'

And now every time this pit bull shows up on John Wick 2, 3 and 4, Chad is just like, 'God damn Dave Leitch! We're stuck with this pit bull!' But it just shows you that when we made that first movie there was we had no plans for anything else let alone a tv show and a spinoff and everything else."

– Basil Iwanyk, Executive Producer 'The Continental'-
While Iwanyk and Stahleski may not be the biggest fans of the pitbull, many of us are thankful it's around. Chances are slim that The Continental will reveal the name of the beloved dog, but fans will be able to explore deep into the world of John Wick with the spin-off series.
The Continental premieres on September 22, 2023, exclusively on Peacock.
About The Continental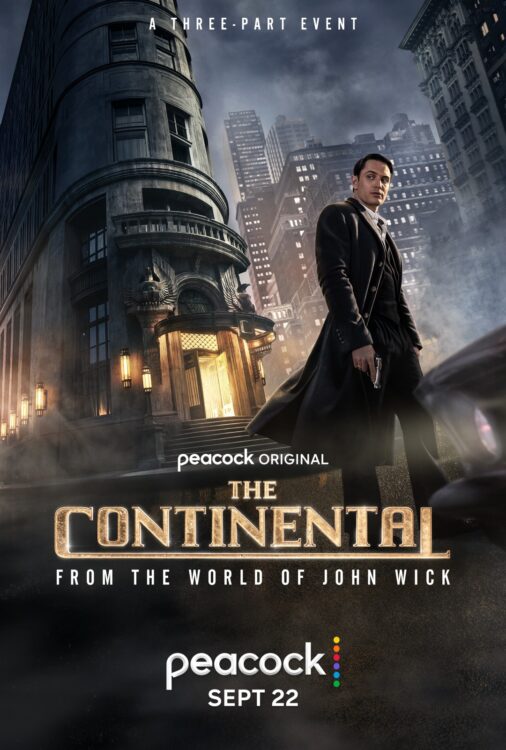 Release Date: September 22, 2023 
Developed by:  Greg Coolidge, Kirk Ward, Shawn Simmons  
Writers: Greg Coolidge, Kirk Ward, Shawn Simmons   
Executive Producers: Thunder Road Pictures' Basil Iwanyk and Erica Lee, Albert Hughes, Kirk Ward, Greg Coolidge, Chad Stahelski, Derek Kolstad, David Leitch, Shawn Simmons, Paul Wernick, Rhett Reese and Marshall Persinger  
Directors: Albert Hughes (Parts 1 & 3), Charlotte Brandstrom (Part 2)  
Studio: Lionsgate 
Principal Cast: Mel Gibson, Colin Woodell, Mishel Prada, Ben Robson, Hubert Point-Du Jour, Nhung Kate, Jessica Allain, Ayomide Adegun, Jeremy Bobb, Peter Greene 

Synopsis 
The three-part event will explore the origin behind the iconic hotel-for-assassins centerpiece of the John Wick universe through the eyes and actions of a young Winston Scott, as he's dragged into the Hell-scape of 1970's New York City to face a past he thought he'd left behind. Winston charts a deadly course through the hotel's mysterious underworld in a harrowing attempt to seize the hotel where he will eventually take his future throne. 
Are you ready to explore the origins of The Continental and dive into the Hell-scape of 1970's New York City? Did you realize VFX was used to remove the dog penis in John Wick? Which John Wick is your favorite? Share your excitement with us on social media!
KEEP READING: WARRIOR SEASON 3 REVIEW – THE BEST ACTION-DRAMA SERIES OF THE SUMMER