A bustling 1970s New York. Glittering disco balls, electrifying funk grooves, and … assassins? Welcome to The Continental: From the World of John Wick, where this unique blend isn't just the norm but the very essence. Right from its inception, John Wick's world promised action-packed escapism mixed with a layer of reality — a realm where danger lurks around every ornate corner and loyalty is often bought with gold coins.
The Dawn of Decadence and Danger
One of the immediate standouts of Part One of The Continental is its impeccable aesthetic. Director Albert Hughes, in collaboration with Charlotte Brandstrom for the second night, recreates the 1970s in a manner that is both authentic and idealized. It's as if we're viewing this world through the tinted glasses of a John Wick fan: the danger feels real, but the glamor is irresistible. The costumes and environment are so immaculately detailed that they practically whisper tales of their own.
RELATED: EXCLUSIVE WARRIOR S3 INTERVIEW WITH JONATHAN TROPPER AND HOW HE WEAVES STORY INTO AWESOME ACTION SEQUENCE
Moreover, the cinematography and lighting don't just set the mood; they're active characters in the narrative. The blinding neon lights of the nightclubs clash with the dark alleys, creating a world that's both inviting and treacherous. No unnecessarily fast cuts to hide or detract from performances. Everything frame is deliberate and enhances the story and emotional investment. It's here in this world that the hotel-for-assassins, The Continental, finds its roots.
The Continental doesn't just shine visually; it resonates emotionally through its sound. The "Disco Noir" atmosphere, a fusion of various music genres ranging from punk to R&B, becomes more than just a backdrop — it's the pulse of this universe. Each beat, every string, is purposeful, guiding our emotions, echoing Winston Scott's internal conflicts, his ambition, fear, and determination.
Action is in the DNA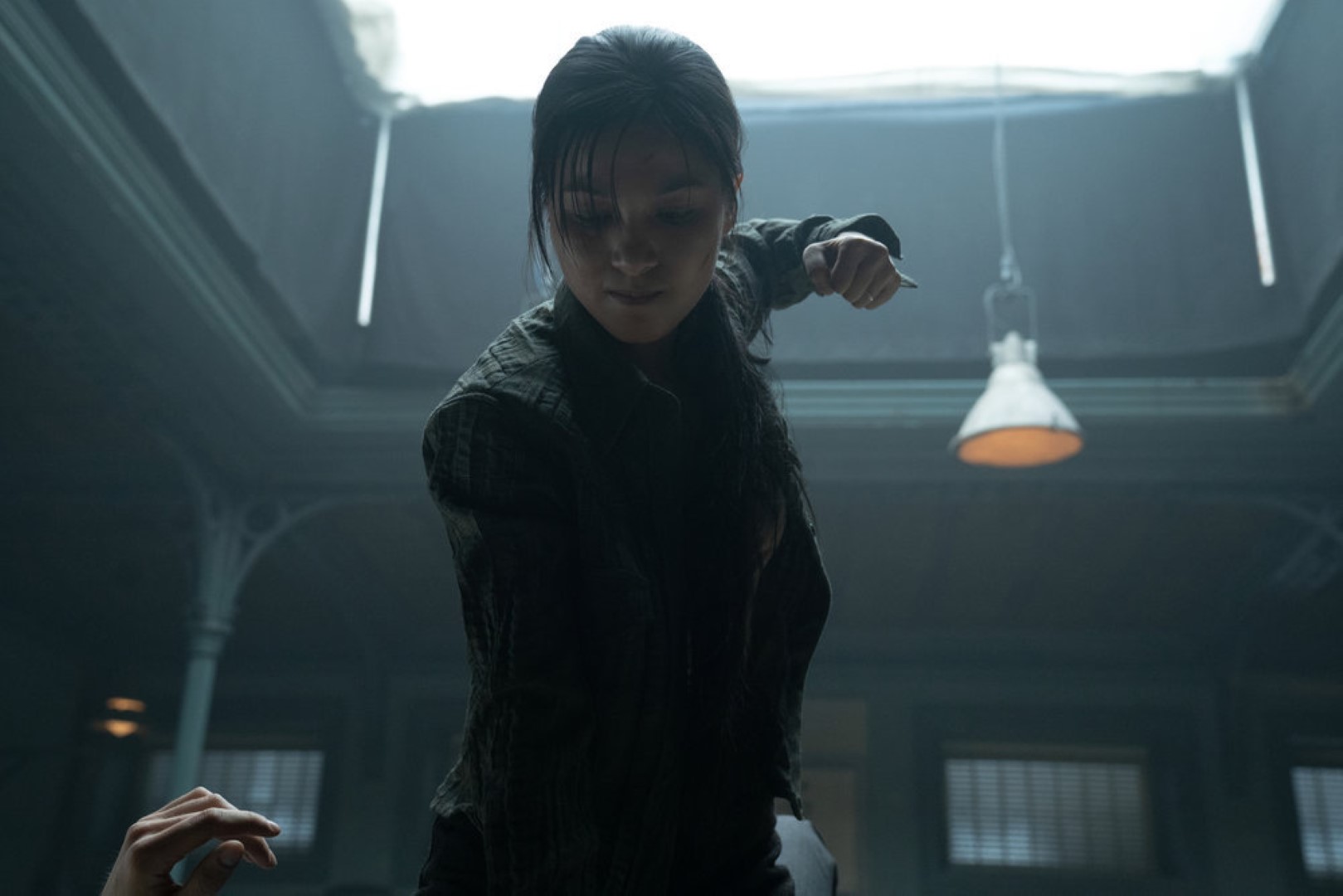 For fans of the John Wick franchise, action is an art form. The sequences in Part One of The Continental do not disappoint. They are vicious and gritty, every bit the adrenaline-pumping spectacle one expects. These aren't just action scenes; they're choreographed dances of violence, a testament to the careful craftsmanship of the showrunners and the incredible 87eleven team.
RELATED: John Wick: Chapter 4 Review – John Wick Continues to Captivate and Elevate Action Movies
The Continental's casting is nothing short of brilliant. The ever-evolving dynamics between young Winston Scott and the enigmatic world around him are perfectly portrayed by the ensemble cast. While all performances are commendable, it's the chemistry between some of the cast members that truly shines. Mel Gibson brings a veteran presence that feels both menacing and grounded. However, the younger cast members don't fade in his shadow, with Mishel Prada, Colin Woodell, and others bringing their A-game.
A Fitting Continuation of Whacky Realism
The series exudes a sense of 'whacky realism' that John Wick fans have come to adore. The existence of a hotel catering to assassins might sound ludicrous, but within this universe, it's everyday business. This sense of realism in absurdity has always been the franchise's strong suit, and Part One of The Continental continues this legacy with aplomb.
RELATED: John Wick: Chapter 4 Interview – Hiroyuki Sanada Reveals What Makes a Good Sword Fight Great
In addition to exploring the world of John Wick, there are plenty of easter eggs throughout that fans will be elated to spot. Without giving anything away, there are certain eggs that show origins to some John Wick staples, and then there are ones that are homages and nods to the sources of inspiration. It's a glorious hunt that is not necessary but is definitely worth the effort.
While Part One of The Continetal has set the stage ablaze, it is very obviously incomplete. The journey of young Winston Scott is not just a narrative of a man's ambition; it's an exploration of the very fabric of the John Wick universe, stitched together with action, drama, suspense, and a whole lot of bullets. With two more parts to go, the road ahead promises more thrill, drama, and intense action. But I swear… they better not kill another puppy.
As The Continental is a 3-part event, it's hard to give a number rating, I'm giving it an 8/10 because it's great, but it's just a piece of a whole thing. If you're into the John Wick style of action and awesome gangster stories, you'll be hooked and eagerly anticipating the next one.
The Continental premieres on September 22, 2023, exclusively on Peacock.
About The Continental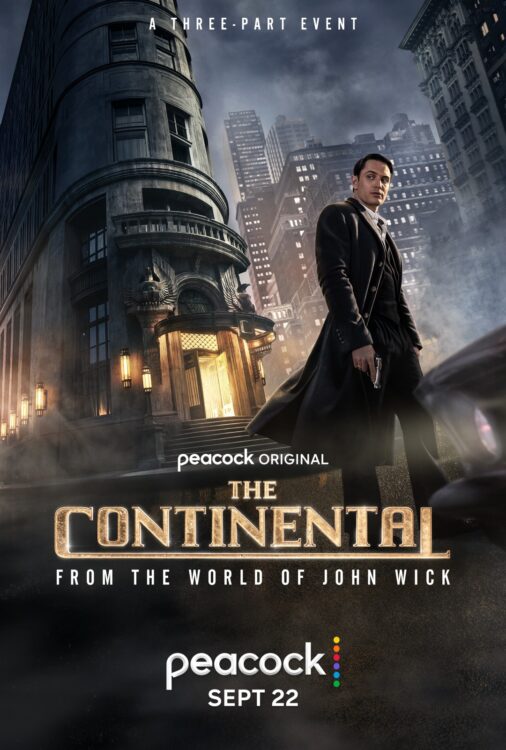 Release Date: September 22, 2023
Developed by: Greg Coolidge, Kirk Ward, Shawn Simmons
Writers: Greg Coolidge, Kirk Ward, Shawn Simmons
Executive Producers: Thunder Road Pictures' Basil Iwanyk and Erica Lee, Albert Hughes, Kirk Ward, Greg Coolidge, Chad Stahelski, Derek Kolstad, David Leitch, Shawn Simmons, Paul Wernick, Rhett Reese and Marshall Persinger Directors: Albert Hughes (Parts 1 & 3), Charlotte Brandstrom (Part 2)
Studio: Lionsgate
Principal Cast: Mel Gibson, Colin Woodell, Mishel Prada, Ben Robson, Hubert Point-Du Jour, Nhung Kate, Jessica Allain, Ayomide Adegun, Jeremy Bobb, Peter Greene

Synopsis
The three-part event will explore the origin behind the iconic hotel-for-assassins centerpiece of the John Wick universe through the eyes and actions of a young Winston Scott, as he's dragged into the Hell-scape of 1970's New York City to face a past he thought he'd left behind. Winston charts a deadly course through the hotel's mysterious underworld in a harrowing attempt to seize the hotel where he will eventually take his future throne.
Are you ready to explore the origins of The Continental and dive into the Hell-scape of 1970's New York City? What are your expectations from this three-part event, and how do you think it will connect with the John Wick universe? Have you already watched all of the John Wick films? Share your excitement with us on social media!
KEEP READING: WARRIOR SEASON 3 REVIEW – THE BEST ACTION-DRAMA SERIES OF THE SUMMER