The latest expansion of Disney Dreamlight Valley, A Rift in Time has been announced, plus future updates!
Disney Dreamlight Valley is a life-sim adventure game developed by Gameloft Montreal and published by Gameloft. Players take care of the titular magical valley inhabited by various Disney and Pixar characters. A curse known as The Forgetting caused most of the characters to lose their memories of living in the valley, whose ruler disappeared some time ago.
The game was released in early access on September 6, 2022 for the Xbox One, Xbox Series X/S, PlayStation 4, PlayStation 5, Windows, and Nintendo Switch, with the macOS version released on December 6, 2022. A physical release titled Cozy Edition was released for the Switch in North America on October 27, 2023, and will be released worldwide for the rest of the aforementioned platforms.
RELATED: Stranger Things Day Unveils Exciting Gaming Collaborations
Voice actors – original, current, recurring – reprise their roles from various Disney works, with the exception of the Frozen characters, Maui from Moana (Vaiana in Europe), and Vanellope von Schweetz from Wreck-It Ralph and its sequel Ralph Breaks the Internet. With Pat Carroll's death on July 30, 2022, Disney Dreamlight Valley marks her final performance as Ursula from The Little Mermaid (1989).
Step in Time, Step in Time, A Rift in Time!
On November 1, 2023, Gameloft announced a new expansion for Disney Dreamlight Valley, A Rift in Time. It takes place on a distant kingdom called Eternity Isle, which became lost in time when Jafar (from Aladdin (1992)) created time distortions in pursuit of ancient magic artifacts. Elements from his film can be seen in the trailer, such as the Agrabah palace and the Cave of Wonders.
RELATED: KingOhger's Land of Gokkan Revealed as New Fortnite Island
The storyline of A Rift in Time will be divided into three chapters. The first, "Welcome to Eternity Isle", is slated for December 5, 2023, when the game exits early access. Spring 2024 will see the release of the second chapter, "The Spark of Imagination". The third, "Treasures of Time", is scheduled for summer 2024.
The expansion includes a new biome to explore, along with new items and new villagers. Besides Jafar himself, other characters arriving in Dreamlight Valley are Gaston from Beauty and the Beast (1991), EVE from WALL-E, and Rapunzel from Tangled. Whether their original voice actors will reprise their roles is currently unknown.
Disney Dreamlight Valley Update Showcase!
The same day Gameloft announced A Rift in Time expansion, they presented a showcase giving players a sneak peek to future updates, free and paid!
Gameloft's showcase laid out plenty of exciting additions to be arriving in Dreamlight Valley in 2024. To conclude 2023, Jack Skellington from The Nightmare Before Christmas will be added to the game, just in time for the holiday season. A winter-themed Star Path (limited-time events with exclusive rewards) will feature iconic winter outfits, such as Belle's snow cloak. Topping off the winter 2023 update is the highly-requested multiplayer feature known as the Valleyverse; players can invite their friends to the Valley to show off their handiwork and exchange items, among other things.
2024 will begin with the addition of a Monsters, Inc. Realm, bringing in Mike Wazowski and James P. "Sulley" Sullivan as new villagers. In summer 2024, Tiana from The Princess and the Frog will join as well. Although other details remain under wraps, Disney aficionados can recognize the reference to Mulan (1998) for late spring 2024.
RELATED: HAUNTED HOUSE Review [PC] – Great Game Haunted by Bugs
As a treat, players can redeem free items with the code DDVBALLOON. The game's soundtrack, a collaboration from Disney and Gameloft's sound team, is also available on music streaming platforms, including iTunes, Spotify, and Pandora.
Although initially planned to be free-to-play after leaving early access, the unexpected success convinced Gameloft to keep Disney Dreamlight Valley as a pay-for title when fully released on December 5, 2023. All players who picked up the game in early access will obtain cosmetic rewards as well as 2500 Moonstones (premium currency).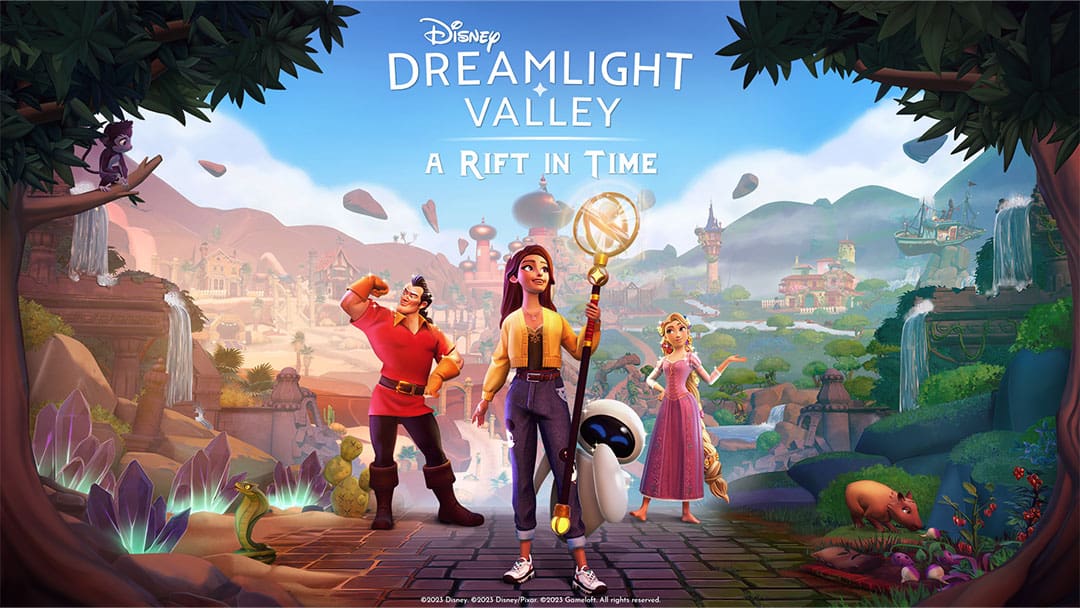 Are you excited for the latest updates for Disney Dreamlight Valley? What character(s) do you hope to see in the future? Let us know on social media!
Source: Disney Dreamlight Valley Showcase
KEEP READING: Sonic the Hedgehog Speed Cafe Races to Bring Awesome Pop-Up From Green Hills to Chino Hills